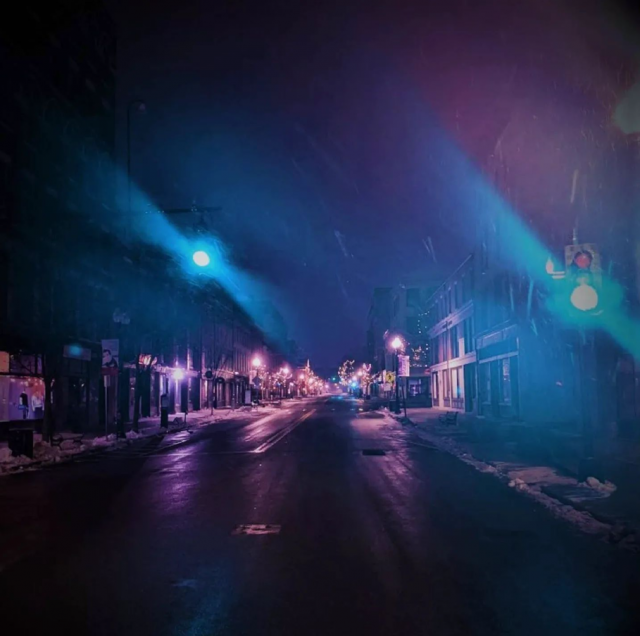 Discover Blood Wisteria's moody breakup electro-pop.
Blood Wisteria – Heartbreak
'Seasons end, the arbitrary passage of time' opens 'Heartbreak' by Blood Wisteria. It's a slightly jaded and cynical line that sets the tone for this track about – what else? – heartbreak. In this world, love and heartbreak are inevitable, so you might as well go along with it and make it synthy in the meantime. 
Blood Wisteria is the project of Morgan Magdalene, an artist based in Lowell, Massachusetts. This track serves as the first release from an upcoming EP, entitled 'The Modern Decay'.
"Heartbreak is a driving synth-pop tune with an enjoyably bitter aftertaste."
Magdalene's obsessive lyrics outline the cynical place we've all found ourselves in after a breakup – ruminating on all the wrongs and what-ifs with lines like 'I can't forget the things you said on the telephone'. The chorus outlines the terrible inevitability of love and heartbreak, with snappy lines like 'I didn't want to be dizzy but I still spun around'. The melodies are well-crafted, with the chorus being particularly memorable. The lead vocals have a great husky edge and are confidently delivered, even if they are sometimes overwhelmed by the mix. 
The production is as full of synths as any 80s fan could want – and indeed, this stomping sound with a punky edge may be particularly attractive to fans of acts like Depeche Mode and La Roux. The beats are punchy, with bass and guitar laying a foundation full of attitude, and ominous spaceship synths adding that pleasingly retro feel. If you're entering that moody stage of your breakup, you'll find good company in this track. 
Discover more from Blood Wisteria
Discover more on RCM
Words Eden Tredwell