Discover why the Soundcore Liberty 3 Pro Earbuds by Anker are the best wireless earbuds for music fans.
I was recently contacted by Soundcore who asked Right Chord Music to test their Liberty 3 Pro Earbuds. Our strict policy here at Right Chord Music is that we only write about the things we love. So we were never going to just recommend them without first testing them out.
Save £30 on Soundcore Liberty 3 Pro Earbuds
If you are interested in getting a pair of Liberty 3 Pro Earbuds, then use this special discount code: RightChord2023UK to save £30 off the retail price for purchases on their website.
The three brands we tested
Soundcore Liberty 3 Pro by Anker
Apple AirPods (2nd Generation)
The Lenovo LivePods (LP1)
For complete transparency
I currently use and love the Apple AirPods, and the Lenovo LivePods are my backup option. To complete this test Soundcore sent me a pair of Dusk Purple coloured Liberty 3 Pro Earbuds. So how do they compare?
What's in the box?
The Lenovo LivePods come with a charging case, USB-C charging cable and a spare set of ear tips. There is also a tiny, very hard-to-read quick-start guide and warranty.
Apple AirPods (I had to look this up as I've had them a while.) According to Apple, the AirPods came with a charging case, lighting to USB-C cable and 4 silicone ear tips (although I don't remember seeing these) plus documentation.
The Soundcore Liberty 3 Pro Earbuds come with a charging case, 4 ear tips, 4 ear wings (to fit various ear sizes) a USB-C cable and documentation, including a simple, yet comprehensive quick start guide.
Unlike Apple and Lenovo it feels like Soundcore has included the alternative-sized fittings for a genuine reason. They actually want to help you find the fit that really works for you. The accompanying mobile app includes a Fit Test to help you choose the wings and tips that best work in your ears. I instinctively chose the smallest size and it actually turns out that the biggest size was best for me.
Sound Quality
To provide a fair test I listened to the same track with all three earbuds. As a music blog that focuses on championing incredible independent artists, it seemed logical that I picked an independent artist from the RCM archives that I love. I picked 'Hold Me In The Dark' by Porcelain. This track always sounds great with headphones and contains a great balance of bass and lighter tones. To be clear I am not a music producer so I can't provide any technical explanation of sound quality or performance. But here is my ranking from 1-3 based on my preferred sound quality.
Soundcore Liberty 3 Pro
Apple AirPods
Lenovo Live Pods
Why the Soundcore Liberty 3 Pro Earbuds won. With the HearID Noise Cancellation turned on, this track soars, it totally engulfed my head and always felt balanced and controlled. I noticed there were moments with the Lenovo's where the sound seemed to distort and sounded scratchy at times.  The AirPods sounded great, and before I tried Soundcore I wouldn't have suspected they couldn't have been beaten. I found by personalising my own IQ and turning up the bass gave the AirPods a bit more depth, but Soundcore still won.
Key feature comparison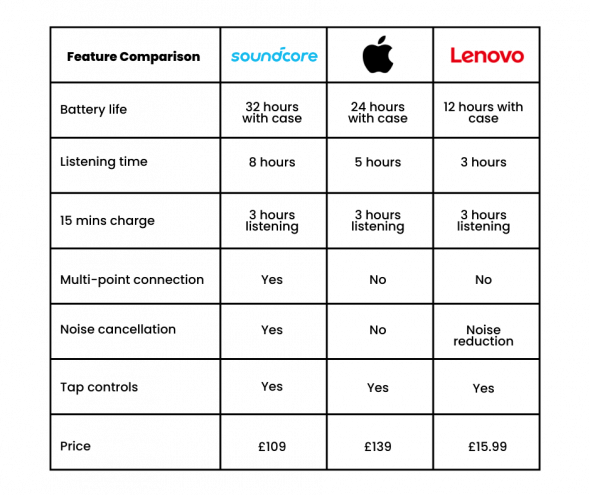 Battery life
Battery life is key after all, there is nothing more annoying than when your headphones die midway through the day or on the commute home. I've never had a problem with the 24 hours I get from my Apple AirPods but one of the first things I noticed about the Soundcore Liberty 3 Pro Earbuds is the battery life is even better. A whopping 32 hours from the clamshell charge case, or 8 hours from the Earbuds themselves. Sorry Lenovo, you don't come close here.
Multi-point connection
As a music blogger, I get up early and headphones are vital to avoid waking up the rest of the house when I listen to new music submissions. When I first got my Apple AirPods I loved how my laptop and phone immediately found them and asked me whether I wanted to connect. It was so simple. But the Liberty 3 Pro Earbuds go one step further, rather than manually switching between my laptop and iPhone once set up they can connect to two devices simultaneously. No more manual switching, this is game-changing and saves so much wasted time trying to connect.
Noise cancellation & comfort
I live in London and commute on an increasingly packed and noisy tube. When I'm in the office which is typically three times a week I have to make a decision, do I want to take my big pair of Bose headphones with noise cancellation or my small Apple AirPods? When my bag is full and heavy I frequently sacrifice sound quality for practicality.  As a consequence, I turn my volume up too loud to try and drown out the rattling tube train and just accept there will be moments on the commute when I can't hear my music or my Podcast.
This never felt like a great solution, and nobody wants to damage their ears.  While running this test I realised the Lenovo LivePods had noise reduction built in! Maybe if I had known they would have been used a lot sooner.
To be clear noise reduction is not the same as Noise Cancelation but it's certainly a step in the right direction and it helps, but the Tube train noise still overpowered the Lenovo LivePods. However, noise reduction did help block out the office noise when I wanted a period of deep concentration, so in that respect, they still put Apple to shame.
This is where the Liberty 3 Pros by Soundcore really come into their own. They have noise cancellation but it doesn't stop there. Their Adaptive Mode automatically adjusts the level of noise cancellation depending on the noise levels in your surrounding.  Higher for the Tube and lower for the office. This is a total game changer, my commute has been transformed.
If you have worn noise-cancelling headphones before, you might recognise that after a while your ears start to ache. I certainly notice this with Bose, this is due to a pressure build-up in the ears apparently. Well, the Liberty 3 Pros have an answer to this with a pressure-release technology built in. These earbuds actually block out noise and are super comfortable.
In contrast, I found my ears started to ache after just 20 minutes of wearing the Lenovo's, which really put me off.
Tap controls
This has never been hugely important to me, but sometimes I guess it is useful to be able to reduce the volume or pause the music without having to remove the headphones and all three of the tested earbuds have the ability to tap the earbuds to control the sound.
When paired with the Soundcore mobile app, you also have further functionality including a transparent mode that allows you to quickly hear the world around you, useful if someone asks you a question or you are navigating a busy crossing.
Design
It's hard to criticise Apple for design after all they have written the rule book and set the bar on product design in the last 30 years and the AirPods design continues this. There are no surprises here, they are simple, sleek and stylish.
Apple has created the market for Earbuds and decreed that they should be white. As a consequence, most other brands including Lenovo have simply taken their template and iterated with products that look similar but different enough to avoid lawsuits. The Lenovo LivePods come in a slightly larger rectangular case but essentially feel very very similar. The actual case is lighter and feels unsurprisingly cheaper (It is) it's plastic after all, but there is still a pleasing click when the lid slams shuts.
But not everyone wants to feel like a sheep. Some people want to feel like they have made their own choices. For these people, the Liberty 3 Pro Earbuds offer an elegant and stylish alternative.  These Earbuds come in a choice of four colours. Midnight Black, Frost White, Dusk Purple and Fog Grey. The square or rectangular charge case is replaced by a clamshell design that glows when it opens. They look and feel premium.
Extras
This is where the Soundcore Liberty 3 Pro just accelerates away from both Apple and Lenovo and leaves them for dust. The Soundcore mobile app is full of additional features and settings including:
Wind noise reduction
3D surround sound
Custom EQ design the sound to match your own style
Soundcore has invited 20 Grammy-winning producers to share their preferred sound settings!
Hear ID test – take the test to ensure your noise cancellation is set up properly
Take the Fit Test to ensure you are wearing the right ear tips and wings
Customise the tap controls
Our choice. The Best wireless earbuds
If you are a music fan or audiophile that wants a product that combines style, sound quality and best-in-class functionality (battery, noise cancellation, connectivity) then the Soundcore Liberty 3 Pro earbuds by Anker win hands down at every turn. They are amazing. You get the sense that this is a product that has been made with love at every turn. They have crammed so much into such a small package.
Save £30 on Soundcore Liberty 3 Pro Earbuds
If you are interested in getting a pair of Liberty 3 Pro Earbuds, then use this special discount code: RightChord2023UK to save £30 off the retail price for purchases on their website.
If you want a pair of cheap wireless headphones for your kids that are visibly similar to Apple and let's face it, sometimes the look is all that really matters, then you can't beat the Lenovo LivePods as a quick solution. They are currently priced between £13-£16 on Amazon.
If you are happy being an Apple sheep like I was, then hopefully at least this review has shown you that Apple doesn't have to be the default option. While the AirPods are a great product and look suitably stylish, there are now genuine alternatives on the market that can match and often outperform Apple at a better price.
Soundcore supports grassroots music
As well as making great products, Soundcore also supports grassroots music. Soundcore has partnered with MusiCares® to support artists in need of assistance.
MusiCares® provides support to music people across the country who need help after a disaster, during a health crisis, or just to cover basic living expenses, all to keep the music playing. Through its COVID relief program, MusiCares® has served 24,000 people with over $22 million dollars in aid.
Together with MusiCares®, Soundcore will be raising awareness of this vital cause via exciting events and the official launch of our very own podcast. Read more.
Discover more on RCM
Words Mark Knight