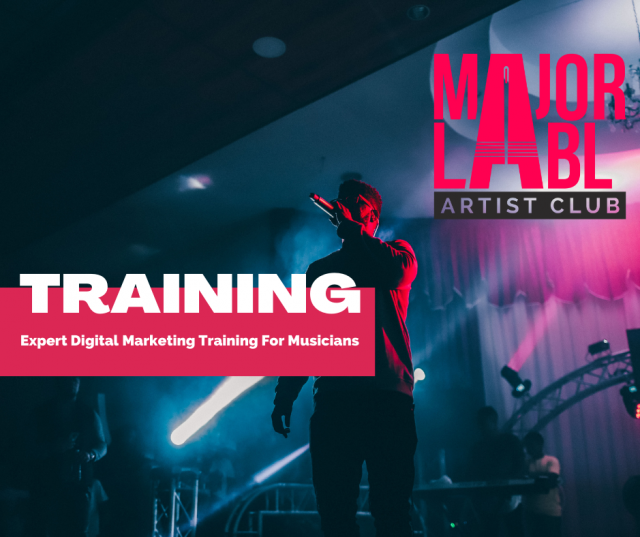 Music marketing agency Major Labl, which is part of the Right Chord Music Group has today announced FREE music marketing training for every independent artist.
Introducing Major Labl
Founded in 2018 by the Right Chord Music Group, Major Labl is a digital music marketing consultancy that helps transform unsigned artists into independent artists by improving the way they plan to release music.
Designed to be a more effective alternative to traditional music PR, Major Labl's key point of difference is its focus on the marketing channels artists can control (social media and websites) rather than the channels they can't control (radio, press, and live).
Since its inception, Major Labl has provided 'one-to-one' digital music marketing consultancy for a host of incredible unsigned and self-released musicians including Anna Wolf, Blackchords, Officer, Iraina Mancini, Porcelain, Rhona Macfarlane, Seil Lien & The Daydream Club.
While individual artist consultancy will remain as a key service, the shift to 'one-to-many' online training solutions is intended to allow Major Labl to help support a greater number of unsigned and self-released musicians.
Meet Your Teacher
Mark Knight is the founder of Major Labl and the Right Chord Music Group. For the last 22 years, Mark has provided strategic marketing consultancy for brands including Coca-Cola, Vodafone and Nivea. Mark set up Major Labl in 2018 with the aim of bringing marketing best practices from the brand world to the band world.  He has provided strategic consultancy for indie labels including Earache Records (Buckcherry, Scarlet Rebels, The Temperance Movement & Travis Meadows), Trashmouth Records (Fat White Family, Maggie The Cat) and a host of independent artists. His work with The Daydream Club was recognised with a nomination for Best Digital Campaign at The Music Ally Awards (the only unsigned artist to be nominated). The band now have over 100m Spotify Streams as an independent artist.
"I wanted to create a music marketing consultancy specifically for unsigned artists, that understood their realities and was 100% on their side. Far too many artists have a horror story about being ripped off or scammed by companies purporting to be promoting their music. Major Labl wants to go above and beyond to rebuild that trust." explains Mark
In 2017 Mark created and lead an audacious challenge to break an unsigned band in just 10 weeks without label or radio support. The project took Mark to the main stage of the Cannes Lions Festival to present the results. It succeeded! The band (Broken Witt Rebels) are now signed to Universal Music.
​Speaking about Major Labl's new online training course programme Mark Knight explains:
"Since the Pandemic, we have been spending increasing amounts of time running individual training sessions and workshops, so the move to formalise these sessions into a structured training programme feels like a logical next step. Now our training is open to all artists regardless of their geographic location. The training sessions are self-managed so artists can pick and choose when they complete them. They also have the option to watch back these sessions over again when they need a refresh."
What can you learn?
There are currently 15 lessons and over 130 minutes of content spread over the 4 stages of our planning framework. 1) Launch 2) Plan 3) Promote 4) Optimise. The premium plan also includes 2x30minute video calls to provide personalised consultancy.
Musicians only pay once, and all new content we add is available to you for FREE. Major Labl training is designed to be affordable for everyone. Take advantage of their special launch price now.
Launch
How to think and plan in cycles
How to launch and establish your brand
How to set up and think like a business (coming soon)
Plan
How to set your release strategy
How to use purchase journey thinking
How to tap into moods and moments
How to create bonfires and fireworks
How to use Canva to design artwork
How to use Meta / Facebook Creator Studio
How to start in NFTs
How to set up a Meta / Facebook Business & Ad account
How bands can learn from how brands grow (coming soon)
Promote
How to create a Twitter ad
How to write better headlines
How to build retargeting audiences
How to avoid paying for bad music PR (coming soon)
How to get on music blogs (coming soon)
Understanding the Facebook Pixel (coming soon)
How to create YouTube ads (coming soon)
Optimise
How to audit and optimise online performance (including free downloadable worksheet)
Free 45 minute music marketing webinar
Alongside the paid training programme, Major Labl is also offering every musician the chance to watch a free music marketing webinar.  In the session, which is designed to improve the way musicians plan to release music Mark provides a 6-week countdown to release, with a simple checklist of the things to do each week. Watch for FREE here
Discover more about Major Labl
Read more music marketing articles on RCM