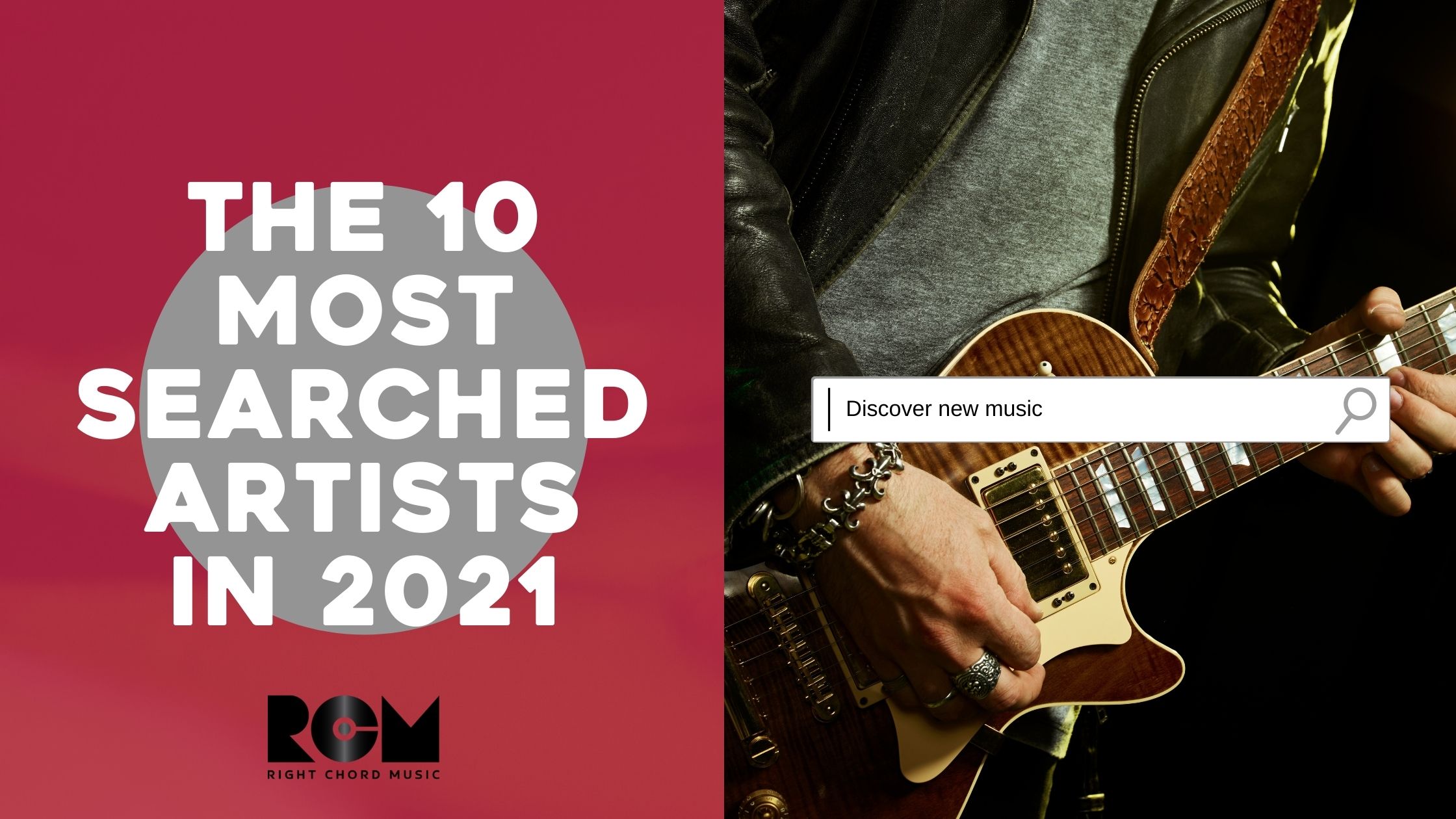 We reveal the most searched artists on the RCM Blog in 2021. After all, it's not really about who we like, what really counts is what you search, view and listen to.
This is the time of year when blogs put together their favourite artists of the year. While this is a fun exercise (that we might still do), we recognise that what we think ultimately means very little. What really matters is whether other people are starting to care about these artists too. After all, as an unsigned music blog, our role is to introduce artists to listeners, but it's the listeners that take them on and make them a success.
So, this year we thought it would be interesting to see who is building interest, momentum and desire around their music. We've looked at the most searched artists and viewed pages on the RCM Blog.
The data takes into account the most viewed pages and most visited landing pages on the RCM Blog using Google Analytics between January 1st and December 14th, 2021. IE Pages found through Google and pages found through on-site browsing and search.
The majority of these artists have featured on the RCM Blog this year, but this data also takes into account views of historic articles written since we started in 2010. While it's impressive to feature on the back of one review in 2021, it's possibly even more impressive to still be searched for after one appearance in 2015.
Alongside the best independent artists, you will also find a couple of our most successful alumni, who have since signed deals with major record labels.
The RCM Blog in numbers in 2021
To provide some context, between January 1st and December 14th this year the RCM Blog has had 80,627 page views in total from 177 different countries. This year, we received most visitors from the 1) UK, 2) US 3) Canada 4) Germany and 5) Australia. The average time spent on our blog per visit was 1min 3seconds, and each visitor read an average of 2.67 pages.
Our 2021 Rising Stars
Here are the 10 most searched artists on the Right Chord Music Blog in 2021.
Kepa Lehtinan
Iraina Mancini
MISSIO
MACY
The Daydream Club
Izzy T and her international supergroup
Broken Witt Rebels
Georgia & The Vintage Youth / Georgia Crandon
BLÁNID
Parker Graye
When we started Right Chord Music back in 2010, our aim was to showcase incredible new and undiscovered music from around the world. So we're delighted that our top ten features artists from six different countries.
1. Kepa Lehtinen
We featured Finnish artist, Kepa Lehtinen just once on RCM in 2021, but that hasn't stopped you from reading, listening and searching for him on repeat in 2021. Read our review of his beautiful EP 'Face Plant' here
"An instrumental piece, the theremin serves as the voice here, direct, piercing, mournful, played with utmost assurance by Lehtinen."
2. Iraina Mancini
Iraina Mancini is the epitonomy of a rising star. She has appeared on RCM 5 times in total, twice in 2021 most recently for her single 'Do It' (You Stole The Rhythm).
"This is a reconnection anthem for music lovers who can relate to that moment when music makes you feel truly alive."
Discover more about Iraina on RCM
3. MISSIO
Missio (Latin for mission) has appeared on the RCM Blog twice, both times in 2015. What started as the side project for singer-songwriter Matthew Brue has now become the main mission alongside producer and instrumentalist David Butler.
Based in Austin, Texas MISSIO broke out in 2017 with their single Middle Fingers which reached the top 10 in U.S. Alternative Radio. MISSIO now have over 1 billion Spotify streams globally and continue to be discovered on the RCM Blog 6 years on from the original feature. Remember where you discovered them first! 
4. MACY
This Welsh pop starlet has appeared on the RCM Blog 5 times this year, with a flurry of high energy pop singles and most recently her Words4Luv EP
To conclude her 2021 with a bang, MACY will headline a show in London in December and be part of the BBC Radio Xmas special show, alongside Emile Sande and Jack Savoretti. Discover more from MACY on RCM
5. The Daydream Club
The Daydream Club have appeared on RCM Blog 5 times this year. We championed each of their single releases ahead of the release of their seventh and best studio album to date 'All Our Born Days'
Since their foundation in 2010, now husband and wife duo The Daydream Club have been slowly plotting their course to the top. While the definition of 'top' may have changed in that time, they remain firmly on course.
At the time of writing, their top 5 tracks on Spotify alone have amassed over 100,000,000 Spotify Streams. A staggering achievement for a self-released duo. Huge credit must go to Spotify for choosing to support great music in the absence of a major record label deal. Surely now is the time for radio to wake up and get on board too! Check out The Daydream Club's latest project The Daydream Club Presents a brilliant music discovery Podcast, which we are happy to support.
6. IZZY T & her international female rock supergroup
Back in February our winter slumber was smashed by this explosive cover of Midnight Sky by Miley Cyrus and interest in this cover version has continued across the year.
Years from now when people ask you… "What did you do in lockdown?" these girls will have a pretty impressive answer. "We formed an international, female rock supergroup!"
Meet the band: Izzy T (vocals and ring-leader) 17 years old Brooke Colucci (Plush) on drums, Alice Lane (Killin Baudelaire) on bass and Claire Genoud (Back n Black) on guitar.
Read more about this release and discover more about the musicians involved.
7. Broken Witt Rebels
We last featured Birmingham's Broken Witt Rebels on RCM in 2017, then an unsigned band, now signed to Universal Music off-shoot Snake Farm Records. As one of the UK best and also most active live bands, the last two years would have been hard on BWR, but while the live shows were put on ice, interest in their music and their second full album OK Hotel released in 2020 continues unabated, and it's easy to see why.
Discover more about Broken Witt Rebels on RCM here. Our journey with them started way back in 2016.
8. Georgia & The Vintage Youth / Georgia Crandon
With two appearances on the RCM Blog in 2021 under two guises 'Georgia Crandon' and her band 'Georgia & The Vintage Youth' her music always leaves a lasting impression, and it's easy to see why people continue to seek her out.
In August, her bittersweet 'Until We Meet Again' felt like the lock-down equivalent of the Verra Lynn war-time anthem.
Although written in 2019 Until We Meet Again is a song that has only become more relevant for artist Georgia Crandon, particularly when she performed it for a friend and NHS worker who would then pass away in late 2020. Discover more from this huge talent.
9. BLÁNID
A new artist for 2021, we championed BLÁNID debut single 'Fools Gold' back in March before following up with a second feature for her follow up single 'Dead Men Dancing' in November. Her outrageously good voice has a cut-through quality that is hard to deny.
An eternal tale of hopeless love, whispering through the ages
Northern Ireland's best new export BLÁNID has already garnered attention from BBC radio stations, and based on the level of interest she has garnered on RCM in 2021 we expect her star to continue to rise.
10 Parker Graye
Canadian alt-country artist, Parker Graye has made two appearances on RCM in 2021. The first, within our First Signs of Love Feature for her anthemic, sing-a-long single 'Do Over' which felt like the ultimate January soundtrack to usher in the change. In June she repeated the trick with follow up single Last Time.
While her place in our top ten is based on searches and views for Parker Graye, it's worth noting she first appeared on RCM as St Graye back in 2015.
Words Mark Knight