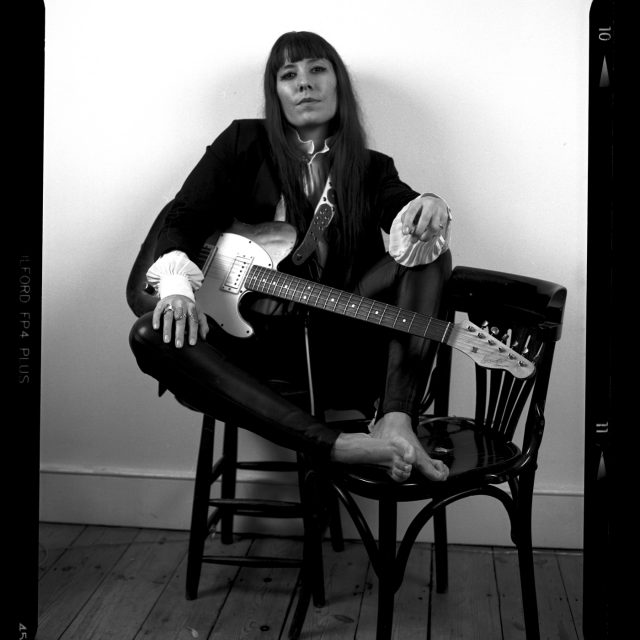 Shatter is the debut album from SEIL LIEN, (pronounced Seal lee in) the Chinese name of Scottish songwriter Marie Claire Lee.
This eight song album comes with a sound distilled from prolonged periods of improvisation and experimentation. It's been 3 years in the making and it's been worth the wait. Shatter delivers uncompromising artistry from start to finish.
SEIL LIEN – Shatter Track By Track
The  album opener "Nothing Feels Like Loving You" combines devastating intensity with a near child like vulnerability and the kind of glass shattering vocals not witnessed since Beth Gibbons and Portishead played Roseland NYC back in 1998. It's a compelling start that sets the tone and atmosphere for the what's to come.
It's just over two years to the day since SEIL LIEN was catapulted to our attention when  her track 'A Little While More' (Track 2 on the album) was featured as part of a series of Boots adverts about Inspirational Women. We've been following her progress closely ever since and it's great to see this track find it's natural home alongside a wider body of work. 'A Little While More' gently simmers before the exploding in the most exhilarating of ways, with SEIL LIEN's voice leaving you captivated and bewildered in equal measure.
As the shortest track on the album 'Chase the Devil' feels like a late night diary entry or the last letter between former lovers. The refrain "I can't believe this is the end" circles in your head as you search for closure.
Shatter then kicks up a gear with the brilliant intensity of 'I Am Fire' which perfectly soundtracks the inevitable 'fuck you moment' following a break-up. It's about finding the strength to go again with the powerful lyrics "I can't see my future when I look into the past" "All you money and all your love, just wasn't enough, I am fire".
'Kiss Me Like I'm Somebody Else' is one of many stand out tracks on Shatter, we love the honest sentiment and insight, who doesn't crave the intensity that comes from unfamiliarity?
'In God's House' feels like a midnight trek through dark woods, especially when you listen through headphones. It's one of the more intriguing tracks on the album and showcases SEIL LIEN's desire to experiment. "Don't be afraid of the silence in God's house"
'It's Love That Brought You Here' is the desire before the beautiful love song, full of 'ifs' and 'maybes' it's a song about yearning that quickly wins your heart.
Sonically and atmospherically final track 'Shatter' is reminiscent of the opening album track, which make this album feel cyclical, like the journey of life. It's easy to listen around and around to this album without noticing the joins between start and finish.
Shatter is an album to love, and it continues to give more with every listen. There is just enough vulnerability, strength, darkness and light to satisfy and soundtrack your every mood.
SEIL LIEN The Journey To Shatter
Marie Claire Lee explains… "this whole SEIL LIEN journey began after seeing a collaboration of Akram Khan and Nitin Sawhney. I was so blown away by it, I left the theatre with a real yearning to make music that could be a landscape for something else – something visual. I had met percussionist Signy Jakobsdottir through touring together with a jazz band around South East Asia and she invited me to do some improvisation with her at the Scottish Dance theatre and over the next few years I did a lot more of that.
"At the same time I was hanging out with Glasgow noise musician Noma, and he really changed the way I approached writing music. I realised that my voice wasn't there to facilitate a song, but a tool that could be worked and manipulated to evoke emotion like an instrument. That journey came to a natural end and I started making songs out of these landscapes. 'Nothing Feels Like Loving You' was the first song I wrote coming out of this experience. It was important for me that it made it onto the album as it represents the beginning of the project. The intro to the song is a kind of homage to the beginning"
Working with close friend and producer Rico Capuano and engineer Gerry Gregory (who also played bass on the record), was the turning point for the record's sound, as according to Marie-Claire, "In the beginning we had the chance to do some demos at Sony and another major house with a commercial producer. It was a difficult decision but we walked away from that path. I had such a clear vision and it was too alternative for them at the time. I wanted to keep to the atmospheric roots that the songs came from.
"Rico Capuano with his engineer Gerry Gregory and we managed to raise funds via Creative Scotland. I had always hoped that he would do it. Rico had once said to me years before when I was struggling with what to do about the consequences of working more commercially. He said, "Everyone gets spat out the other side. The most important thing is that you can live with the music you put out into the world. That you can look back and be proud of whatever happens." That really stayed with me and was quite pivotal in the path that I chose. He was right, and I'm happy I made the choices that I did and that we made the music the way we wanted to."
In addition to Marie-Claire and Gerry, the other musicians featured on 'Shatter' include Icelandic/ Scottish percussionist Signy Jakobsdottir, a Gamalan specialist who brought a very special sound to the record, and a treasure trove of percussive elements. Whilst not a mainstay in the live act, Signy does feature when her  schedules allow. On guitar is Scottish musician Dave Cook, whose playing Marie-Claire describes as "dark, intense shoegazer-on-ecstasy feel – perfect".
Marie-Claire herself has been a mainstay on the Scottish underground music scene for some time, and subbed for Shirley Manson last year on the 30th Anniversary reformation of Goodbye Mr Mackenzie, performing with them on stage for a series of live dates celebrating the release of the album Good Deeds and Dirty Rags.  It was yet another life affirming experience for Marie-Claire, who says that "I wasn't sure if it was going to be a bit of a poisoned chalice, as they were big shoes to fill. It seemed inevitable that just by not being Shirley Manson I was going to be a disappointment and receive careful scrutiny. But the fans were amazing, so supportive and have really got behind SEIL LIEN. Being a Glasgow girl, playing a sold out Barrowlands was really something special." 
With a background in fine art and sculpture, Marie-Claire has also created all the artwork and photography for SEIL LIEN. Her love for creating visual pieces has greatly influenced her musical artistry, "My approach to art is probably quite similar to how I approach music, it's not geared to wider commercial acceptance but rather as an external reflection of my internal thoughts and feelings. Therefore, there is no filter other the artistic aesthetic so it's not commercially driven in that sense. They are just different vehicles of expression and if I didn't get it out of my heart and head I'd go crazy. When I started making improvised music I began applying that to my artwork, trying to not to think too much and just channel pure expression. It's really changed the way I approach my painting."
Discover more from Seil Lien on Right Chord Music