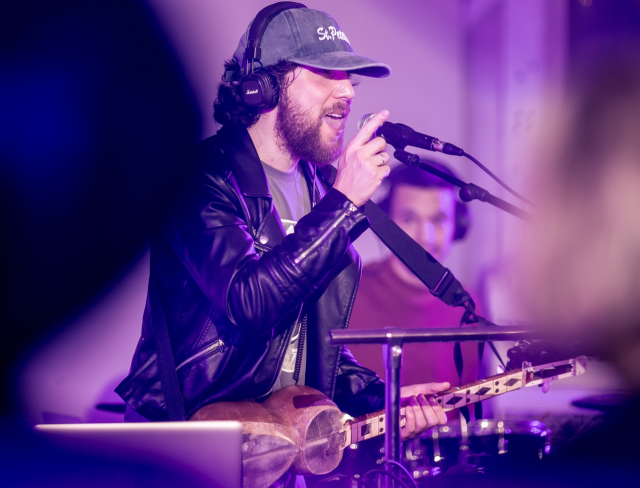 'Horse of Love' by Needshes is a fiery, avant-garde new single.
Needshes – Horse of Love
Inventive and playful, 'Horse of Love' still holds all the fiery passion now synonymous with avant-garde artist Needshes' discography. Housing a unique structure and several obscure passages, this new single is a step in a new direction. What direction? Who knows but you'll never want to go another way.
The brainchild of multi-instrumentalist, producer, and songwriter Otabek Salamov, Needshes incorporates an eclectic mix of storytelling genius with broad musical styles and influences, ranging from old-school blues to contemporary punk and alt. Modern production values and songwriting sensibilities seal the deal in making Needshes a force to be reckoned with. His main influences are Jack White, The Killers, James Brown, Queen, RHCP, Lenny Kravitz, Moby, Amy Winehouse, a-ha, U2 and more.
After several lineup changes the final formation occurred in 2016 with Ivan (guitar) and Alexey (drums) joining him and making it possible for the sound created in the studio to fully come together in a live setting.
Otabek is currently based in his hometown of Tashkent, Uzbekistan. After a few years of performing and streaming online as a one-man band with his Live looping setup, he created a new lineup together with the drummer Ilya Kanchurin from Tashkent. In October 2023, they performed at the festival of local handcrafters Urban Market.
Needshes' music has been featured in the major Lay's TV ad campaign in 32 countries of Europe, numerous Renault, Gloria Jeans, LADA commercials, and international thrillers such as "Break," "She Sees Red," sitcoms, and cartoons. It's no wonder why, with each song housing crisp but lush sonic landscapes and warm instrumental choices. 
The sheer vibrance and electrifying performances are only catapulted by Needshes' ingenuity. 'Horse of Love' was already a brightly lit fire long before the gorgeous musicianship and dynamite rock performances doused the wood in gasoline. It's clear why the band has received extensive airplay on BBC Radio 6 Music, Hayes FM and Amazing Radio.
Needshes has a strong ability to mix unique song structures and refined influences with pop hooks and catchy, playful choruses. It makes the artist's sometimes enigmatic sound all the more endearing. Simmering with passion, 'Horse of Love' is no exception. The track is a must-listen for any rock fans in need of something fresh. From the crunchy guitar and punchy vocals to the catchy refrains and spiky vocal touches, this song is incredible, and something needed in the modern landscape of rock and pop.
"I see this song as the echo of strange fairy tales from my childhood, such as the Brothers Grimm. They left a mark on the conscience." –  Otabek Salamov
A vivaciously endearing new track, 'Horse of Love' is a charismatic dive into the brilliant and ever-growing discography of Needshes.
Discover more from Needshes
Discover more on RCM
Words Ciarán Coleman