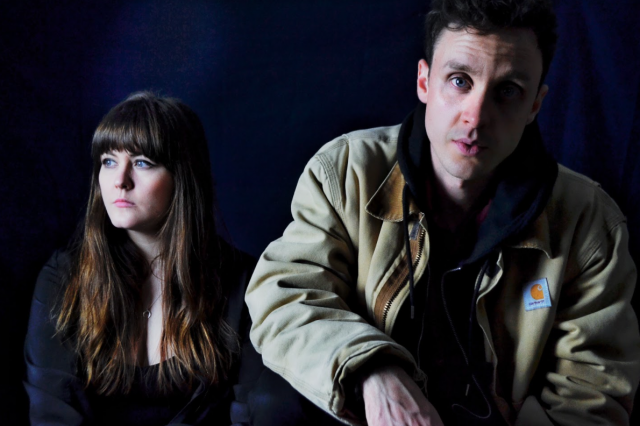 Following the release of singles 'Dust In The Sunlight' & 'Strangest Places' alt-pop duo Dust In The Sunlight deliver their eagerly-awaited eponymous EP.
Forming Dust In The Sunlight
Following a chance meeting at Get Cape. Wear Cape. Fly's studio singing backing vocals for his new album, singer-songwriters Billy Wright and Annie Rew Shaw quickly discovered how well their voices melded together. That evening, they wrote their first two songs together and Dust In The Sunlight was formed.
After multiple writing and studio sessions interwoven between other projects, the pair finally decided to form a band. The duo found and built their songwriting formula around Annie's ear for melody and Billy's eye for narrative lyrics.
Bonding over a love of artists like Elliott Smith, Sufjan Stevens and Joni Mitchell, Dust In The Sunlight is a curation of delicately-crafted, contemplative songwriting set against a landscape of brooding, alternative pop.
Within 12 months of their formation, Dust In The Sunlight caught the attention and signed a record deal with the label Project Melody. Their self-titled debut single picked up support from BBC Introducing and Radio X and was proclaimed by CLASH to be "an assured debut, one steeped in a rich sense of emotion while paying acute attention to melody. Even the smallest detail is catered for, and we're hearing shades of Elliot Smith running through Dust In The Sunlight's gorgeous debut."
Dust In The Sunlight EP
Speaking about the new EP, the duo explained: "These four songs represent the first leg of our journey together. We've come from meeting at Get Cape Wear Cape Fly's recording session to traveling from Southend to London to write songs together, arranging and recording them with our producer Aviv, signing with Project Melody, and now we're here. It's been quite a ride! We want these songs to tell a story, and for anyone who listens to them to be able to connect with that. Whether you're imagining driving home late at night under the cover of streetlights or wandering through the streets of your old home town – they exist to take you somewhere. We're so happy to finally share them with the world and can't wait for what's yet to come."
"With sumptuous dual vocals, Dust In The Sunlight exudes a hazy summer warmth. This is music for lazy days and park picnics."
Dust In The Sunlight – 'Strangest Places' Video
Alongside their latest collection, Dust In The Sunlight have also unveiled the video for their previous single 'Strangest Places'. While the original idea for the video was no longer possible due to the lockdown, the pair found themselves in the company of Vancouver-based animator Simon Edwards, who took on the challenge of crafting the stunning kaleidoscopic images for this new clip.
Speaking about their new video, they said, "After lockdown started, we knew that we wouldn't be able to film at any locations that we had previously planned to. Luckily we were introduced to Vancouver based animator Simon Edwards, through our creative director Alex Newton. After a few transatlantic phone calls, we started creating visuals that perfectly matched the song. We're both singing against a kaleidoscope of colours and patterns, portraying the idea that everything is within you – 'you are your own home'. Lockdown has its challenges, but it also makes you approach problems in a more creative way and pushes you into some amazing collaborations with other creatives."
Discover More From Dust In The Shadows
If you like Dust In The Sunlight you might also enjoy