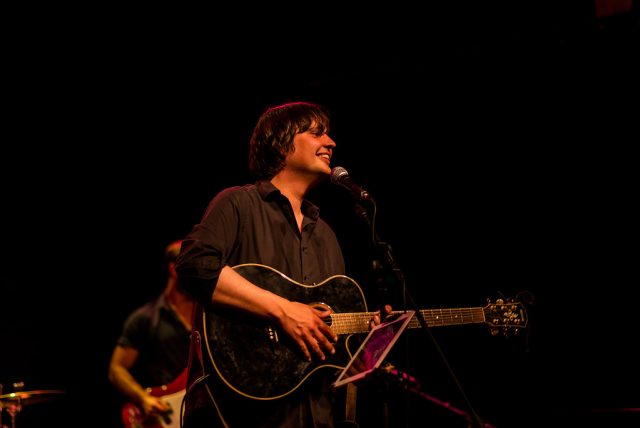 Adam Greenall 'Waves' is an album that combines excellent compositions with timely and relevant reflections that merits all the attention.
Adam Greenall – Waves
Adam Greenall is a Norwich-based singer, songwriter, and multi-instrumentalist. Influenced by several genres such as blues, folk, electronica, and alternative rock, Greenall has been building a solid career in the independent music circuit. His debut album, 'After The War', combines acoustic compositions with a lo-fi, electronic atmosphere, while his sophomore album, 'Tin Man', incorporates elements of rock, disco, and pop. 'Waves', his latest release, on the other hand, presents a more intimate and organic approach.
Structured within a primarily acoustic procedure, the album features influences from artists such as Bon Iver, The National, Fleetwood Mac and Neil Young, resulting in a collection of delightful, indie-folk numbers.
The album opener, 'I Believe In You', is a beautifully-crafted, gentle indie-rock cut that ends with a heartwarming harmonica solo and sets the tone for the album, both musically and lyrically. The album's warm and soft melodies are complemented by lyrics that address topics such as isolation, connection and hope and how one person can help another in times of great difficulty. In this vein, the second track, 'I Told You That You'd Save My Life', expands this approach with a similar pattern.
'Sunset', however, follows a slightly more melancholic path and addresses specifically the isolation during the pandemic lockdown. Featuring only sparse instrumentation, the song is defined by its beautiful piano passages and by Greenall's haunting, yet delicate vocal approach. The following song, 'Life Came To Waste Me', picks up the tempo and reaches new, happier heights with its first-rate, southern rock-styled concluding guitar solo. Greenall softens his attack again for the remaining of the album, which still features 'Heart Of Yours' and 'Another Ghost' as standout compositions.
Due to the structure of its songs and the nature of its lyrics, 'Waves' is the type of album that is a great fit to accompany moments of reflection and introspection, In my case, I listened to it as I drove to the countryside over the weekend and, inspired by its lyrics, reflected on how I could reframe my experiences during the pandemic and reconnect with meaningful people in my life.
If you are looking for an honest, spontaneous artist, do not look any further than Adam Greenall. Be sure to follow him on social media, check his earlier albums, and pay attention to his new releases.
Discover more from Adam Greenall
Discover more on RCM
Words Fidel Beserra