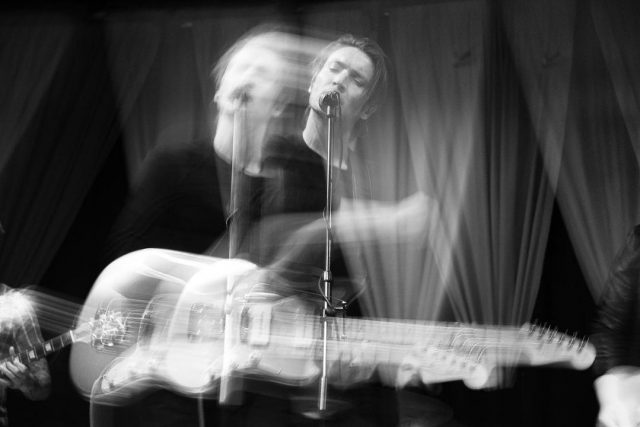 Night Swims have made one of the most compelling Space rock albums of the year in the form of Idle/Wild.
Night Swims – Idle/Wild
Night Swims from San Diego is the project of singer, songwriter, and guitarist, Michael Thomas alongside David Savoian (Bass), Tim Powers (Guitar), and Nathan Atwood (Drums). The band found its origins in the middle of the Covid-19 pandemic, a period that helped the band to work on the songs that eventually would be part of their debut album Idle/Wild.
In Idle/Wild there are a lot of emotions that come into play, there is a gloomy atmosphere at the beginning that is accompanied by some light at the end of the tunnel, the lyrics can be very transparent and honest at times but at other moments they can be a bit cryptic, Michael's lyrical work is one of the strongest points of this album, coming off as poetry of the soul, this artist ain't shy when it comes to showing a vulnerable side.
Trying to describe the amount of effort and detail put into the production of each song in this LP would be a herculean task, every tune has a gorgeous orchestration composed by an arrangement of different instruments which give it a rich texture.
The opening track 'Catcher' really lives up to its name, it catches your attention immediately with its reflective lyrics and marvellous instrumentation, something that is a recurrent trait that we see in upcoming songs like 'Neverless' and 'Hide Your Dreams'.
'After All' is a game-changer, with lyrics talking about how despite life's harshness, it is still beautiful, the hypnotizing guitar in the middle works as the perfect catalyst for the positivity in this track.
'Wild Things Roam' is the powerhouse of the album, this one feels more like a straightforward rock anthem with the empowering guitars and the upfront chorus.
Finally, the album reaches its climax with 'Special' which is arguably the most touching and sensitive song in the entire record due to the personal nature of its lyrics.
Idle/Wild is an emotionally charged musical odyssey reflecting on life's multiple faces through the eyes of a skilled musician.
Idle/Wild is a dive into the heart and soul of Michael Thomas, his hopes and fears, his life stories, his mournful experiences as well as the wish for a better tomorrow, this ambitious compilation of songs is a majestic showcase of storytelling in music.
Discover more from Night Swims
Discover more on RCM
Words Javier Rodriguez