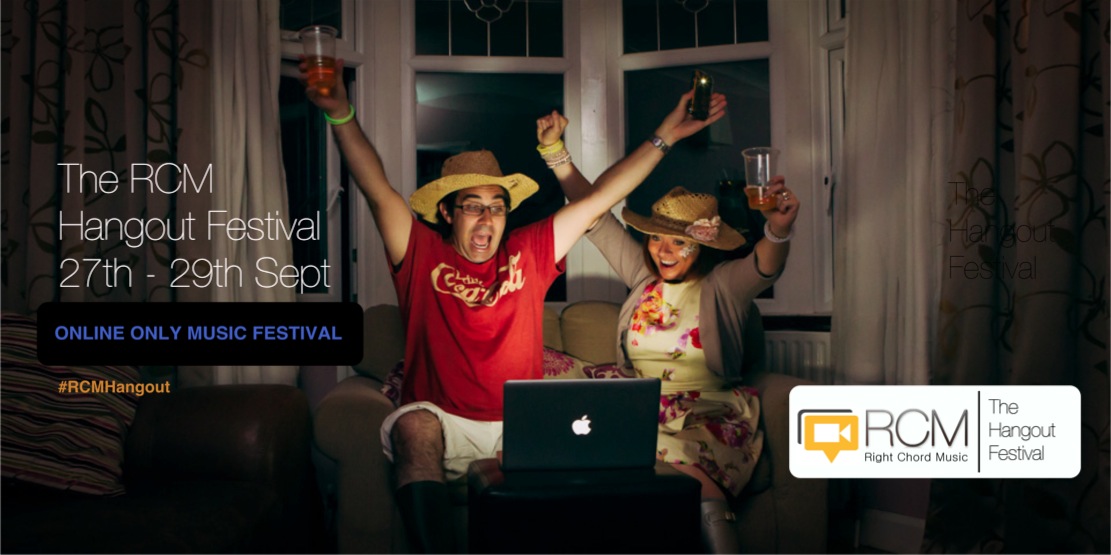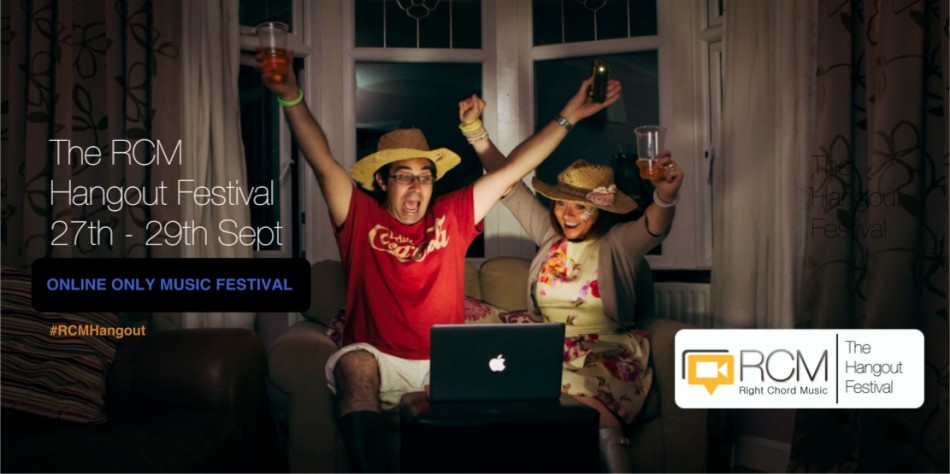 The first ever RCM Hangout Festival took place over the weekend (27th – 29th September). It was one of the first online only music festivals. No tickets, no mud, and no queues at the bar. This was the festival you could watch from the comfort of your own sofa. All performances were streamed exclusively live, right here on Right Chord Music. 
To watch back any of the performances, simply scroll down the page until you reach the artist you want, and click play on the YouTube video below their name. Some highlights to watch out for… AHI, a voice that gives you goose bumps, the dreamy harmonies of The Daydream Club, the Geometrist covering Britney Spears, the sheer fun and energy of Lillian Todd Jones, the audio perfection of Blind Atlas, the raw energy of Ruinz Ason, the perfect start from Stylusboy, the banjo folk of Sam Williams and The Flock of Bats, the hushed and intimate tales of Madam, the string breaking power of Allman Brown, I could go on and on…we suggest you take your time and work your way through all of the performances below.
Unlike a traditional festival there were no ticket sales, the festival was free to attend, but we encouraged a voluntary donation of £3 to support the artists who took part.
Stylusboy
Stylusboy (the Steve Jones part!) has become an integral part of the RCM team, hosting all six previous editions of the RCM Hangout Sessions. Stylusboy is the creation of Coventry chap Steve Jones and Northern lass Rachel Grisedale. With arresting melodies and poignant lyrics Stylusboy bring their particular brand of warm lo-fi folk to life. In March 2013 Stylusboy signed to acoustic label Wild Sound and shortly after released the Lantern EP, ahead of their first full length album. BBC 6 Music's Tom Robinson calls Stylusboy "A leading light among today's new generation of DIY digital troubadours." We couldn't agree more. Tune in to hear Stylusboy open the RCM Hangout Festival on Friday night at 7.15pm.   
Read more about Stylusboy on RCM
Towma
Towma are a piano-based alternative pop trio from London. They count Ben Folds, Rufus Wainwright and Everything Everything among their influences and have been compared to Esbjörn Svensson Trio, Steely Dan, and Supertramp.
The band has sold out Barfly, Camden and The Pheasantry, Chelsea and made regular appearances at The Old Queens Head, The Troubadour and The Notting Hill Arts Club. This summer they also performed at both Chagstock and Ardingly Arts Festival. Watch them play live at 7.35pm on Friday night.
Ruinz Ason 
Ruinz Ason is multi-talented artist, musician and producer hailing from south London. Having founded a hero and a villain music with brother/producer J-Flames in 2008, they have collectively racked up thousands of downloads and album sales with their 5 releases including album Hoodstarz and Villains, which produced the popular single 'calling'. In a review with rwd mag the album was described as a 'classic'. A year later Champions Breakfast EP was released to iTunes spawning the popular singles closer, post man and too sexy for a funeral. The latest project to be released by Ruinz 'This is Dubtrap' is a style of music produced by j-flames, which is an innovative hybrid of Dubstep, trap music and dub. Ruinz has become renowned for his topical & conceptual songs, distinctive voice and energetic live performances, that has seen him support acts such as Ms Dynamite, Doneao, Nathan, and Keith Murray.  Tune in at 8pm to see Ruinz
Kim Logan
Kim Logan arose from the swamps and beaches of Sarasota, Florida, after a decade in the opera industry, to write songs and make records in Nashville. From the delta blues to the psychedelic '60s, from the golden years of classic country to the perfect rock & roll of mid-century Britain, Kim illustrates her roots through her original music. In the dark and mysterious gentleman's club of rock & roll, Kim is the new queen. Tune in to watch Kim at 9pm on Friday night.
Read more about Kim Logan on RCM
SATURDAY:
The Secret House Party Show – featuring Barricades Rise and Wes Finch
Coming live from a secret venue somewhere in the Midlands, we'll be kicking off Saturday night in style with a house party show featuring 
Wes Finch – 
Americana inspired pop rock using traditional/acoustic and electric instrumentation with sweet harmonies and lyrics with meaning and wit.
Barricades Rise – 
With over 15 years together honing their musical partnership, Barricades Rise AKA Jonathan Coates and Michael McEntee have mastered the art of sounding like a 9-piece band encased in 2 acoustic guitars and vocals, taking the over-ripe Acoustic folk scene and turning it on it's head.
Tune in from 6.30pm on Saturday night

Matt Selfe
Matt Selfe writes 21st century electronic pop. He writes, records, engineers and performs all his own music in his studio and is currently playing the UK with co-performer and producer Todd Lacey. He's spent the last year mapping his sound, which has evolved beautifully since his 2012 EP 'Hope'.  His new jam, 'Do We Know How Lucky We Are' is due out late this fall. Tune in at 7.20pm on Saturday 28th to watch his set.
Sam Williams And The Flock Of Bats
Cornwall based SWATFOB recently featured as a RCM First Signs Of Love artist, and we loved them so much we demanded they come and play at our festival.  With influences including Noah and the Whale, Bon Iver , Counting Crows and Tan Vampires their sound is perfectly suited to the RCM Hangout Festival.  SWATFOB will be knuckling down to record their second EP in the spring, with a vinyl release planned shortly after that. Tune in at 7.45pm on Saturday 28th to watch their set.
Read more about SWATFOB on RCM
Blind Atlas (acoustic set)
A rock n' roll band in the best traditions, with guitars that gently weep one minute and howl the next. File under Neil Young, Calexico, Rolling Stones, the Grateful Dead. Hailing from Denver and disparate points around the UK.  Blind Atlas came together in the bohemian suburbs of south Manchester, and have notched up headline slots at some of Manchester's most iconic venues, as well as supporting the likes of Lucy Wainwright Roche, The Deadstring Brothers Blitzen Trapper, Buffalo Tom and The Bees.  Tune in at 8.10pm on Saturday night to watch what promises to be an exciting set.

Stefanie Haapala
Stefanie Haapala is a US-based artist who describes herself as… "A freckle face making music on a floral couch." Previously featured on Episode 42 of the Lost On Radio podcast we are delighted to welcome her to the RCM Hangout Festival. Tune in at 8.35pm on Saturday 28th to watch her set.
Read more about Stefanie Haapala on RCM
The Freewheel

Former RCM First Signs Of Love featured artist The Freewheel was founded by Laura Midgley and Clayton Devanny, a couple of music lovers (Yorkshire born and bred), singing about the world around them. The Freewheel create timeless sounding songs that often resonate deeply with the listener. In 2011, after gigging together for several years, they moved to West London where they are currently enjoying being inspired by city life and bouncing from its creative fringes. They recently recorded their debut EP 'Something's Got to Give' in the hills of Hebdon Bridge in Yorkshire. Watch them perform live at 9.30pm on Saturday night.
Read more about The Freewheel on RCM
The Love Our Records Takeover
We're excited to announce one of our favourite independent record labels 'Love Our Records' will be taking over the RCM Hangout Festival from 10pm on Saturday night with DJ sets from Kev La Kat, End Of Level Baddie and Dartz Get your friends over, the party starts at 10pm.
SUNDAY:
Mark Nichols
Mark Nichols began his musical adventure in 2011 with the release of Guardian, his debut EP. He first came to our attention in May last year around the release of his second EP The Traveller when we featured him on the RCM blog as a First Signs Of Love artist. Mark has shared the stage with prestigious acts such as Newton Faulkner, Andy Mckee, and Feeder, and gained the support of BBC Introducing in Cornwall, Devon, Sheffield and London.  " A promising writer.." – Tom Robinson (BBC6 Music) His chilled acoustic sounds are the perfect way to kick off our Sunday programme. Tune in at midday on Sunday.
Read more about Mark Nichols on RCM
Nadine Carina

Nadine Carina is a Swiss/Croatian singer songwriter currently based in Liverpool, UK. She plays acoustic guitar and likes to experiment, looping vintage toys, tiny percussions and electronic drum beats. As a former RCM artist of the week we couldn't resist inviting her back to play live. Nadine has just released a new EP called Space Toys in collaboration with US artist Audra Kizina. The EP fuses Folk, Noise and Experimental-Electronica. Tune in at 12.30 on Sunday afternoon to see this innovative and creative artist perform.
Read more about Nadine Carina on RCM
Humble He
Joe Morrell aka Humble He is surely one of the brightest and most interesting acoustic acts performing in the UK today. Our introduction to his music came through fellow RCM Hangout Festival act The Daydream Club. Once you've heard 'Opt' by Humble He you don't forget his music. "His songs feature unusual chord progressions; he displays the impressive skill of maintaining complex strumming and picking patterns whilst singing equally complex melodies. With his husky voice – reminiscent of Damien Rice – and memorable melodies which float over moody minor chord progressions a la City and Colour he certainly isn't 'just another acoustic act'…" – The Monograph.  Tune in at 1.30pm on Sunday.
Read more about Humble He on RCM
Blake Robson – Solo Set (Black River Wild)
Black River Wild are a folk, rock n' blues band delivering a stormy melting pot of foot-stomping floor fillers, plaintive ballads and captivating acoustica. It's a whisky-soaked, twanging guitar, dusty display of heart-felt story telling of joy & sorrow. It's an emotionally charged sound that should not be missed!!! We're delighted to have a solo set from lead singer Blake Robson at 2pm on Sunday.
Paul Mosley
Paul Mosley is a musical adventurer. After 5 years fronting cult alt-folk favourites Moses he now makes 'solo' albums with an ever-changing Garage Orchestra of guest musicians. His albums and theatre music have been favourably compared to Nina Simone, Tom Waits and The Muppets. His sixth album 'A Chattering Of Birds' features songs based around bird song and is his first to be released via the lovely Folkwit records. Q Magazine described his music as "A Honeyed voice & a garage orchestra of sometimes disturbing magic realist folk pop. Excellent."  Paul recently featured on our First Signs Of Love feature and we've been enchanted ever since. Catch him live at 2.30pm on Sunday.
Read more about Paul Mosley on RCM
Lillian Todd Jones
"Let us think the unthinkable, let us do the undoable." So goes the famous quote from the author Douglas Adams, one of 23 year old Lillian Todd-Jones' hero's and muses. It would seem that Lillian has taken that quote all too literally in her life, with a background as a fire walker, stilt walker and rope climber thanks to her childhood trade as an acrobat in her father's travelling dance troupe. Now, it would appear her career as a singer songwriter is about to propel her into what most people would consider the unthinkable yet again. Her debut single Butter Soul was released among a swathe of critical excitement, including a FSOL feature on RCM.  Now we all look forward to hearing her live at the RCM Hangout Festival. Tune in at 3.30pm on Sunday.
Read more about Lillian Todd Jones on RCM
Geometrist
Former RCM Band Of The Week Geometrist came to fruition in the sweaty depths of a booze-soaked basement in Allston, MA. The self-proclaimed "weird" district of Boston served to be the perfect home for Geometrist to begin shaping their sound in late 2012. Though many of the band's members – singer/ guitarist Jake Capistran, guitarist Mike Larsen, bassist Zack Renschler, and key-tickler Max Rogers – had played together at University in various capacities, Geometrist's current form was cemented with the addition of Capistran's life-long friend and drummer, Nick Brozek. Often categorized as indie or alternative rock, Geometrist's folk influence is also undeniable in its appreciation for melody and storytelling.  Each song on the band's debut Geometrist EP released April, 2013 – is the fully-fleshed version of a singer-songwriter style tune first strummed by Capistran in 2012. Catch them live at 4pm (UK time) on Sunday.
Read more about Geometrist on RCM
Madam (Solo set)
MADAM are a 6 piece band fronted/produced and written by Sukie Smith who make widescreen , nocturnal songs propelled by imagination and captivating late night conversation.  Their debut album In Case Of Emergency was released to universal acclaim back in 2008. Since then the quality of their output has continued to be exceptional with follow up 'Gone Before Morning' becoming a firm RCM favourite. Right Chord Music was set up to support artists like Madam so we are hugely privileged to welcome them to our online stage.  Tune in at 4.30pm on Sunday.
She Makes War
She Makes War is the solo project of Bristol based multi-instrumentalist, visual artist and digital polymath Laura Kidd, whose independent albums "Disarm" and "Little Battles" and newest release "The Butterflies Audiovisual EP" have gained her an ardent international following over the last three years.
Using the language of combat to show that love is a battlefield, She Makes War's music is about collision – analogue with digital, war with peace and technology with the natural world. Driven by Kidd's bewitching, pastoral vocals and layered guitars and supported by a plethora of additional instruments from ukulele to autoharp, melodica, piano, violin, harp, saxophone and three part recorder ensemble, She Makes War's songs are punctuated by a patchwork of field recordings from her global travels as hired gun for the likes of Tricky, Viv Albertine, The Penelopes and The Young Punx. Tune in at 5.30pm on Sunday.
Read more about She Makes war on RCM
AHI 
Hailing from Brampton Canada, Indie Soul recording artist AHI (pronounced "I") has always marched to the beat of his own drum and sung to the tune of his own melody. The youngest in a family of teachers, AHI was studying at Toronto's York University when he found himself frustrated with the state of music. In response, he abandoned a degree in Political Science and Philosophy and began playing guitar and writing songs in pursuit of his own voice. He turned off the radio and the TV and spent the next few years patiently developing his trademark sound, Indie Soul: a raw, passionate and edgy style that pierces the soul. AHI's heartfelt performance is often compared to the likes of Bill Withers, Marvin Gaye, Richie Havens, Otis Redding and even Sam Cooke, but don't expect to hear your traditional blues, soul or R&B. Whether solo, accompanied by his wife Ahshatèn on the viola, or backed by a full band, there's nothing quite like experiencing AHI live and witnessing his captivating voice first-hand. We've wanted him on the RCM Sessions for a while and delighted to have him performing at the RCM Hangout Festival Don't miss this one!  Tune in at 6pm (UK time) on Sunday evening.
The Daydream Club
The Daydream Club are alt-folk, pop duo Adam Pickering and Paula Walker who met while studying at The Liverpool Institute for Performing Arts. They have already enjoyed significant support from Dean Jackson (BBC Nottingham), Tom Robinson (BBC6 Music), Burberry (Featured in the 2012 eye wear campaign) and the Hypemachine's biggest blogs.
'Found' offers a rootsy slant on folk-pop, chocked full of The Daydream Club's trademark girl / boy harmonies, delivering both epic and intimate in equal measure. All tracks were written and produced by The Daydream Club. The EP was mastered by Pete Maher (U2 & The White Stripes).
The Daydream Club have recently run a successful fan funding campaign to raise money to promote this EP. As part of the campaign The Daydream Club offered their fans unique content and experiences including song-writing lessons, a cover version of their choice or even a personalised song. Tune in at 6.30pm on Sunday evening to hear them. 
Read more about The Daydream Club on RCM
Allman Brown
Allman Brown is an artist who has played shows all over London, New York and Paris. He has worked with many talented people, most recently the lovely Lowell and Liz Lawrence. He is currently planning a release of an EP with Akira Records. He sprang to our attention back in April when he was featured as a First Signs Of Love artist for his stunningly beautiful duet 'Sons & Daughters' with Liz Lawrence. It remains one of our favourite tracks of the year. Tune at 7.30pm on Sunday hear him close the festival in style.
Right Chord Music was set up in 2011, with the aim of championing incredible, new and undiscovered music. Since then our blog and weekly 'Lost On Radio' podcast has attracted music fans from over 130 countries around the world. In January this year, frustrated with bad promoters, and bad live music experiences, we decided to create a new live music platform. The idea was to give artists the opportunity to play to a global audience without even leaving their house.
By using Google+ 'Hangouts On Air' (a new sound setting, optimised for live music) we have achieved our aim. The RCM Hangout Sessions were born. No travel costs, no dodgy promoters and no queues at the bar! Using a laptop, webcam and Google+ account, artists perform via live streaming video direct from the Right Chord Music website, while fans interact using a Twitter hashtag.
After six successful RCM Hangout Sessions, with six incredible independent artists we've decided to up the ante and organise a festival. Thanks to Richard, Joseph and Rob and all of the artists for helping to make this idea a reality.