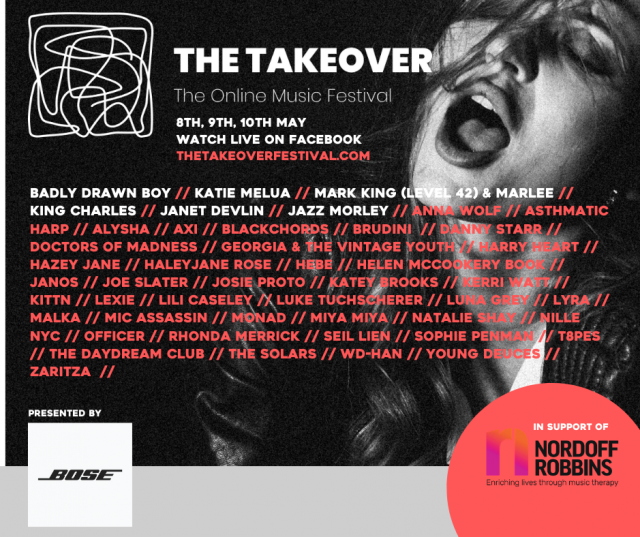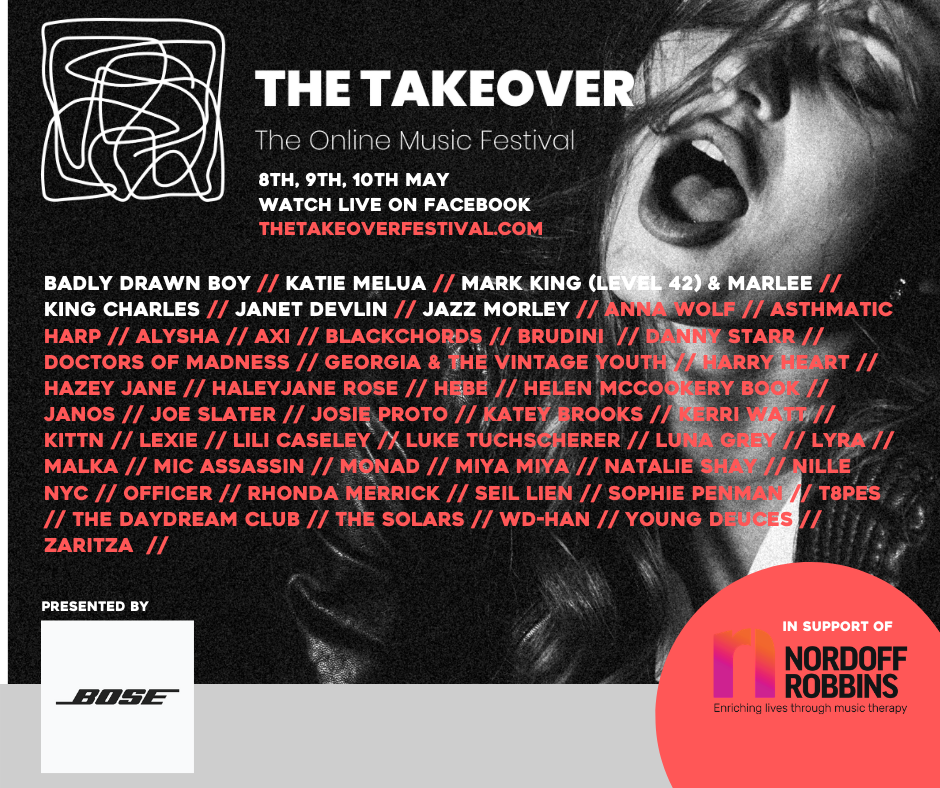 Last weekend saw established artists; Badly Drawn Boy, King Charles, Katie Melua and Mark King (Level 42) play live alongside emerging, independent artists on the Right Chord Music Facebook page for The Takeover Festival, presented by Bose in support of Nordoff Robbins.
In total 49 different artists representing 12 different countries took to our virtual stage. To date The Takeover Festival has so far attracted over 500,000 viewers and raised over £4,000 for Nordoff Robbins. There is still time to donate via The Nordoff Robbins website, or thanks to our friends at Fifth Column T-Shirts you can buy a limited edition Takeover Festival t-shirt.
Choosing our favourite performances was almost impossible, there were just so many, but here are just a few that lit up Facebook feeds and raised money for Nordoff Robbins. All performances are now available to watch back on demand here
LYRA
London based neo-soul five piece Lyra wowed viewers with their sound and slick multi-camera show which upped the bar on live stream performances. The show has since been shared 36 times. Have you watched it yet?
KING CHARLES
Friday night co-headliner King Charles welcomed us into his home for this effortlessly cool showcase on VE Day.
MARK KING (LEVEL 42) & MARLEE
Mark King (Level 42) closed The Takeover Festival on Sunday with this high energy show, which got people dancing and the Internet buzzing with 189 shares and counting. With this blog focusing on independent artists, it seemed fitting that Mark King handed the stage to his daughter Marlee to close out the set and an incredible weekend of live music.
WD-HAN
'We Don't Have A Name' delivered a high intensity full band blues rock set live from their base in Clearwater, Florida that immediately kick-started the Friday lineup. Suddenly this really was a music festival. Their cover of The Killers 'All These Things That I've Done' got people hitting the share button. The show has now been watched by over 37,000 times and been shared 59 times.
HAZEY JANE
Any band inspired by Nick Drake has our attention, and Hazey Jane frontman Roberto Bertoli didn't disappoint, his intelligent original compositions including latest single 'Sidetrack' sparkled and would have made his hero proud. His decision to throw in a cover of Northern Sky only cemented his place in our hearts. We've been listening ever since. Hazey Jane raised £138 for Nordoff Robbins from direct Facebook donations.
KATIE MELUA
This simple, intimate, acoustic show with her brother was perfectly pitched and reminded us of her talent as a songwriter and musician. The show raised over £300 for Nordoff Robbins and has been shared 142 times so far.
JOE SLATER
When you have a voice this good, you really don't need any fancy gimmicks. Joe Slater began with a Rod Stewart cover and that perfectly set the tone for a set that oozed quality and self assurance. Over 40,000 people have watched, with 52 shares. His talent also raised over £200 for Nordoff Robbins.
MONAD
Across the weekend we welcomed artists and viewers from all over the world including MONAD from Israel. MONAD is the the dream pop project of Tel-Aviv based artist and producer Eshchar Nachmany. This full band set wowed from start to finish combining a retro style with futuristic multi-camera tech. The hazy, woozy sound sparkled and was perfect for the Sunday 6.30pm slot. If this was at a physical set, this would have been a glorious sun-down set.
BADLY DRAWN BOY
Badly Drawn Boy used his set to showcase tracks from his new album Banana Skin Shoes including set opener 'I Just Want To Wish You Happiness' which felt perfect for the times we find ourselves in. Classics including 'The Shining' got us reminiscing and listening back to his debut album The Hour of Bewilderbeast, which incredibly will celebrate it's 20th anniversary this June.
DANNY STARR
His tender acoustic vocals amazed and soothed in equal measure. In just 25 minutes Danny Starr won over a legion of new fans and admirers from all over the world.
JOSIE PROTO
While some artists went to town on cameras and technology, Josie Proto focused on creating her own mini garden Glastonbury inspired stage. Her chirpy, infectious pop songs were an instant hit and bought smiles to viewers from across the world. With almost 7,000 views and 36 shares and counting.
NICK MILWRIGHT (BLACKCHORDS)
After an extended break from music, we were delighted to have Nick Milwright from Blackchords back performing on our stage. His sublime voice reminded us what we had been missing. Nick's stripped back piano set included arrangements of Blackchords favourites Broken Bones and Into The Unknown alongside first glimpses of brand new songs that left audiences wanting more. The comments rained in, and despite his time away, it's clear his music retains a place in many hearts.
THE TAKEOVER FESTIVAL PLAYLIST
Discover all of the artists that performed at The Takeover via our Spotify Playlist.