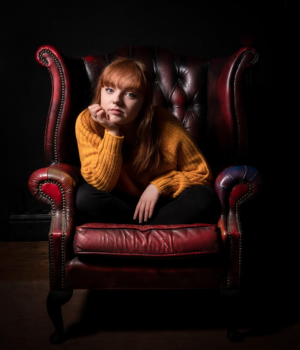 Grow
is the debut album from 19 year old starlet
Charlotte Grayson
. Hailing from Hartlepool in the North East of England the fledgling singer-songwriter has been making an impact in the region since the tender age of 14. Initially performing on the local open mic circuit, Charlotte quickly built a reputation for striking live performances and was soon playing gigs for some of the areas most renowned independent promoters.
Charlotte Grayson – How It Started
In 2016 Grayson completed a half finished Melanie Martinez song 'Where Do Babies Come From', her first foray into song writing. The video of this session has over 350K views on YouTube and continues to rise. Charlotte is releasing music on her own label, Shy Bairn Records and in 2018 released two digital singles in the same year ('Maybe' & 'Something To Miss').
She performed her first BBC Introducing Session the same year, on the back of which 'Maybe' became 'Track of the Week' gaining daytime airplay.
Recording Grow
In March 2019 Charlotte (aged 18) decamped into the studio with her newly recruited band to record this 14-track album in an intensive 5-day session. The songs have been mixed, mastered and produced by Mark Aubrey (previously head engineer at Ray Davies Konk Studio's & EMI Publishing) who has worked with a wide range of artists including Kylie Minogue, Bloc Party, Elastica, Mr Hudson, So Solid Crew & The Sugababes.
The upshot is a collection of tracks that take you on a journey of millennial trials and tribulations, which that focus on friendship, love, loss and self-redemption.
Grow spans a mixture of genres spanning country ballads (Grow Old, Goodbye), Indie Jangle Pop (Tip Toe, All You Had To Do), 50's Rock 'n' Roll ballads (Love You Anymore), Indie Rock (Sorry) and a nod towards Motown (People).
The standout track for us was the more inde-infused 'Old Flame', with guitar tones that echo Alex Turner's Submarine soundtrack.
Fans of Kacey Musgraves, Rusty Clanton, Dodie and First Aid Kit should find it easy to go grow with Grayson….
Discover Charlotte Grayson
Words. Dan Williams