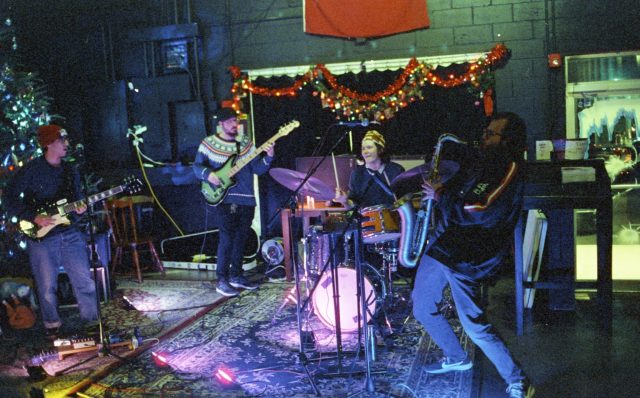 Rugburn are a New Jersey-based funk/jazz fusion outfit. Comprised of Josh Siegel on guitar, Carter Vames on sax, Ian Young on bass guitar and Jem Seidel on drums (all recent jazz studies graduates), they can be defined by their intense, highly dynamic improvisations and tasty tones.
In order to further expand their career, they have released 'Third Degree Burn', a stellar, first-class EP, which includes the participation of guest musicians Will Komar (keys) and Kazim Zaidi (vocals). 
Rugburn – Third Degree Burn
With some full-length albums and EPs previously released, Rugburn seek to enhance and perfect their brand of clinical yet very palatable funky jazz EP "Third Degree Burn" which is, first of all, a work of art in terms of mixing and production. The instruments sound powerful and clear but still retain some of the organic rawness that an album of this genre must possess. Another positive aspect is the well-calibrated volume of the instruments, which allows each one to shine individually, and even more as an ensemble.
"Third Degree Burn is funk/jazz fusion at its modern, pulsating best."
The EP kicks off with the instrumental 'Garlic Bread', a track as mouth-watering as its title. In the song, the group's tight rhythm section provides a solid foundation for the lead instruments to shine, especially the saxophone. The result is a vibrant, upbeat track with loads of dynamics.
It is followed by 'Horseshoe Crab Blood Driver', an instrumental epic that crashes in at just under 9:30 minutes. Its constant, mid-tempo pace allows for an exquisite stream of saxophone, keys and guitar solos. And in the case of the guitar solo, it packs an extremely virtuous performance, but at the same time with a lot of feeling and passion. The influence of classic progressive rock on the band's sound is quite clear in this session.
The equally epic in proportions and length ' Guy Fiery 'closes the EP. The number's first minutes are laidback, mellow and typical coffee-shop cool jazz, featuring nice duetted vocals. However, it does not take long before it evolves into a full-blown prog rock improvisation, complete with shifting tempos and inflammable guitar gymnastics. The song eventually returns to its elegant stroll before ending graciously. 
The feeling is that 'Third Degree Burn' is just a small (albeit absurdly good) taste of what Rugburn have to offer. They have the talent and appeal to achieve big things in the future, and they are certainly on the right path towards it. Be sure to check their early albums as well and follow them on social media. Great music awaits to grace your ears.
Discover more from Rugburn
Discover more on RCM
Words Fidel Beserra