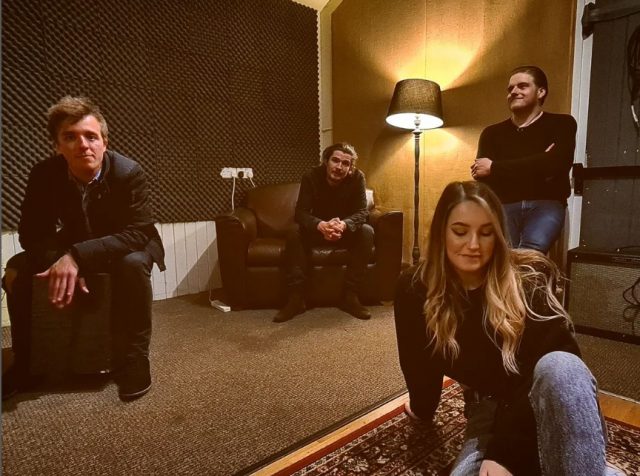 Oxford's four-piece, Kanadia has released an intricate musical work that dives into the multiple struggles of mental health. Composed of four unique chapters, each deeper than the previous one, this alternative rock outfit has crafted 'Distant Life' a majestic EP.
Kanadia – Distant Life
Consisting of James Bettis (guitar/vocals), Tim Lucas (drums), Melissa Marshall (synths/keys), and Jack Ashworth (bass) Kanadia has spent the last couple of years solidifying themselves as a prominent name in the independent circuit of their native Oxford and beyond. Performing all over the country at important venues such as The Bullingdon, Night and Day Cafe, and Oxfords's Jericho Tavern just to name a few.
Musically speaking, there are obvious comparisons that can be made in this record particularly, with James' vocals at some key moments sounding like a younger version of Matt Bellamy with an edgier spin, slightly reminding us of Muse's during the Absolution era.
'Wish Away My Time' spectacularly opens this EP, delivering a powerful rendition with haunting vocals talking about life passing by, accentuated by an emphatic chord progression.
'Hi/lo' raises the bar with a more upbeat rhythm, having a slightly more aggressive connotation, tackling the universal and always harsh subject of depression.
'Where's Your Friends/Wild' does a great job at recreating the uneasy desperation after a life-changing panic attack, mirroring this distress through its top-tier instrumentation.
'June' is not only the closer of this brief compilation but also the crown jewel of this entire record, ending this work in the most heart-rending way possible, with a tribute to the loss of a loved one, still keeping the same melancholic line.
Distant Life is a soulful compilation of songs, addictively poignant and captivating from beginning to end.
It would be unfair to categorize Distant Life as just another sad or depressing rock production, instead what we got here is a reflective work that can go from being very visceral to just fragile. The introspective lyrics excel at reproducing all these sorrowful feelings but never exhaustively. on the contrary, this EP functions as an emotional release that always leaves room for a profound analysis. Overall this is the most personal and upfront delivery from this group to date, cohesive and intriguing at the same time, Distant Life is a step in the right direction for this promising act.
Discover more from Kanadia
Discover more on RCM
Words Javier Rodriguez