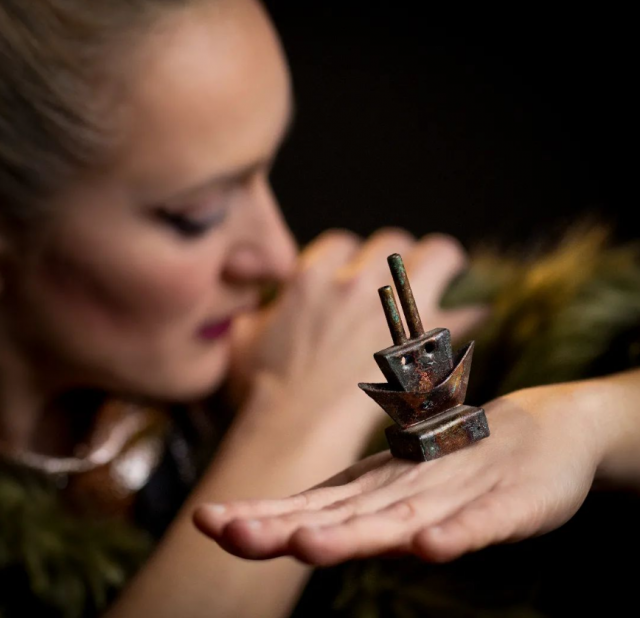 If you don't like predictable music, Lia Hide is what you're looking for. The Greek trio, consisting of Lia Hide on piano and vocals, George Rados on drums and Aki'Base on bass, moves its steps from electronica to R&B, trip-hop and orchestral resulting in a unique, fresh blend of genres.
Lia Hide – Row Row Row
Lia Hide is the prolific lady of Greece's dark, avant and progressive pop scene. Row Row Row is a manifesto for Lia Hide's sound. The listener almost feels disoriented as Hide's vocals lure us in from the very beginning. Recalling a nursery rhyme with its steady rhythm, the lyrics are deep and personal, dealing with social struggles and anxiety that everyone faces on the daily.
As the chorus soars, metallic percussions and seemingly dissonant synths come together in a galvanizing energy punch, as Hide sings "and all I do is row row row the boat".
"Row Row Row is a pop gem for its chaoticness and need for experimentation, and we can't wait to hear more." 
Lia Hide have the power to sound "strange", but in a way that will make you unable to stop listening. Row Row Row would come out of a post-apocalyptic radio and that's its intrinsic power.
Fans of Lamb and Fever Ray, and those who love music that takes you on a sonic and emotional trip, will fall in love with Lia Hide's quirky and hypnotic sound.
Discover more from Lia Hide
Discover more on RCM
Words Anna Colombo