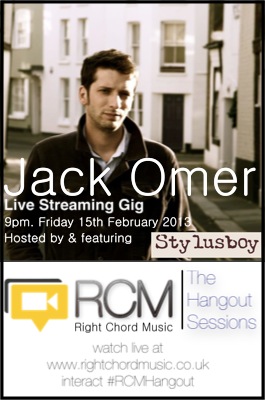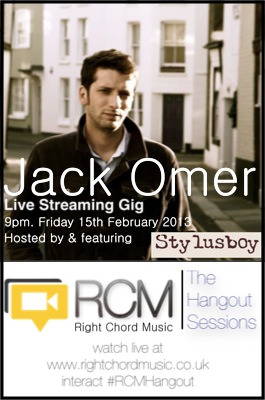 Jack Omer was raised on a diet of Dylan, Young & Springsteen, but it was his introduction to the traditional music of Ireland and a growing awareness of the American and Celtic folk traditions, that possibly had the greatest impact. He's been enthralled ever since.
Listening to his music, it's his lyrics and stories that hook you in, but Jack is quick to assert that he's a lyricist not a Poet. Poet's he observes are constrained by myriad of rules. As a lyricist he believes he enjoys much greater freedom of expression.
It's interesting then, that this freedom often steers him back towards the world of poetry and the traditions of Irish music. So while his lyrics clearly hold power, it's Jack's unique use of poetic techniques that truly set him apart.
Jack's style is definitely cerebral, he deliberately aims more for the head than the heart. Jack passionately believes as a lyricist he has a responsibility to both know and speak about the times in which he lives. This focus aligns him more closely with the storytellers of 1930's & 1960's America than modern pop with its reliance on a simple 'catchy tune.'
Jack Omer will be releasing his debut album 'The Music Of Joanna' later this year. This is your chance to hear this unique artist unplugged and acoustic. You're in for a treat!
Jack Omer performs 'Going Back Home To The South' from his #RCMHangout Session
[youtube]https://www.youtube.com/watch?v=CKozObEs914[/youtube]
Stylusboy performs 'Song For Noah' 
[youtube]https://www.youtube.com/watch?v=WZh3eoeLtp0[/youtube]
Our aim is to make Right Chord Music Hangout Sessions a live monthly showcase of incredible new music, broadcast live to the world. To take part in a future Hangout Session or suggest an artist you would like to see, contact us here.
The show is free to attend, but we encourage a voluntary donation of £3. All money will be given to the artists.