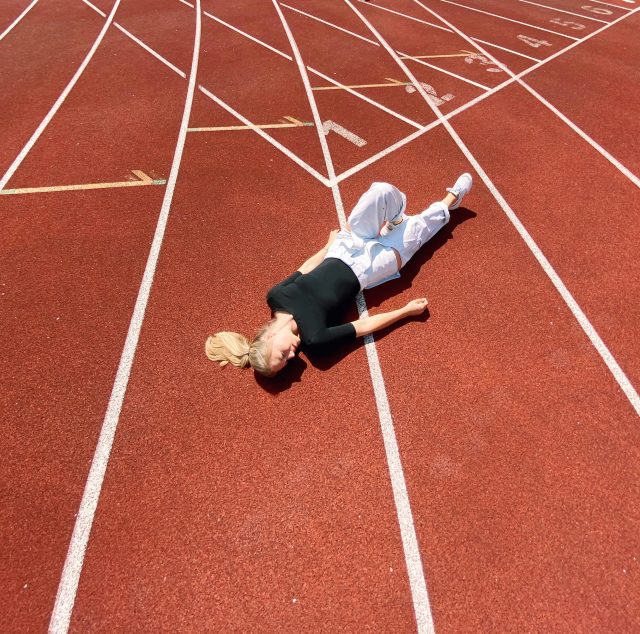 To close this unfortunate chapter of our lives called 2020, here comes Happy Pill, the new single by up and coming Latvian-Dutch songstress ANNNA, it's out now.
The quiet, understated track perfectly embodies the claustrophobic spirit of the year: stuck, annoyed, striving for any drops of happiness one can squeeze out of the confinement… Well, since we are pretty much sentenced to at least a few more months of this hell, why not laugh in the face of our predicament?
The slow bass line sets the tone accompanied by echoing hand-claps that accentuate the feeling of loneliness. Then ANNNA's delicate voice mutters her (our) dramedy story with irresistible self-irony. The sound unravels in a hypnotic loop as she goes through the motions, waking up to the same day every morning. She can't even be bothered to shed her pyjamas and get properly dressed, the highlight ("happy hour") of the day is by the side of her loyal companion, the fridge.
One solitary little blessing seems to be all that is propping her up: this "happy pill" she takes prior to any other activities. That is before her other dear mate, the telly, starts flashing some bits of reality, sabotaging her enterprise of trying to preserve some shred of joy. And still, here she is, in her pyjamas, never turning away from the company of her television in hopes that merrier stories might lie ahead. What else can we do? The videos expands upon this concept of a quarantine diary as she poses for the camera in her home while binge drinking, scavenging through her supplies of snack foods and awkwardly dancing her way through the day. Lorde style, baby!
ANNNA started gaining prominence in the music scene in August 2019, with her song The one that got away. Her follow-up Stardom/Hater was the winner of the Amsterdam Dance Event's Sound Lab Demolition Competition and she got wide media attention for her third single Polyester.
Discover more from ANNNA
Words Fernando de Oliveira Lúcio