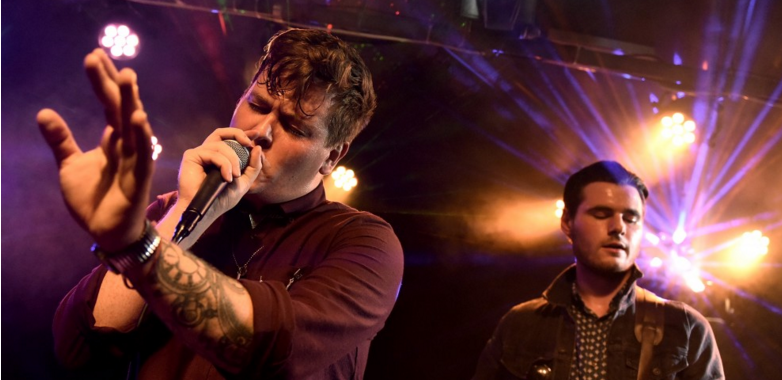 Broken Witt Rebels Live in London at The Water Rats
The magic of live music
It's been said that when a band records a track, they are capturing a once in a lifetime moment that can't ever been repeated. Every subsequent performance is merely an attempt to recreate the perfected recording, and it will never be the same again. A depressing thought, and not one the Broken Witt Rebels subscribe to. When this Midland's four piece hit the stage, they do so with the intention of leaving nothing behind. Every ounce of energy and passion is drained from their souls. For this band, the studio recording simply provides the canvas for the live performance, they take every track to its ultimate potential and it's glorious.
Broken Witt Rebels the best live band in the UK
On Saturday night, the Water Rats became their church and the packed room their devoted congregation, if there is a better live band in the UK right now we need to see them.  Frontman Danny Core at time resembles a preacher as he struts, contorts, and imbues the music that his brothers produce. His powerful soul voice leaves you with chills.
Their eight track set kicked off with 'Low,' the lead single from forthcoming EP Georgia Pine (Released April 15th). While some bands struggle to hold an audience within seconds the room was theirs, as fans struggled and strained to follow Danny's every move around the Water Rats stage. This is a band that have worked tirelessly hard for everything they have achieved so far, and are humble enough to admit it. This struggle has created an obvious kinship between the band and the euphoria from the room translated back to the stage with bass player Luke rewarded with a cheeky kiss from Danny before the opening number was complete.
The 30min set was relentless in it's energy, with the band rolling between tracks to play three tracks from Georgia Pine including future single Guns a powerful and honest homage to Birmingham. There was also time for two brand new tracks (Come On Over and God Knows) and three tracks from previous EP Howlin' including the title track, Cloud My Day. The anthemic Shake Me Down, provided a suitably epic ending. Before they defied venue rules (they are Rebels!) to play Queen Bee as an encore. It's not often a support band are willed back on stage with such fervour.
Birmingham has a long and rich history of great rock bands, and now they have another one. #UpTheRebels
Forthcoming Live Dates:
15th April. Birmingham Sunflower
16th April. Sheffield Rocking Chair
30th April. Bedford Esquires
5th May. Glasgow Oran Mor
6th May. Manchester Academy 2
7th May. Birmingham O2 Institute 2
8th May. London Shepherds Empire
Video courtesy of Phil Honley (Watch the full set)