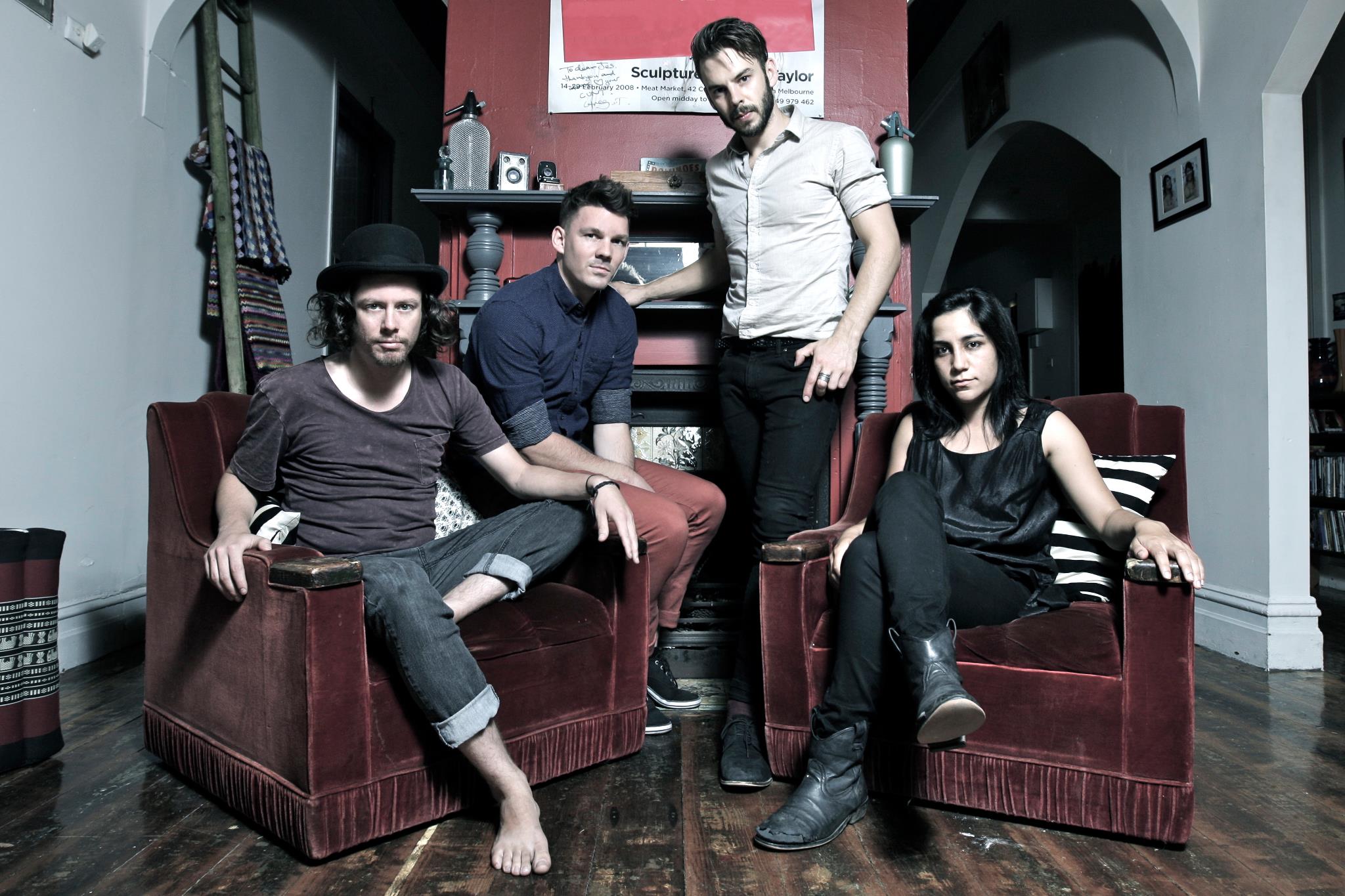 Melbourne, Australia's Blackchords are a rare beast in today's musical landscape. They are a band that focuses on making great albums. Anyone lucky enough to have discovered their debut self titled album would recognise that while the album was filled with intelligent song writing and moments of individual impressive beauty, it was as a complete album that it truly worked it's magic. For just over 30 minutes their debut captured a mood and held you in it so intensely that you actually felt the music. Not something easily achieved in a world dominated by single track downloads and 3 minute pop songs.
Four years on they are back with a 'Thin Line' their second studio album. So what's changed? Well the time taken to get to the start line suggests this is still a band as obsessed by detail and as fastidious about perfection as they were about their debut. (Which incidentally took a comparatively rapid three years to convert from demos to finalised perfection).
Herein lies the first potential challenge for Blackchords. With the world obsessed with now, new and next, there a danger that the world has moved on in the time it takes Blackchords to deliver an album.
Back in 2009 the world of Indie guitars had been hijacked by electro and a horrendous, thankfully short-lived sub-genre dubbed new-rave. Blackchords with their introverted, widescreen acoustic rooted indie, which drew favourable comparisons with Nick Drake, Jeff Buckley were out of step… So said the radio people.
Fast forward to 2013 and a 'Thin Line' finally arrives. It's jammed full of electronic drums and programmed beats this at a time when the world has gone mad for soppy Adele and the energetic acoustic folk of Mumford & Sons! You can't help wondering what would have happened if Blackchords released their albums in reverse order.
Thankfully we all know the best music leads not follows, and 'A Thin Line' should be more than capable of catapulting Blackchords to a wider audience if only people could hear it. Herein lies the next challenge. Despite now being out, it's not available to stream on SoundCloud or BandCamp the go to defaults for bloggers. It's hard to write and enthuse about an album when you can't hear or share it.
Despite clearly embracing social media and developing an international fanbase, through live shows and TV show song placement Blackchords remain an Australian band, and A Thin Line remains an Australian album, released and promoted to Australian media.
Two singles in, and a scan of blog aggregators Hypemachine and Elbows reveal this album hasn't been featured on any blogs (except this one) outside of Australia. What a travesty. Once again it feels like this album could feel old by the time it finally leaves Australia.
So what of the album itself? After touring their debut album around the world, Blackchords openly talked about their desire to make an album, which better reflected the energy of their live shows. This has undoubtedly been achieved. We can't wait to see 'A Thin Line' live. Reports of blooded heads and table top dancing at SXSW suggest this album has provided lead singer Nick Milwright with the perfect opportunity to cut loose, like only he can. At their best Blackchords are a thrilling live proposition.
From the stories emerging online, It's clear this album has been a struggle to make. For the first time came the pressure of delivering an album for fans. The first album was written before fans existed, now personal demands and request were being made, this combined with a commercial pressure to write a radio hit resulted in writers block.
Funding was also a challenge, having left first label Dust Devil, there was no money to make an album. Luckily the fan base they had worked so hard to cultivate stepped in, and a fan funding campaign was sufficiently successful to allow them to attract the services of Grammy Award winning producer David Odlum (The Frames, Gemma Hayes, Josh Ritter).
Work on the album commenced, but just when it seemed everything was back on course, the band took the difficult decision to part company with drummer Nick Cheek. Cheek's contribution to the band's development should never be underestimated or forgotten. When frontman Nick Milwright describes this album as being a fight against distraction and it's easy to see why!
Here is our track-by-track review.
1. A Thin Line
The album starts with ticking clocks and acoustic strums, seamlessly connecting the last moment of 'Disappear' on the debut album with the first moments of this new album. As the song progresses, instruments soar to a crashing crescendo akin to Foals Spanish Sahara, before returning to Milwright's startlingly clear vocals, acoustic strums and those clocks. It's an impressive start.
2. Oh No
Released as the second single, this track provides the first hints of a development in sound with processed beats propelling the song along and adding light to dark lyrics.
[youtube]http://www.youtube.com/watch?v=-9qz7fTw1Bw[/youtube]
3. As Night Falls
Written to soundtrack Blame, an indie Aussie film released in 2011. The original version of this track became somewhat of a staple on Amazing Radio here in the UK, rising to number two in their charts. Since then a passionately delivered vocal finale has been added that makes this track fly. If you loved the original, this is better.
4. Sleepwalker
The song bursts out of the speakers with a powerful urgency. There is a sense of paranoia and confusion; with layered sounds and dirty bass this is the album's call to arms.
5. Into The Unknown
A calmer, lighter, somewhat more introspective moment, much welcomed after the furious nature of Sleepwalker. Delicate guitar plucking and atmospheric backing vocals provide a haunting quality that adds a layer of dream like fog to proceedings. Watch their recent live acoustic session version for Sofar Sounds Australia.
[youtube]http://www.youtube.com/watch?v=2R9cblpiVPQ[/youtube]
6. Dance Dance Dance
The first single, and it's easy to see why, it's a high octane, jet heeled indie disco moment combining upbeat energy with downbeat lyrics, a Blackchords speciality. You can almost imagine standing at the edge of the dance floor failing to pluck up the courage to speak to that girl.
[youtube]http://www.youtube.com/watch?v=lu2_dUzWBZo[/youtube]
7. Kitchen
Intricate guitar picking makes way for hushed vocals, as Nick Milwright tells a heartfelt tale of relationship breakdown. Blackchords have an ability to capture these universal moments of sadness in such an intelligent way. The honesty of these locals is quite affecting.
8. From Here
The most experimental track on the album with blipping beats pushing Blackchords towards obvious Radiohead comparisons before vocal harmonies and guitars return them to more familiar territory. It's an exciting departure for the band.
9. Wasting My Time
Returning to acoustic guitars and pianos this song twinkles before building to a Coldplay-eqsue moment of intensity and an impassioned vocal chant to finish. It's a track that becomes more impressive with every listen.
10. Day I Die
Anyone who saw their last UK tour would likely have seen a version of this song. It was a highlight back then, and it's evolved to become something truly special. Stylistically, it's the closest thing to the tracks on the debut. The addition of strings elevates this song to a new level. It's truly beautiful, and when it ends, you are left wanting more.
It's lucky then that Spotify listeners are treated to a bonus track.
11. All The Good Things
For a while during the recording process it seemed like the inclusion of this track would have been a dead cert. A pre-album session version for Balcony TV suggested this might even be the centre-point and a future single. But along the way it seemingly lost favour, so it's great to see it released. It has evolved from a wonky piano ballad to something slightly more polished, but it's wide-eyed lyrical innocence and beautiful simplicity remains.
[youtube]http://www.youtube.com/watch?v=nLXpoLextno[/youtube]
If the debut album was about Nick's Milwright own personal journey and song-writing craft, A Thin Line feels much more of a collaborative effort. Bassist Tristan Courtney has added a new dimension to the band, helping them define the Blackchords sound, tastefully combining elements of electronica with their existing widescreen blend of dark alt-pop. Lead guitarist Damian Cazaly has also had a greater role in song-writing and it feels like he has bought more of his live electric guitar energy to this album.
This is a stunning album, that the world needs to hear. Life is better with Blackchords in your ears.