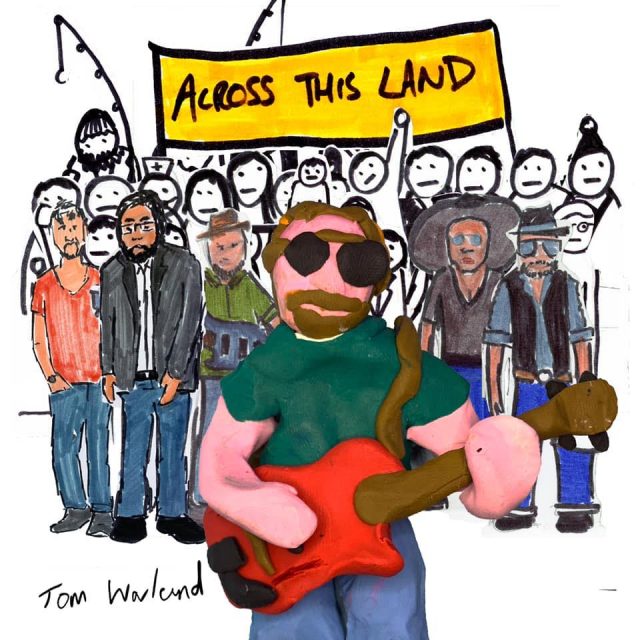 Tom Warland is a folk-rock songwriter and multi-instrumentalist based in the South East of England, with Across This Land being the titular single from his debut EP.
Tom Warland – Across This Land
"Come, my brothers, stand with me, for the right to be free" opens 'Across This Land' by Tom Warland. It's a line that instantly conjures images of revolution and marches and picket lines, and with good reason – Warland wrote this piece inspired by trade unions, and their rallying songs, popular in times gone by. Well, trade unions still exist, but the songs have fallen out of fashion, which is unfortunate in my books – a good and fitting song can do a lot to unite a cause. Perhaps Tom Warland can start bringing them back.
'Across This Land' is a folk-inspired protest song, with relentless drive, a memorable melody, and some impressive power to inspire.
I have to applaud Warland for his daring in taking on the protest song – always a tricky genre – and having the sincerity to turn its cliches into heart. It's a minimally written song, with one main call-and-response melody that repeats throughout, but perfect for the style. Warland's raw voice also fits it well, echoing the voice of the everyman worker, with simple lyrics like 'We're all working on this land, we have the right to raise our hands.'
With that insistently strumming guitar, the haunting humming of the backing vocals, and the kick drum, there's a pleasing folk influence throughout, but the track takes a shift into a heavier gear about halfway through, with some shredding, erratic guitar and a key change. There's a cinematic feel to it all, you can almost see the procession of a march through the streets as the song progresses. A bold and effective song from a new, interesting artist. Tom Warland can be proud.
Discover more from Tom Warland
If you like Tom Warland you might also enjoy Midlight
Words Eden Tredwell