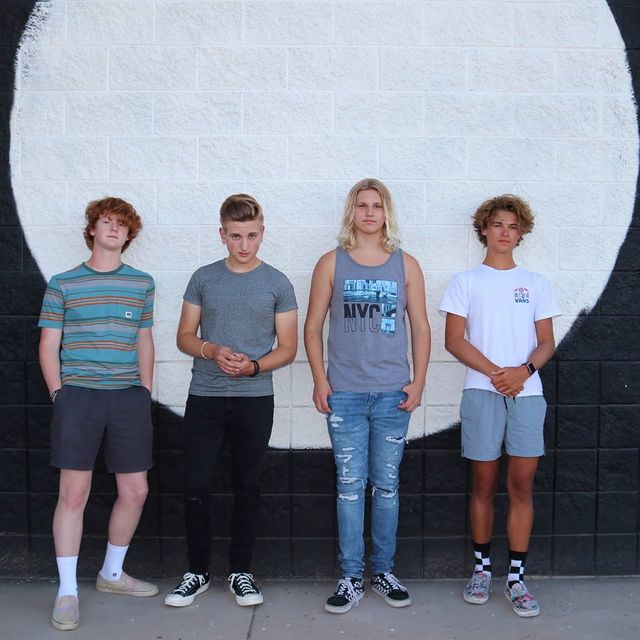 Everyone remembers their own little teenage love story. The haze of nostalgia tends to make us gloss over the bad bits and view everything through a sunshine-filtered lens, and some of us wish we could do it all again. Luckily, young band Frantic Memories have the awareness to realise that they're currently living their own teenage romances, and the wit to write some catchy songs about it. That's the charm of their latest single 'Fall Into The Pool With Me'.
Frantic Memories – Fall Into The Pool With Me
Frantic Memories is an indie band hailing from Utah, which grew from frontman Christian Sorensen's solo project into a 4-piece, with all of its members still high-school age.
'Fall Into The Pool With Me' is an upbeat, infectious summer jam, with all the giddy joy and awkwardness of adolescence.
The song describes an attraction on first meeting, with that hooky chorus singing 'She said there's no such thing as love at first sight, but her eyes are telling me that there might.' Sorensen delivers his conversational lyrics with energetic, earnest vocals and a touch of self-deprecation – 'We heard them whisper "Could they shut up for a moment" '.
With its surfer guitar, thrumming bass, playful riffs and handclaps, the track bounces off the wall with youthful energy. It's no surprise that Frantic Memories are seeing some underground success and a growing teen fanbase. Fans of indie-pop bands such as Two Door Cinema Club should give this a listen and keep an eye out for their upcoming debut EP.
Discover more from Frantic Memories
If you like Frantic Memories you might also enjoy Shy Nature
Words Eden Tredwell