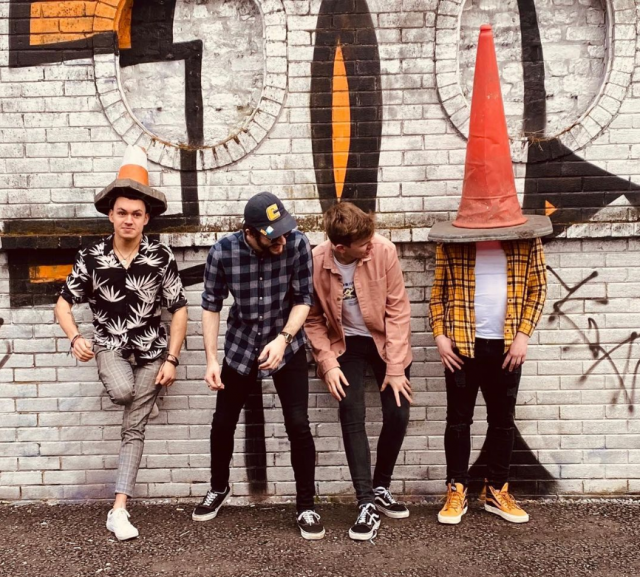 The Music Review Mixtape is a new format for the Right Chord Music Blog. In this feature, writer Javier Rodriguez provides a round-up of the best new music submitted to our website. Today he introduces 7 new artists, with a short, snackable music review.
Lily Wolfe inspires optimism with her debut track 'New Earth'
What better way to kick off this section than with our first artist Lily Wolfe, a singer and songwriter from London making her official debut. Her introductory song New Earth is an emotionally charged tune that draws inspiration from the chaotic times of the pandemic.
This graceful piece perfectly illustrates the feelings of isolation that millions of people around the world felt during such a difficult period, but also the safety that meant being at home with her loved ones, that duality of sadness and hope grant this piece with an unparalleled sentiment.
The song is driven by the calm acoustic guitar, while Lily's soft and kind voice delivers the touching lyrics flawlessly. Despite this being just the dawn of her career, it is no exaggeration to say that Lily Wolfe definitely knows how to connect with her listeners on a deeply personal level that not many musicians can.
To Hell With Tradition Demolishes Expectations in 'Paper Cuts'
Next in our parade of extraordinary unsigned acts, we have To Hell With Tradition, this solo project was created by Achim Hofmeyer, a multi-instrumentalist, composer, singer, and producer hailing from Heidelberg, Germany. For ten years, Achim was part of the band Mellow, followed by a long hiatus that inadvertently would plant the seeds for this solitary enterprise.
The origin of To Hell With Tradition comes from this artist's impulse to stop denying his creative nature, breaking away from fulfilling other people's expectations. His most recent melody Paper Cuts is an indie rock jam infused with hypnotic synth harmonies and a poignant theme that reflects what we can expect from his upcoming third album, Blurred, set to be released on August 26th.
And just like the name suggests, Blurred is an ambiguous line where two voices dialogue, with an abstract essence, that it's up to the audience to interpret. This unique way of approaching composition has become a staple for Achim throughout his marvellous solo career.
Jelte Leaves His Fears Behind In His Song 'Closer'
Multi-instrumentalist and songwriter Jelte is here to delight us with Closer, a romantic bop with a catchy chorus and an upbeat rhythm section that has the potential of becoming your favourite earworm for this summer. The lyrics talk about that ideal person who has the power to vanquish your inhibitions and allow you to be yourself, that magical and pure emotion is accentuated perfectly by the formidable instrumentation.
Jelte developed a taste for music from an early age, specializing in piano and synthesizers, with legends such as Elton John, Prince, and Bruce Springsteen as some of his musical heroes, because of this, it comes as no surprise that his sound is heavily influenced by 80s funk and rock. Closer is the second release of the year from this promising young performer, which already has over a thousand plays on Spotify.
Stuart Ironside Gives New Life To A Classic In 'Gomni'
Stuart Ironside is a highly proficient guitarist based in London, his immaculate execution of this beautiful instrument has captivated audiences wherever he performs. He started his studies at Cardiff University, majoring in classical guitar performance while studying Javanese Gamelan and West African music. These experiences opened his eyes to a new world of music, far from the conventionalism of western sounds, this would shape his unique way to perform and arrange songs, becoming a classical guitar virtuoso.
This melody is Stuart's arrangement of Gomni, a song made famous by the legendary Ali Farka Touré, renowned Malian multi-instrumentalist, and pioneer of African desert blues.
It would be a disservice to say that Stuart's rendition of this song is just a simple cover, while the key components of this emblematic track are still there, Stuart's mastery of classic guitar truly invigorates this piece with new energy, not only showing his respect for a legend but also demonstrating his love for African music, capturing the spirit of this iconic piece.
Deep-Sea Low Tide And The Anguish Explored In 'Joe Is Trembling'
Denmark Alternative outfit Deep Sea Low Tide has unveiled their brand new track Joe is Trembling, their first official release in two years. This recent delivery is the follow-up of their debut EP of 2020 Drown. DSLT sound has often been described as Post Punk with some alternative rock sparkled in between, proving that this project is not afraid of pushing boundaries.
Joe Is Trembling shares some of the characteristic traits of Post-Punk, the distorted guitars, as well as the mournful topics, however, this Danish group stands out exponentially in this composition thanks to their intensity, frontman William Schjøtt leaves his heart and soul out in this breathtaking performance, pouring raw unrestricted emotion.
"I was screaming at the top of my lungs"
Without a doubt, Deep Sea Low Tide will make some heads turn this year with their heart-wrenching lyricism and astonishing showmanship.
Origami Tsunami Face Reality In 'Melody Sings'
Two months ago, yours truly had the privilege to review Life Hack, the first release of 2022 for Origami Tsunami, which I must add, was a pleasant and unique experience due to their fascinating amalgamation of genres such as Post-rock and Math Rock. After the great reception of this musical work, this Manchester collective is back with a brand new single called Melody Sings.
Straight realism is something that has always been part of this band, touching empathetically enjoyable subjects, the highly relatable lyrics of Melody Sings illustrate life in the big city and how overwhelming this can be but also, the irony of loneliness in places with so many people. The mind-blowing musicianship is back again, and it's also crucial to point out how John Gellersen has the unique ability to put you in the driver's seat with his emotional delivery. Origami Tsunami has knocked it out of the park once more, creating a piece as unforgettable as their own name.
Green Wire Crafts a Crowd Favourite With 'Silver-Tongued Devil'
Last but definitely not least, we have another promising act from the colourful and always evolving Manchester music scene, Green Wire is an indie rock band with a relatively short time as an established group, having formed just last year, but don't let this fool you! In this brief period, this four-piece project already accomplished sold-out shows, their first-ever presentation as headliners, and a generous amount of plays on streaming services, if that's not efficiency, then I have no idea what it is!
Silver-Tongued Devil is their most recent melody, an energetic alternative rock banger with jangly guitars and a contagious hook described by the band as "A real live favourite" in their gigs. This indie gem is a ferocious and fun composition that is a MUST on any indie rock lover's playlist but be cautious! Prolonged exposition to this single may cause side effects like uncontrollable head-bopping.
Discover More Music Review Mixtapes
Words Javier Rodriguez