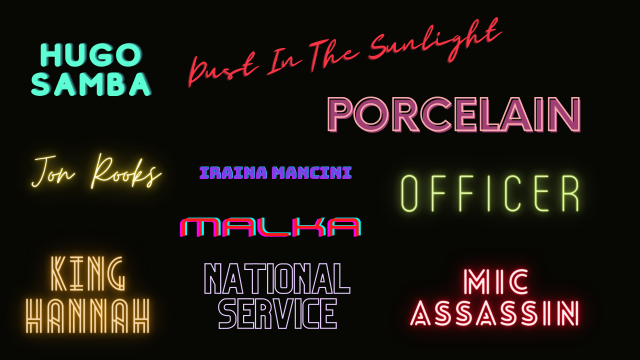 Here are the 10 best-unsigned artists for 2020 as chosen by the Right Chord Music Blog. All tracks can be found on our Lost On Radio playlist.
2020 will go down as a year that most of us will want to quickly forget. Thankfully creativity often follows adversity and while we've been locked away in our homes these incredible musicians have helped us pass the time with their art.
1. Porcelain
Porcelain burst into our consciousness back in the summer and have never left. From the opening bars of debut single 'Last Word' we were smitten. The debut EP 'Part One' strengthened the bond and latest single 'Hollow' makes the hairs rise on our neck. This is music which is made with love and evokes the deepest passion. If you haven't heard them yet, where have you been?
Listen on Spotify 
2. Dust In The Sunlight
A name can be hugely evocative and Dust In The Sunlight is one of those names that perfectly encapsulates the sound. It's a warm, hazy soundtrack that envelops you like a cosy duvet and kisses your ears. Just too gorgeous.
Listen on Spotify
3. Officer
Choosing our favourite Officer track is like choosing between Mum or Dad. But maybe, just maybe it's 'Willow & Anchor'. This is track two from our undoubted album of the year 'Night Tennis' The lyrical symbolism is stunning imaginative and quite unique. This is more than a love song, it's a tribute a totem and a shrine and it's hard not to fall at its feet.
4. MALKA – Moving Together
Moving Together is delightfully joyous. We used this track to soundtrack our summer online music festival called The Takeover and it still evokes wonderful memories. We challenge you to listen to this song and not smile. In the toughest of years, this track is like a beacon of optimism. Moving Together is taken from MALKA's wonderful album 'I'm Not Your Soldier'.
Listen on Spotify
5. Hugo Samba
Wah is the debut album by french musician Hugo Samba and it's funky, chilled sounds were never far from our ears in 2020. Like a futuristic porn soundtrack it's playful, sleazy and cool in equal measure.
6. National Service
Caving is just one of those songs that speaks to us. It's a song about being self critical and struggling to just live in the moment. Caving bubbles and roars with a direct intensity that is beyond infectious. When live music returns, National Service will be at the top of our list of bands we absolutely need to see.
Listen on Spotify
7. Iraina Mancini
Shotgun by Iraina Mancini and her collaborator Jazg Kooner (Primal Scream / Oasis) is brilliantly playful, naughty and simultaneously romantic. Inspired by the album Histoire de Melody Nelson by Serge Gainsbourg, Shotgun will have you dreaming about Soho in the 60s or wild nights out in a neon lit Parisian bar. The single has rightly found it's way on to the BBC 6 Music playlist and is proof that great music will always find an audience. We look forward to hearing more from Iraina in 2021.
8. Mic Assassin
RCM have been aware of Mic Assassin for a few years but his performance at the RCM Takeover festival was significant because it provided a preview of his most significant release to date. Not since Mike Skinner and The Streets has an artist so powerfully captured the the daily grind. 5 Wings is the musical equivalent of CCTV it's powerful, frank and hard to switch off.
Listen on Spotify
9. Jon Rooks
Jon Rooks has one song in the world and that song is Can't Stop. From it's piano bar style intro, the song unfolds to reveal a breezy, soulful funk that would have Prince and Justin Timberlake up dancing. Can't Stop is so good you can't believe you haven't heard it before. We keep expecting to find that it's actually been a global hit. But in fact Jon Rooks currently has less than 50 monthly listeners. This needs to change! We can't wait to hear the follow up.
Listen on Spotify
10. King Hannah
Last year King Hannah flawed us with their single Crème Brûlée and this year they returned with a debut EP and raised the bar to the ceiling. Their languid style borders on apathy, but this is beautiful, beautiful apathy. Smokey vocals, dense, swirling textures and a twang of americana make this soar. Meal Deal is something of true wonder.
Listen on Spotify
The 10 Best Unsigned Artists 2020 As Chosen By The RCM Blog. Listen to all these artists and discover a ton more via our Lost On Radio Playlist.
About RCM
The Right Chord Music (RCM) Blog champions incredible unsigned and independent music. We were founded in 2010, so if you are new to our blog, you have lots to discover. Alongside the Blog we curate three Spotify playlists, used to run a Podcast (all called Lost On Radio) Submit your music for free here