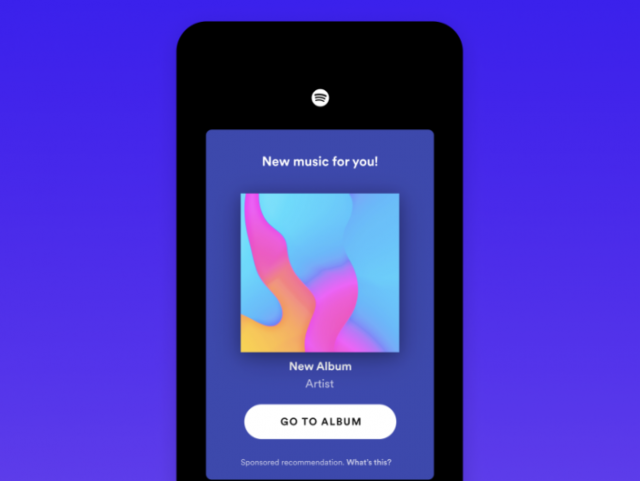 Spotify Marquee is a step in the right direction but it fails to provide a solution for new independent musicians. In this article, we explore why music promotion remains so unbelievably painful, convoluted and expensive.
Spotify Marquee
Spotify launched in the UK in 2009, yet staggeringly it has taken the tech giant which now boasts 195,000,000 paying customers 14 years to allow the musicians to actually communicate with their listeners. Oh, and you have to pay!
Spotify Marquee is positioned as Spotify's own in-platform advertising and recommendation service. It enables musicians to activate their fanbase by recommending new releases to their current and previous listeners.
Once a campaign is activated fans, and listeners of that artist will see a visual prompt displaying the release artwork encouraging them to listen. Targeting and set-up are fairly primitive. For example, Spotify Marquee campaigns can target audiences in 36 markets, but you can only target one market per campaign. To target multiple markets, you'll need to schedule separate campaigns on Spotify for Artists, and there is no choice of creative. It's a static ad, with no video and no opportunities for catchy titles. You simply pay your money and it gets to work.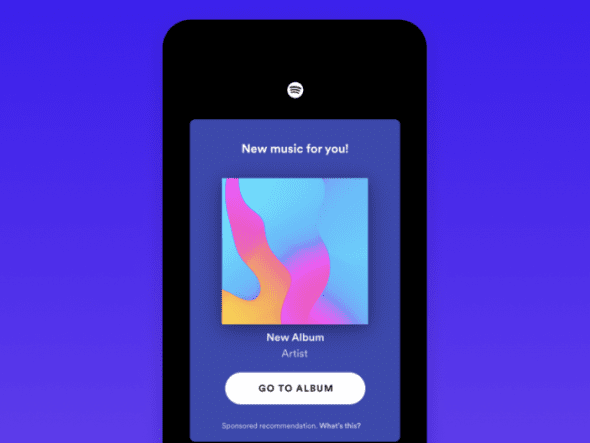 The Spotify cost per acquisition challenge
Any start-up business faces the challenge to acquire customers for the lowest possible cost. Most will use a combination of Google Search Advertising to scoop up demand from those in the market searching for a solution, this might also be paired with advertising across Meta platforms to raise awareness of their proposition and offer. This combination of pull (Google) and push (Meta) advertising is an established formula. It quickly becomes a cost-per-click exercise. How cheaply can a business acquire website visitors and ultimately sign-ups or customers?
In a particularly competitive category like insurance, brands might be paying £10-£15 plus to acquire a Google click, but when you realise that cost will be recouped with just one monthly insurance premium, the large upfront acquisition cost is quickly forgotten and if that customer stays with the policy for several years and starts to buy additional products, the acquisition cost starts to look cheap.
Equally, if you are BMW selling a car for £30,000 you can afford to spend a fair amount on advertising before you are at risk of not being profitable. Unfortunately, the same can't be said of music promotion.
It's hard to think of any other category where a business would immediately lose money to acquire a customer, with no obvious plan to recoup the advance.
Remember one stream on Spotify pays an artist approximately £0.003 to £0.005, yet to acquire one stream using Spotify Marquee (Spotify's in-platform advertising platform) costs an average of 39p. So at the £0.003 rate, a musician would need their fans to play their tracks 130 times before the cost per acquisition is covered! That's a big ask when you have absolutely no way of actually contacting that listener directly or providing them with any direct incentive to listen again and again.
As of April 2023, the National Living Wage (minimal wage) for UK workers aged 23+ is £10.42 per hour or £1,806.13 per month. When you consider half a million Spotify streams still only pays back £1,720.00 per month you realise the challenge facing new, unsigned and independent artists.
Spotify Marquee Usage Requirements
The challenge for unsigned and independent artists becomes even greater when you understand that not every new artist is eligible to use Spotify Marquee. To use the advertising platform musicians need to have a minimum of 5,000 streams in the last 28 days and have more than 1,000 followers which immediately rules out a large proportion of new and emerging artists.
Alternative Forms of Promotion
If you are a new artist and don't yet meet the criteria for a Spotify Marquee campaign what are your other options?
Previously on this blog, we have been hugely critical of paid playlisting services. See Why PlaylistSupply Are Part of The Problem, Not Part of The Solution preferring to support playlisters and curators who like us do it for the love. See Independent Artists. Get On Blackmarket Spotify Playlists For Free.
While we don't have a problem with playlists as a form of music discovery, we do recognise there is a difference between driving listeners and fans. Our own research shows the listeners recruited via playlists are much less likely to save music to their own collection (the start of fandom) instead they just listen through a playlist. So while playlist placement is one way to meet Spotify Marquee's minimum 5,000 streams in the last 28-day threshold, it's unlikely to help drive the 1,000 required followers.
Meta Advertising
The other paid alternative is Meta (Facebook and Instagram) advertising. There was a time when Facebook advertising was actually pretty cheap and effective, but when the Apple IOS privacy changes arrived the effectiveness dropped and the conversion costs spiralled. In the last few months, there are signs that Meta is fighting back and costs are returning to pre-Apple levels.
But running Meta Ads isn't easy and if the setup, targeting or creative is wrong you can easily and quickly waste money. It's also complicated, you will need to create a landing page (we recommend Toneden) and then connect your Toneden page to your website sub-domain, connect a Pixel and set up Meta Conversion Ads.
A conversion is counted every time someone clicks one of your ads, lands on your Toneden page, and chooses to click on one of your streaming links. But here is the kicker, just because someone has clicked to listen to your new single on Spotify doesn't mean they automatically become a listener.
To be counted as a listener requires that person to actually listen for 30 seconds. You'll quickly see lots of people drop off before the Spotify app has loaded on their phone or churn away before the track has played. Because Meta has no control over Spotify – there is no 100% accurate way to attribute a play on Spotify to Meta advertising. So you are left to manually check to see if those 100 clicks to your Toneden page from France actually show up as 100 listeners on Spotify. Spoiler alert, they normally don't!
So it's an imperfect solution and while you can get lucky and drive conversions for lower than the cost to achieve a play using Spotify Marquee it can also go the other way. We have seen examples where artists have been paying several pounds for just one play, which is utterly unsustainable.
Until Spotify provides a solution that allows every artist (big or small) to engage and communicate with their listeners, there is still some way left to go.
Discover more on RCM
Words Mark Knight