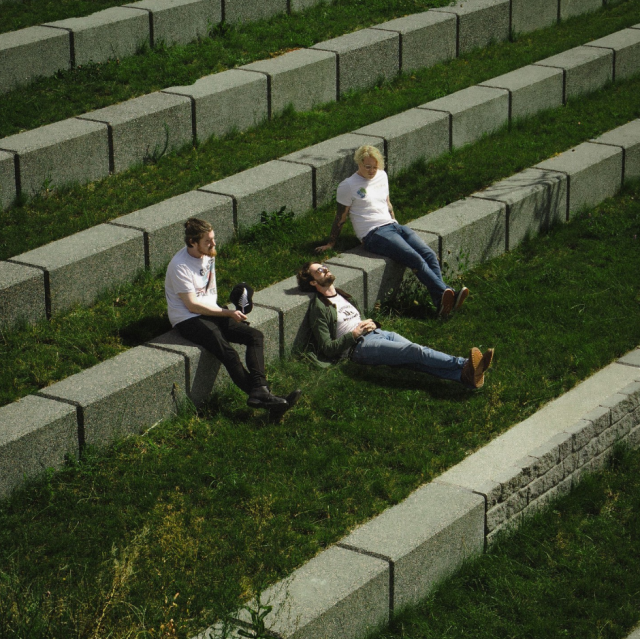 Skies Behind is our latest First Signs of Love featured artist. First Signs of Love is about the moment you find a new artist to love, and you simply can't get enough. Discover more from our archive.
Skies Behind – I Love It
Skies Behind hail from Cork, Ireland, a place often referred to as 'the rebel county', it's clear that that sentiment wasn't lost on this trio whose sparky, energetic sound has helped them garner an ever-growing and loyal fanbase. After releasing a string of singles and playing packed-out gigs all across Ireland, the guys are back with another explosive new single 'I Love It'.
Made up of Dan Sheedy (Vocals and Rhythm Guitar), Joe Clarke (Drums), and Richard Brett (Lead Guitar), Skies Behind are set to release their highly anticipated EP, 'The Spaces' in no time. This track is the first single off it and, like any good single, it has left a mark that's practically screaming for more music. The band's classic set-up doesn't limit their innovation at all; if anything, their three-piece set-up has propelled them to craft this wholly unique sound evident of 'I Love It'.
'I Love It' by Skies Behind is a defiant alt-rock anthem.
Developed over 8 weeks in the band's shared home, the chemistry these three share is stunningly present on this track as they dive into their worst fears and strongest hopes. An unorthodox recording setup has helped the band garner such a strikingly rich sound, with all but the drums being recorded in the group's front room. Mixed and mastered by multi-talented Mike Dwyer at The Bunker Recordings in New York, 'I Love It' is sonically powerful while never sacrificing that intimate quality within the band's sound.
It's hard to pinpoint where or how this trio gets this single so right, but it's safe to say it's not unfamiliar. Already housing an eclectic and stadium-ready discography the sky really is the limit for 'Skies Behind'. As mentioned before the chemistry between the guys is palpable, sifting through every note and chordal choice. The massive drums sit in the track with clarity and purpose but never overshadow the incredible vocal performance from Sheedy or the slick lead guitar work by Brett. Combined with eccentrically lush production, it's an anthem for those feeling out of place, lost in a world moving too quickly.
Skies Behind work like a well-oiled machine on this single, while still feeling distinctly human in their approach to their art, whether it's the passionate performances or personal lyricism. 
Speaking about "I Love It", Skies Behind shared their perspective: "This song is about the overwhelming feeling of not being in control and not understanding what will make you happy. The hope in this song comes from the realization that leaning on those closest to you, and being there when they need you, is the greatest source of balance."
Discover more from Skies Behind
Discover more on RCM
Words Ciarán Coleman