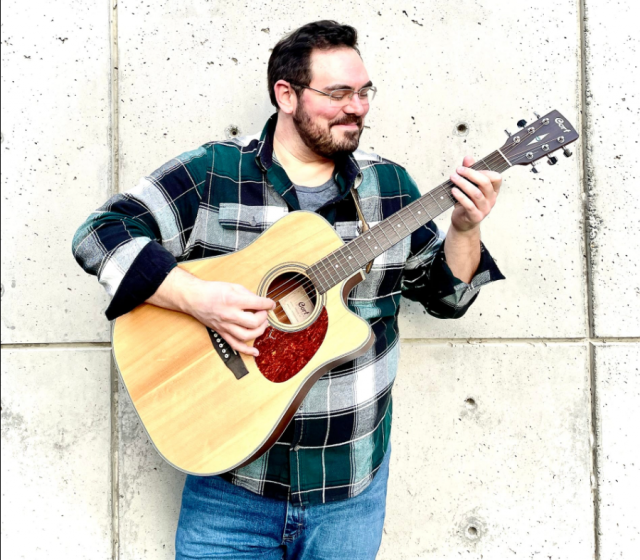 Rob Fillo's official debut offering, 'This Old Train', is an enchanting ode to the enduring spirit of Americana music.
Rob Fillo – 'This Old Train'
Rob Fillo is a Canadian singer/songwriter whose musical journey is shaped by an eclectic blend of inspirations. Drawing from the passion for subtle innovation displayed by Jeff Buckley, the cerebral yet straightforward lyricism and intricate finger-picking style of Townes Van Zandt, and the unapologetic uniqueness of Tom Waits, Fillo crafts a sound that is very much his own.
Bursting with positive energy, this upbeat number takes listeners on a journey through heartfelt storytelling and melodies. From the moment it begins, Fillo's honest and comforting vocals effortlessly draw you in, while the dobro passages, courtesy of the award-winning John Ellis, add a nice melodic intricacy to the proceedings. 
Lyrically, 'This Old Train' shines with profound simplicity, with Fillo painting vivid pictures through his words, describing emotions, experiences, and lessons learned.  The lyrics resonate with universal themes of freedom and the journey of life itself, functioning as a reminder that one should strive to remain positive despite adversities.
This Old Train is a heartwarming Americana number, brimming with a positive atmosphere and lyrics.
Now, on a personal note, this song really speaks to this writer. In the vast landscape of my musical preferences, I often dwell a bit too much in the pessimism and bleak lyricism of metal, doom jazz, and darkwave. When I need to, compositions like 'This Old Train' take me away from this universe and remind me of the good things in life, and for that I take my hat off to Fillo.
In short, 'This Old Train' is a gem within the realm of Americana music. With its infectious positivity, heartwarming vocal approach, and delightful dobro passages, it invites you to embark on a journey filled with warmth and bliss, it's highly recommended. 
Discover more from Rob Fillo
Discover more on RCM
Words Fidel Beserra