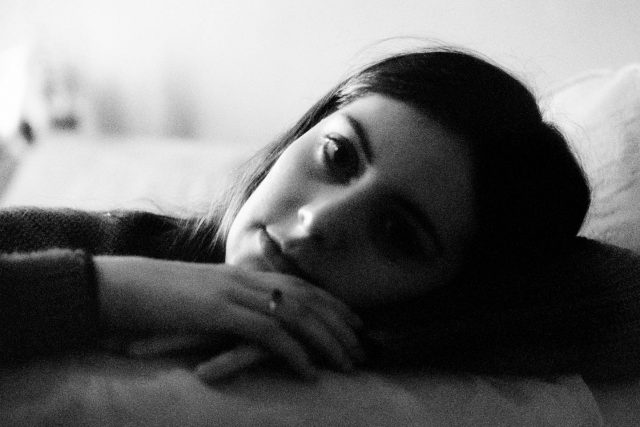 Produced by Matt Ingram (Laura Marling), Rhona Macfarlane's new EP 'Closing the Window' is a collection of songs inspired by a time of inward reflection and solitude during the pandemic.
Rhona Macfarlane – Closing The Window
We love this EP because it's such a wonderfully astute account of life. At times it feels like we are dipping into Rhona's own personal diary as she bravely navigates all that's happened in the last few years, from the Pandemic's impact on personal connections, family bereavement, and Rhona's own transition into adulthood.
Like all great music, it feels familiar, because it draws upon subjects we can all relate to, along with some nods to some of our most treasured artists.  Fans of Joni Mitchell, Nick Drake, John Martyn, Ryan Adams, Neil Young and Laura Marling will find something to love here.
Rhona Macfarlane's soothing vocals set against her bright 12-string guitar and melodic piano, which weaves in and out like passing thoughts, gently cast a spell over the listener. There is a wonderfully understated intimacy to this record.
Commenting on the release Rhona hopes 'Closing The Window' will provide some comfort and closure to this past year of loss and strain, but also provide a sense of hope and acceptance that helps people move forward.'
The EP contains singles 'Better When You're Around'and 'No Rain' which picked up support from Roddy Hart and Iain Anderson at BBC Radio Scotland, Louise Mason at Reform Radio alongside press from titles including The Daily Record, Folk Radio UK, Americana UK, Roadie Blog and us! (Right Chord Music).
Better When You're Around
'Better When You're Around' is an uplifting and joyful track that recognises being around the right people is the key to inner happiness, regardless of circumstances. It's a stark and honest reminder of what's really important, as we slowly emerge into the new normal of a Covid world.
No Rain
'No Rain' is a poignant song capturing the passing of time and the power and depth of family relationships. Although the song captures an emotional intensity it still manages to be simultaneously uplifting. The idea for the song came from a passing remark made to me by someone who had just lost their life partner, she said…'well at least there's no rain outside.' this struck Rhona as equally sad, stoic and hopeful and reminded me that even in times of loneliness and sadness, there is always something to be grateful and hopeful for, even if it's as simple as a sunny day.
Black Wall
The EP also contains 'Black Wall' a lament about going through inner turmoil after loss. Told through the lens of an inner monologue It deals with themes of denial, regret, forgiveness, determination, and hope.
While Better When You're Around is likely to win easy admiration with its lead single charm, it's this track that deserves closer attention. There is real quality here, it's hugely powerful and will connect with anyone that has suffered personal loss. Far and away, the most beautiful track we've heard in quite some time.
The idea of 'black wall' came to me after hearing a story of someone who was at a family gathering but was sitting isolated, facing a wall in silence trying to deal with their loss. The imagery of 'Black Wall' describes a feeling isolated, trapped and in a dark situation that's hard to escape.
'I was in the Isle of Harris in the Hebrides when I heard this story and wrote the song. The landscape has a lot of memories for me as my family were from there and I spent a lot of time there as a child. There is something spiritual about Harris, the wildness of the landscape, the battering winds and fresh air that I feel would give hope to someone, comfort them and help them come to terms and move on from loss. This landscape also gave me inspiration for the string arrangement as I wanted to create an image of the landscape with the soundscape.'
Closing the Window
The title track 'Closing the Window' is about the struggle of letting go of part of your life and trying to move on. The song deals with the subject of family, relationships, growing up, change, emotional restraint and letting go.
Rhona explains 'I was reading Carol Ann Duffy Poetry at the time and was inspired by the poem 'empty nest'. I thought a lot about my parents and the bravery they have in holding back their emotions to protect their children, not hold them back and to let them go and grow up.'
The melody to this track will be in your head all day. It's a perfect end to a wonderful EP from a hugely talented new artist. Rhona Macfarlane deserves your attention.
Discover more from Rhona Macfarlane
If you like Rhona Macfarlane you
Words Mark Knight