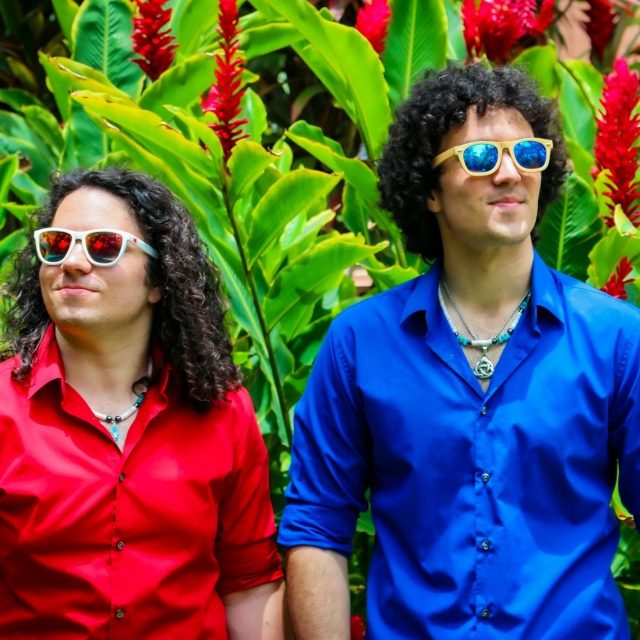 Long may the current disco revival reign. It's a genre often associated with cheesy outfits and flailing dance moves, but the deriders often forget that crucial element – it makes you dance! It's hard to go wrong with a solid bass groove and four-to-the-floor beat, as artists like Dua Lipa have embraced with great success over the past few years. And now it's the turn of Red Light Challenge with 'Play Pretend'.
Red Light Challenge – Play Pretend
Red Light Challenge bill themselves as an Idaho-based dance-rock band made up of sibling core members Sean and Kyle Luster.
Red Light Challenge 'Play Pretend' is a tightly rhythmic disco-pop jam, delivering a strutting dismissal to a lover who only wants to use them.
'You really had a good thing in your hands', sing the brothers with confident vocals and honed harmonies. The lyrics are simple yet singable, the memorable chorus particularly, 'You want me there like I'm holding on, calling me up like there ain't nothing wrong', and the melodies show some considered crafting.
The star of the show though is truly the production, specifically that jaw-jutting bass and tense rhythm guitar, setting up that shoulder-shaking groove. It's tightly packed with hooks, from little backing vocal 'na na nas' to the tight beats with their finger clicks and claps, and some synths thrown in for good measure. This is notably the first track the brothers have written, recorded, and mixed entirely themselves, as well as their first new song since 2019. For which I can only commend them, and hope that everyone keeps fighting the pandemic with disco.
Discover more from Red Light Challenge
If you like Red Light Challenge you might also like Pastel Jungle
Words Eden Tredwell