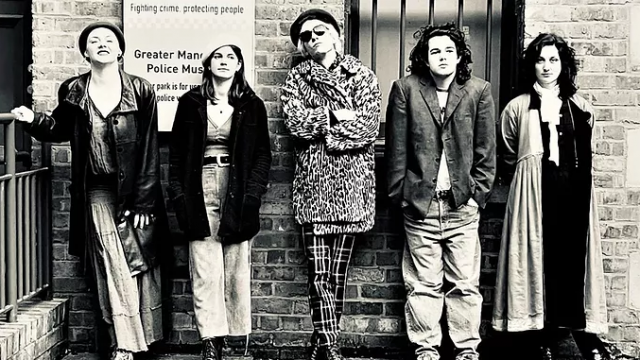 Manchester legends-to-be Furrowed Brow hit their stride with 'I Threw The Bathwater Out.'
Furrowed Brow – I Threw The Bathwater Out
There's no shortage of musical pedigree when it comes to bands from Manchester, but post-punk outfit Furrowed Brow are surely possessed of all the tools necessary to bare comparison to such legends as The Fall. Indeed, Tom Robinson (BBC 6 Music) has already done so, describing this extremely likeable five-piece as: "The DIY love-child of Mark E Smith and The Cramps… brilliant."
Four years into their career, Furrowed Brow have earned an enviable reputation for their live shows – always a sound bedrock from which to build. Like The Fall, their music displays a mix-and-match aesthetic, borrowing from genres across the spectrum, yet retaining a remarkably cohesive sound.
At this point, we should wave goodbye to Mark E. Smith's beloved group. Furrowed Brow, aka Richey, Alex, Evie, Meg and Ruben have plenty to say for themselves, and have already achieved that most difficult of tasks – forming a distinctive sound of one's own.
The new single, "I Threw The Bathwater Out" is a wonderful case in point. Across a rip-roaring, thumping back-beat of stomping bass and thudding drums, the band conjure a wild tapestry of Motown-esque backing vocals, English eccentricity, sharp punk and compelling pop.
Lyrically, the group are no less inventive: "I chased the biggest bird of prey / It flew in such a perspicacious way / A sceptical arrangement on my face / And a desultory smile across the human race." All in all, there is a lot to like here. The arrangement is far from predictable, it swings, it rocks, and the delivery is spot on. Furrowed Brow rightly lists themselves as for-fans-of Violent Femmes, Modern Lovers and Julian Cope. Really, though, anyone interested in quirky, alternative music which both challenges and entertains would do well to check them out.
"Beautifully inventive, riotously raucous and magnificently unconventional."
Discover more from Furrowed Brow
Discover more on RCM
Words Chris Wheatley