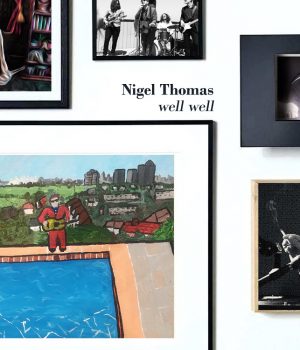 Former Foxes front-man Nigel Thomas returns with his sophomore solo album 'Well Well' released via Keo Records, mixed by Sam Williams (Plan B & Gaz Coombes) and featuring artwork by Eddie Argos from Art Brut.
Introducing Nigel Thomas
As the lead singer and songwriter for indie rock band The Foxes, Nigel enjoyed several UK Indie Chart top ten hits, toured the world and recorded and released an acclaimed album mixed by John Cornfield (Supergrass, Razorlight, Muse) at Sawmills Studios in Cornwall.
The Journey To Well Well
After The Foxes disbanded, Nigel launched a solo career with single 'Fever' and album 'Travelling Man' drawing inspiration from literature: Bukowski and Borroughs and music:  The Kinks and Elliott Smith, he quickly won the hearts and minds of Blur's Dave Rowntree, Indie mogul Alan McGee and music blog 'God Is In The TV'.
Well Well
'Well Well' is a hugely enjoyable album, packed with energy and enthusiasm. Thomas combines bluesly bar room foot stompers with upbeat indie pop, crunching rock riffs and even has time for some more introspective thoughtful moments.
Key tracks: Rita, Your Fire & Alchemy Rose