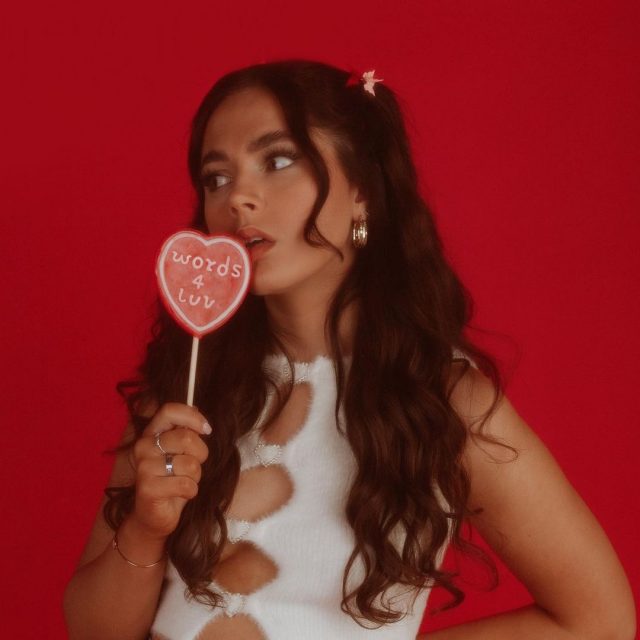 Just when you thought you could label MACY's sound, she gives you something completely fresh and new to shift your ground. The latest track extracted from MACY's EP "Words4Luv" is "Breakup Hangover", which shows a more emotional, stripped-down version of this multifaceted artist.
MACY – Breakup Hangover
Known for her catchy, bubbly pop that is often coloured by alt-pop nuances, this time around MACY gives us a heartfelt guitar-led ballad. In "Breakup Hangover", MACY's infectious vocal harmonies are gone, letting her raw voice fill the track and a blurry guitar accompany her. As the song progresses and feelings rise, the track becomes more and more powerful, as MACY sings "Only last night/I was on a high/see life through my rainbow eys", referring to her eponymous single Rainbow Eyes.
Finally, the chorus soars into a "Breakup Hangover" choir that we imagine will be a fan-favourite at live shows. MACY delivers all the anger and sadness for the love story to be over à la Olivia Rodrigo in "drivers license", and gives us an anthem for all our breakups.
MACY's songwriting talent is clear in "Breakup Hangover", where she narrates the events in a poetic but relatable way, managing to be intimate and personal, whilst singing the words and feelings we've all felt at times. 
We can say that MACY learned her lesson from contemporary pop icons, but she gave it her own spin, claiming the right to be an influential name in the pop scene. To conclude her 2021 with a bang, Macy will headline a show in London in December and be part of the BBC Radio Xmas special show, alongside Emile Sande and Jack Savoretti.
We're sure 2022 will be even brighter for MACY and we're proud to say you heard it here first!
Discover more from MACY
Words Anna Colombo