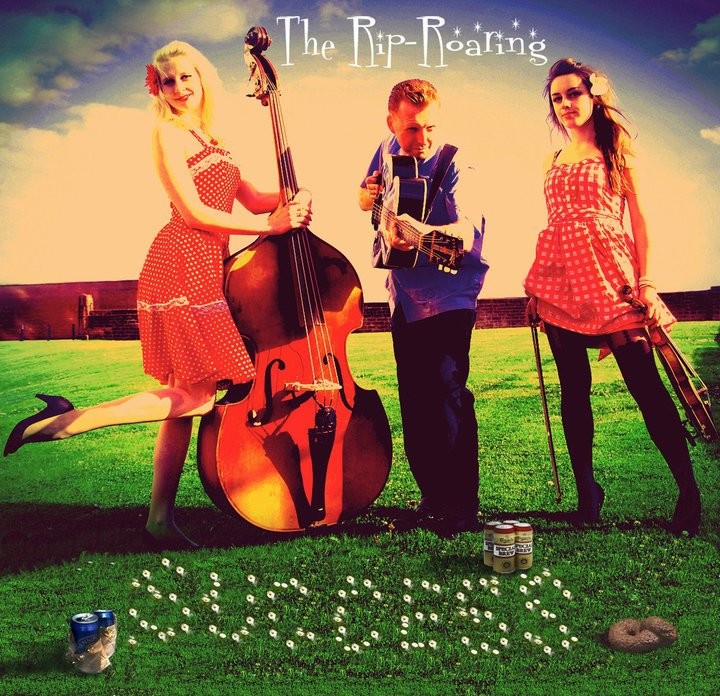 The Rip Roaring Success are described as "The hottest western swing band east of El Paso" and they didn't disappoint on stage at The Green Note in Camden last night. Comprising of brother/ sister duo Russ Williams on lead vocals and guitar, and Lucy Williams on double bass, with Fiddle player Nicole J Terry completing the trio.
A world away from the dreary Saturday night outside, performing two 45 minute sets of feel-good tunes, the band modernised old-style swing music. The Rip Roaring Success have an EP titled 'Having A Lovely Time', and they performed the title track, explaining it as a song about turning things around.
As well as flawless talent as a group, each member showed off their talents individually during the set too. Russ's smooth vocal tones were evident throughout the entire set, and he also proved himself a great yodeller while singing Jimmie Rodgers' In The Jailhouse. Nicole showed incredible fiddle skills during instrumentals, including a shortened version of Shove The Pig's Foot and then detuning the fiddle to give an old-style sound for Hangman's Reel. There was also a great cover of Nancy Sinatra's These Boots Are Made For Walkin' in the set, which really showcased Lucy's double bass skills.
The band's musical influences include Hank Williams, and they performed amazing covers of his songs Hey Good Lookin' and I'm Satisfied With You, which truly did the originals justice. There were also numbers by big western swing names in their set, like Bob Wills' Take Me Back To Tulsa and Jimmie Dolan's Hot Rod Mama and they never once looked out of their depth.
They also included a 'Louis Trilogy' in their set, comprising of Louis Armstrong's Jeepers Creepers, Louis Prima's I Wan'na Be Like You (famously used in Disney's The Jungle Book) and their encore song, Louis Jordan's Caldonia.
It was a perfect night of western swing, with mixes of jazz, blues, folk and bluegrass tunes. With the definition of 'rip roaring' meaning lively and exciting, they certainly lived up to their name, and I wouldn't have picked anywhere else to be on a Saturday night in London.
Words Claire Weston.