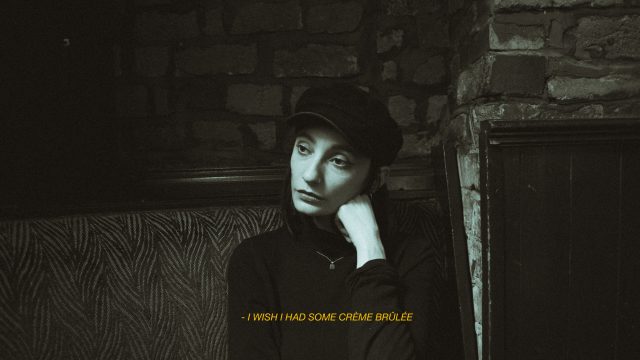 King Hannah launch debut single Crème Brûlée, expect rich contrasting layers, with a cool center.
According to singer Hannah their debut single 'Crème Brûlée' is actually about Crème Brûlée and her love for it. Essentially, I'm singing about a pudding" she proclaims. But don't let this put you off, this is an exceptional first outing about an exceptional dessert.
King Hannah on Inspirations
"I remember hearing bands like Blur, Portishead and Alanis Morissette coming from my big sister's bedroom and loving it" recalls Hannah, reflecting on growing up in the 90's. Fuzzy, lo-fi, sound-scapey and female-fronted – those early days have clearly aided the band's musical style.
Crème Brûlée
It's intense, dark and dreamy, and with a voice that recalls Mazzy Star and guitar work that takes us back to a time when grunge ruled the world, it's hard not to be utterly swept up in the beauty of this track.  King Hannah explore the mundane aspects of life in a style like no other.
Based in Liverpool, Craig, Dylan, Hannah and Jake have already secured some impressive support slots including Sugar Candy Mountain and a Liverpool Sound City headliner, of which King Hannah were later named a festival highlight.
Discover more from King Hannah
Discover more on RCM