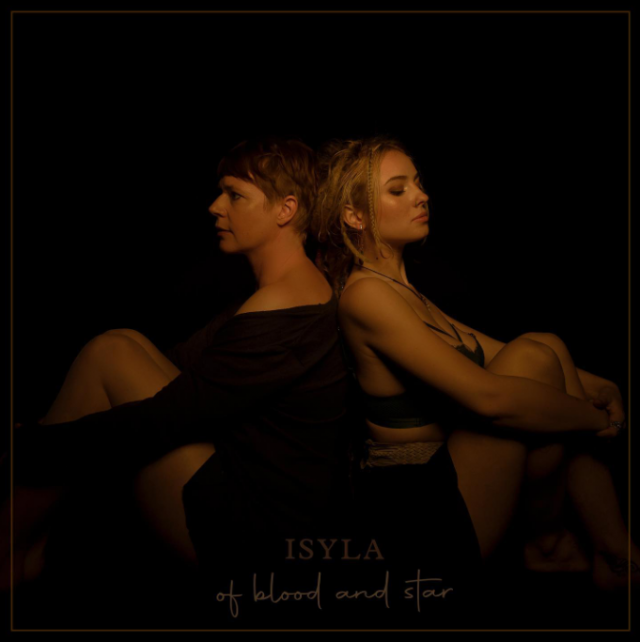 ISYLA astound with ethereal instrumentals and a rallying cry to create real change on their latest release, 'Of Blood and Star'.
ISYLA – Of Blood and Star
Following on from their previous project 'Where She Walks' (2020) and released on Earth Day 2022, 'Of Blood and Star' explores the same themes of climate action and unity while further deepening their instrumental explorations. Formed by two generational voices calling for activity, Lizzie Freeborn and Amy Woodburn fuse their individual experiences and attitudes to produce an album with near-universal attraction.  
Having formed and developed across the COVID 19 lockdown, ISYLA have made the most of this world-shaking period to produce two albums of astounding quality.
With the singles 'Sapphire' and B-Side 'Wild' bridging the gap between projects, there is an evident increase in instrumental complexity and density on this latest release. While Amy's wispy vocals and Lizzie's penchant for heart-on-sleeve lyrics remain captivating as a pairing, the presence of professional session musicians elevates the melodies to greater heights than ever.
The alternately sultry and punchy basslines present throughout work well in tandem with Kit Hawes' delicate guitar work, emphasising yet never fully outshining Amy's intense vocal performances. At times such as on the title track when the vocals reach their cathartic peak and the thrumming instruments coalesce, the group channel the best parts of a climate-conscious Portishead or Imogen Heap.
With a consistent message carried across each release, ISYLA are unafraid to practice what they preach. Having performed at numerous esteemed climate-centric events- Climate Live and Conscious Fest to name a few- they have routinely taken part in shaping the fight to preserve our Earth. The aforementioned track 'Sapphire' was itself borne from this, having been directly inspired by the 'Our Other Mother' campaign to unify creatives aged 5-95 under the banner of familial and earthly love.
The band's second-place position as the only international band in Sweden's Mello Rebello Climate Competition shows their reach, with audiences worldwide eagerly awaiting their next releases.
With a penchant for powerful lyricism and a clear direction and motive, Lizzie and Amy lead their selected musicians to great success on 'Of Blood and Star'. Producer Gareth Young's delicate touch coaxes and melds the group's sound into something both soulful and striking- with standout tracks 'Slip' and 'Slip (Acapella)' exemplifying how differing arrangements can convey entirely different tones. With Lizzie and Amy each taking vocal duties on the different tracks, the sublime mirroring of first and last is varied in the final few moments. Now declaring they are "not yet shaken by the storm", the album fades out, carrying this message of hope amongst glimmering keys and faintly flickering synths.
ISYLA are a band with a purpose. Bearing the weight of a generation's climate fears, ISYLA offers an arm to all those willing to stand up and have their voices heard. Make sure to check out ISYLA's YouTube channel and socials to help support them on their journey.
Discover more from ISYLA
Discover more on RCM
Words Angus Nisbet