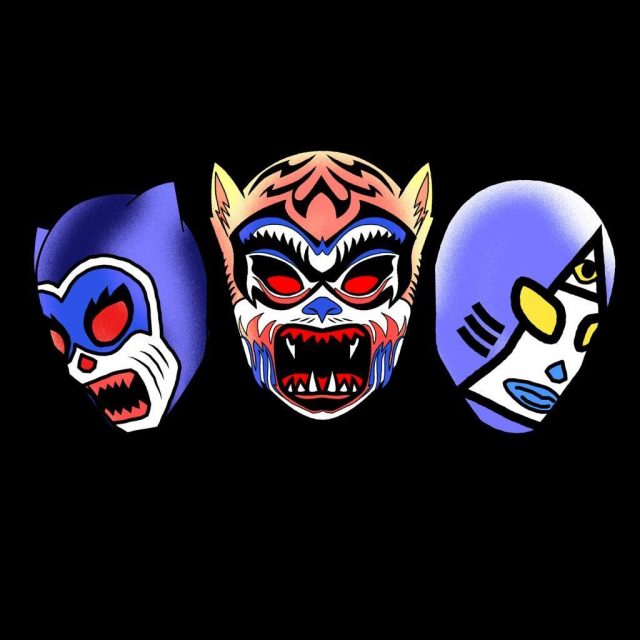 Friday Feels is the best new music we've discovered this week. The only rule: It must give us those Friday Feels. Listen, Follow and Share our new Spotify playlist below.
Friday Feels Spotify Playlist
Ora Violet deliver a sonic boom of fresh rock and roll that fuses the early 70s proto punk of The Stooges and The Modern Lovers with the modern versatility of Raconteurs and The Strokes. An explosive indie rock tune to set up the weekend – crank this one up loud.
Having headlined venues including 93 Feet East, Cafe 1001 and played at the O2 Academy Islington, the South London indie foursome Matty Long and The LoveGuns bring us their new single Pretty Daze (T-Shirt Weather). This track is a dream-jangle summer sing along drenched with nostalgia encapsulating visions of drinking the days away with friends in the sun. Remember those days?
Produced and mastered by Dairy Studios, credited with the likes of Ed Sheeran's +, and Florence and The Machines, High As Hope this track also features on Spotify's second largest indie rock playlist. Pretty Daze (T-Shirt weather) marks the first of four single releases before Matty Long and The LoveGuns upcoming album Live and Let LoveGun, releasing in January 2021.
Champagne Girl are a three-piece Alternative Pop band formed from New Orleans. They describe their repertoire as romantic, heavy and satirical, with a literary twinge.
Sandpaper Baby is a rousing, melancholic anthem (is that an oxymoron?)…this is a curious track that entwines folk violin with grunge-leaden guitars, perhaps an ode to the abrasive protagonist within the track's story…
Champagne Girl will be releasing their debut full-length LP Bogus Euphoria on 29.05.20.  Recorded at Marigny Studios with Rick Nelson (Afghan Whigs, The Polyphonic Spree).
As vivid, vibrant dreams cascade into the subconscious of everyone across the planet during the lazy lockdown evenings, international singer/songwriter, K-Syran, seized the inspiration from the midnight muses to pen her stunning new single, Red Dream, which will be released on 17.06.20.
Upon first listen it's too easy to compare K-Syran's sound to such Scandinavian counterparts as Lykki Li, but for us this brought back glorious nostalgia and synergies with 80s starlet Kate Bush particularly. This track has an epic sound – it's optimistic and powerful and bridges the electronic and synth-pop genres. 
Appearing on the soundtrack of K-Syran's forthcoming new movie, 'The Lady From The Sea', in which she plays the leading role of Ellida, 'Red Dream' maps out a gorgeous tale of our times.
Canadian artist Dubtrak brings us Camp Bazaar from their recently released album Elephant Dub. In their own words Elephant Dub is a trip. A trip to Northern and Central Africa…with a mandatory stop in Jamaica. It's an echo chamber-locked and Lee Scratch Perry-approved psychedelic dub therapy. An acid rock-inspired and fuzz guitar sprinkled blend of finest sativa and indica (those are types of weed as an FYI).

This track has everything you would expect from a dub-infused African Elephant expedition – it feels mysterious and exploratory; it's hypnotic psychill sound can enchant you as you relax or dance.
Furthermore this track and album as a whole has a very worthy cause attached. Upwards of 20,000 elephants are killed each year across Africa to supply illicit ivory markets. For every dollar earned from this album, 50 cents will be donated to Big Life Foundation. Word to that.
Trust No One is the first track from Polish post-punk crusaders Izzy & The Black Trees' new album by the same title.
Fronted by Izabele Rekowska, the Poznan four-piece deliver a track that clashes with the current global political climate and more so in their native Poland where the right-wing government is asking people to vote on issues such as abortion during a global pandemic.
Trust No One is a multilayered punch, raw and firm, with melodies and guitar riffs with lyrics that explore social alienation, fear of the future, and a need to escape. Fans of Savages and Amyl & The Sniffers should be able to get down to this.
With a UK-mini-tour postponed due to the Corona Virus, we look forward to seeing Izzy and the Black Trees on the horizon soon.
Cyperpunk synthwave track See Ya is the latest offering from London artist and designer Star Noir.
In their own words Star Noir wanted to write a track that tries to capture the transition and loss of childhood from their own experiences.
"One day you wake up and the world seems darker, heavier and the older you get the more you look back to those fond and frivolous summer days full of promise and adventure".
That sounds a touch heavy if not something most of us can relate to, but rest-assured this track is gripping from the off – full of purpose and tempo. This one is for you if you are looking for that spark of inspiration in your life right now.
If you could picture the T-800 from the Terminator films at a rave, this is the track that would be playing.
I'll be back.
London based Acid Jazz outfit Duke and the Dry Cleaners first came onto the radar in 2017. The band formed organically out of a studio project, spearheaded by Oli Duke: the lead vocalist, keys player, songwriter and co-producer.
Some very talented musicians, alongside co-producer, Arjun Doel, embellish the identity of the track. – the other five members of the group all have their own individual musical personalities, which result in a unique hue to their sound. They combine elements from Funk, Disco, Soul and Jazz, which ultimately crafts the bands audio aesthetic.
Duke & The Drycleaners have made a name for themselves based on their ethos: "even if it's a difficult time, there is always room to have a little dance and feel better about things. That sentiment definitely comes into play with this track." Amen to that – shake your tail-feather to this Indie-pop floor filler this weekend. Fans of Bombay Bicycle Club, Mystery Jets and Two Door Cinema should give this a twirl ASAP.
After many months of work and a worldwide pandemic, Doter Sweetly of Memphis Tennessee in the USA have released their single Baby Boy which is accompanied by a cool AF light show music video – kaleidoscopes ON. 
In Elijah's words the song is about that going nowhere type of dread that we all seem to be going through at the moment. Recognizing it, and realizing that even though your life seems to be moving nowhere that your life is simultaneously wonderful and precious. It was written after a particularly hard 7-day-week work month and the difficulty of understanding that the life you want to lead is not ahead of you, but is right where you are.
Shades of The Magic Numbers and Badly Drawn Boy are apparent on this wonderfully considered track, which ends on a guitar outro that leaves you longing for more.
Trevor James Tillery is a DYI artist and producer based out of Nashville, TN. Since releasing his debut EP, In Moonlight, he has gone on to gain the attention of Apple Music's Zane Lowe – landing two premieres on his show for The Dissonance Between Us and Immortalize from 2017's Together. Alone LP. His cover of Blur's "Song 2" was featured in New Music Friday on Spotify and landed #12 in the U.S Top 100 Viral chart on Spotify.
In 2020, Tillery is releasing multiple self-produced singles he has done with the help of his life partner and collaborator James Michael Kelley over the course of the coming months. The first single is the seducing and highly impressive Stolen Thoughts , which wouldn't sound out of place on a blockbuster movie soundtrack. Fans of Radiohead, James Blake and Damon Albarn apply within.
The Solomon Method is the third single from Sydney based indie-rock artist I Have Four Names from the 2020 LP IH4N (DX). This is a short song recounting the animosity between two competitive eating greats, Takeru Kobayashi and Joey Chestnut. It's brilliant, hilarious and true.
This track is an infectious punk anthem, which doesn't take itself too seriously. That said, it's catchy as hell and we've had on repeat all morning.
The man behind I Have Four Names is multi-instrumentalist Will Evatt, who does actually have four names. A Sydney University band competition grand finalist, Will produces all the songs himself in his home studio.
The band's mission is to make maximalist songs that pack a full and fun impact, but never overstay their welcome. Influences are Future Of The Left / Mclusky, The Faint, Jeff Rosenstock and Regurgitator.
Google The Solomon Method. Get some hotdogs set up and turn this up to 11. Enjoy.
Trees Come From Hell is the eyebrow raising title of the new single by Danish trio The Great Dictators.
At its core Trees Come From Hell is a slow-burning piece of melodic indie rock. It's an idiosyncratic and grandiose mixture of electronics and gospel, exhibiting; old synthesizers, a bombastic choir, exotic saxophone and warped guitars.
Lead crooner Dragut Lugalzagosi delivers a sarcastic yet delicate look at the state of the world; "Let's just wait for one big nothing" and "the music has left the building" are some of the lines not to be reckoned with here.
Offbeat and meditative soundscapes patiently unfold – with room for both pop elements and experiments – and small nuances constantly evolve. The songs take their time so the listener gets a chance to face something evil, weird or beautiful.
This track is a powerful 7-minute journey that evolves with each listen. The bands' influences include New Order and Kraftwerk but we think fans of The National will float into the weekend with this one.
Words. Dan Williams