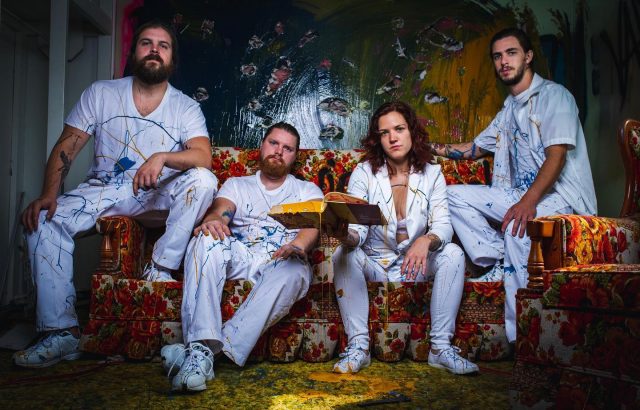 Whether it's a 20, 30, or 40 year cycle, it's a fact that trends from the past always reappear, and everything old is new again. One that's been rearing its angsty head lately is 90s grunge, as more and more modern musicians don a flannel shirt and give it their best shot. But few have done it so elegantly as Azure Wolf, with their latest release 'Black Fur'. (No animals were harmed in the making of this music.)
Azure Wolf – Black Fur
Azure Wolf are an indie-rock 4-piece hailing from Winchester, VA. Despite only forming in 2020, they've been wasting no time, performing on live streams and virtual festivals and perfecting their debut album, due this autumn.
'Black Fur' is a dreamy, guitar-led mid-tempo ballad, a prayer to be saved from ourselves.
Frontwoman Victoria Backle takes centre stage here, her guttural, pleading vocals spilling out the intimate lyrics. 'One night won't kill me, Lord', she repeats, almost convincing. Mental health and disassociation are the shadow cast over this tune, lending it depth.
With the mellow, singing electric guitar, influences of both 1970s and 1990s groups are visible here, Nirvana particularly present. It's a tight group, with solid production, and a nice gear change in the middle 8, picking up into more of a Coldplay, stadium-filling mood. It's a strong offering from a new band, with that instantly memorable chorus hook that is sure to keep listeners coming back. Keep an eye on Azure Wolf.
Discover more from Azure Wolf
If you like Azure Wolf you might also enjoy Queen Chief
Words Eden Tredwell