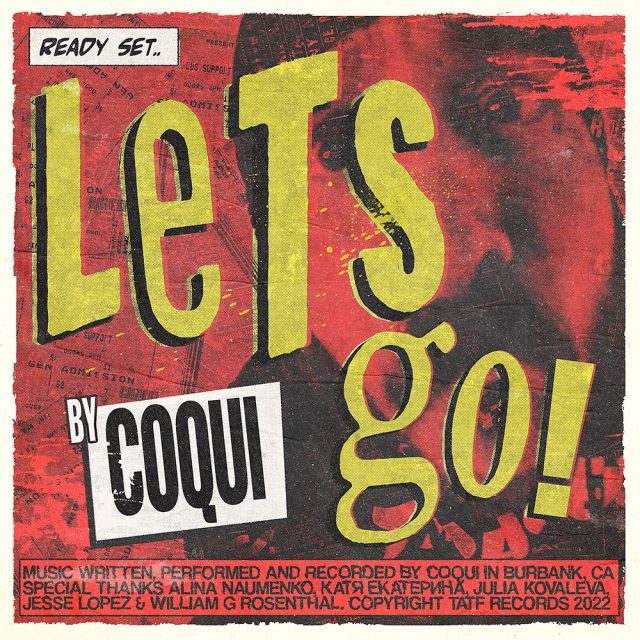 Los Angeles songwriter & producer COQUI, is back with his first release of the year 'Let's Go!'.
COQUI – Let's Go!
COQUI is the solo project of singer-songwriter & producer Samuel Jacob Lopez Jr from Los Angeles, CA, influenced by skater punk culture, 70s psychedelic rock, 90s hip hop, and his dad's vinyl collection, this musician's style is certainly diverse.
Over the years Sam has climbed his way to the top by working in the studio with artists like Young The Giant, RAC, and Crystal Castles, but his resume doesn't stop there, he also had the privilege of touring with notorious rock acts like 30 Seconds To Mars and Machine Gun Kelly.
In 2021 COQUI premiered 'Fall in Love', a romantic ballad that had significant success since last year, with over 6,000 plays on Spotify and more than 50,000 views on YouTube. Now after a year, Sam surprised his fans with another banger named Let's go!
The inspiration behind this song is a product of the lockdowns caused by the pandemic, in a very stoic approach COQUI realized that he had no control over the future, instead of worrying about things out of his hands, he chose to act:
"LET'S GO! is a song about my revelation to cast away all fear of moving forward despite what the world was constantly telling me. It was the realization that ultimately I'm not in control of the future and that tomorrow isn't promised… So what are we waiting for? Let's go!" – COQUI.
Let's Go! is a strong declaration about facing your fears and living in the moment.
This tune makes honor to its name, Lets Go! is a psych-rock jam with fast riffs and an addictive chorus, all in conjunction to make this song an energy-charged bolt ready to assault your senses.
Discover more from COQUI:
Discover more on RCM
Words Javier Rodriguez