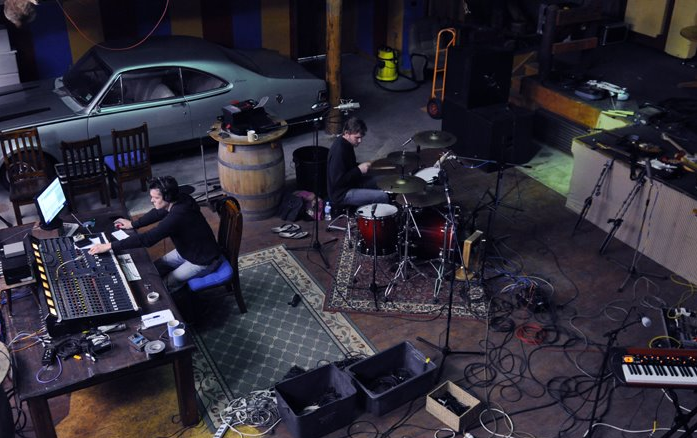 BLACKCHORDS have announced fan funding plans for the follow up to their widely acclaimed, debut self titled debut. The new album will be released by the band independently, and they are inviting their fans and supporters to become involved with the project.
The band have spent a large part of 2011 writing new material, and are now ready to head out of the city to record with producer Mark Stanley, in a remote shed in the tranquility of the Yarra Valley.
[youtube http://www.youtube.com/watch?v=FLvF7YylDQo&w=640&h=360]
BLACKCHORDS have set up a project on 'fan funding' website Pozible which asks for financial pledges in return for exclusive BLACKCHORDS content and money can't buy experiences. As an investor on this project the band are offering: downloads; signed CD's; videos, limited edition signed artwork; your name on the CD sleeve notes, exclusive VIP gigs; band meet & greets and a signed guitar.
http://www.pozible.com/index.php/embed_iframe/project/4342/24646/1
While traditional record labels continue to tread water, struggling to come to terms with the shift away from physical to digital sales, a tightening of their belts has meant an increasing number of new and established artists including Marillion, CAST, The Subways, Reef, Saint Saviour, Summer Camp and Right Chord Music favourites Madam, have turned to their fans and supporters to ensure their music can be released and promoted effectively.
This is a unique opportunity to help contribute to the band's continued success. Here at Right Chord Music we've been fortunate enough to hear some of the new BLACKCHORDS album demos and boy it's sounding exciting! We urge you to dig deep and help the band get their music out to the wider audience it deserves. If you are new to BLACKCHORDS you can read more about them here or listen to their debut album below.
[bandcamp album=3665642841 bgcol=FFFFFF linkcol=4285BB size=venti]
Pledge your support here and then help support BLACKCHORDS and independent music by clicking the 'share' button at the foot of this post.