Badly Drawn Boy, King Charles, Katie Melua, Mark King (Level 42) and Marlee announced to headline The Takeover, our online festival presented by Bose in support of music therapy charity Nordoff Robbins.
The Coronavirus pandemic has forced the cancelation of every gig, tour and festival. However, Right Chord Music Blog founder Mark Knight, couldn't imagine a summer without live music, so he decided to create an alternative stage. The Takeover is designed to showcase incredible independent artists affected by Corvid19, while also raising money for Nordoff Robbins music therapy.
The Takeover Festival May 8th, 9th 10th
On May 8th, 9th and 10th over 40 artists from 12 different countries including: Officer, The Daydream Club, Katey Brooks and Blackchords will join our headliners to take over the Right Chord Music Facebook Wall. Fans can watch live music from the safety of their own homes, via the power for Facebook Live.
Badly Drawn Boy
"I am thrilled to be supporting Nordoff Robbins. Being part of The Takeover Festival gives me the opportunity to bring my fans together to celebrate music, and raise awareness of the work this charity does to help people with many different challenges in life, through music therapy." Badly Drawn Boy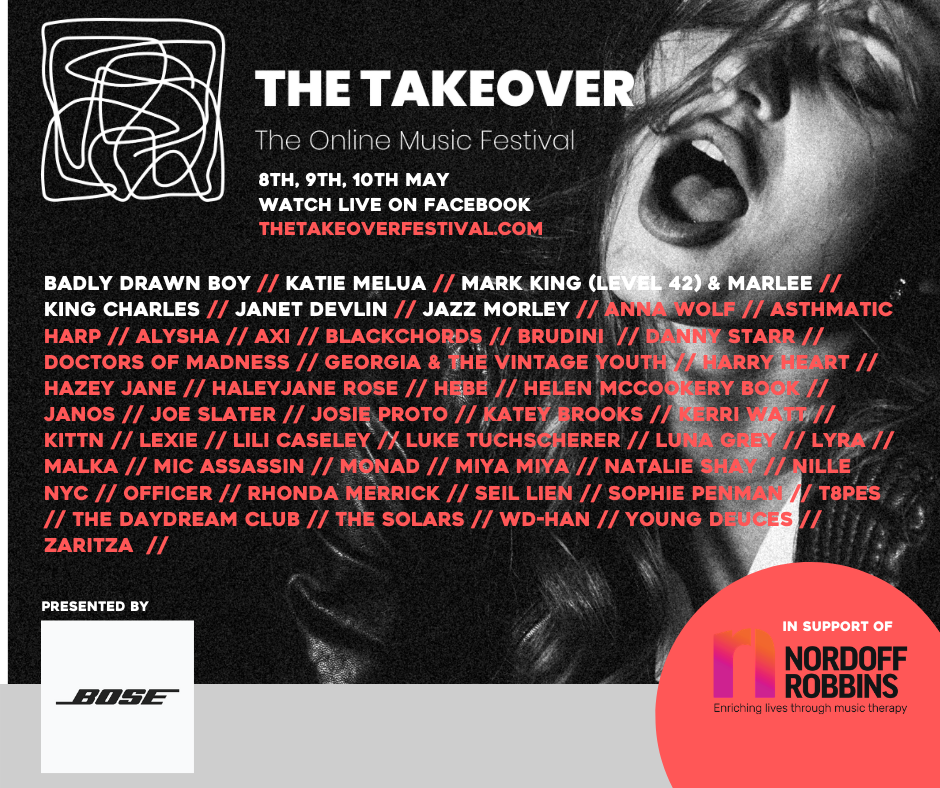 Bose Supporting Nordoff Robbins & Independent Artists
Thanks to the support of Bose, The Takeover Festival is guaranteeing a minimum of 1,000 views for each independent artist. At a physical gig, these artists are lucky to attract an audience of 50 people, so the support of a global brand like Bose is a real game changer.
"At a time when the world is in lockdown,

The Takeover Festival is our antidote to isolation" Mark Knight Founder, RCM
Right Chord Music believe in the power of music to connect people, which is why we've partnered with Nordoff Robbins. Now with the support of Bose we are excited to drive donations to help their life changing work.
Donate and Win Bose Noise Cancelling Headphones
Donations can be made directly to Nordoff Robbins, via the Festival website or via the Right Chord Music Facebook page. A limited edition festival t-shirt by 5th Columns T-Shirts is now available to purchase from the festival website. Anyone making a donation will automatically be entered into a draw to win one of ten pairs of Bose Noise Cancelling Headphones. All proceeds go to Nordoff Robbins.
​As the UK's largest independent music therapy charity, Nordoff Robbins use music to enrich the lives of people with life-limiting illnesses, disabilities and feelings of isolation.
Hannah Sheedy, Director of Fundraising at Nordoff Robbins says: "We are so excited to be supported by The Takeover. At times like this, the connectivity that music brings is more important than ever, and festivals like this which develop innovative ways to reach people though music are vital in bringing people together. This innovation is certainly something we are having to look at as charity in these unprecedented times. Over the weeks ahead, in as many different ways as possible, we'll champion music as a way to help the wider community, and this festival will be helping us do just that"
Ian McGibbon, Partnerships Manager at Bose, says "Bose is proud to provide ongoing support to Nordoff Robbins through this amazing online event and other projects. Thousands of our employees and millions of our customers have music close to their hearts, so we feel a strong connection to this initiative."
The Takeover Festival will be free to watch but viewers will be actively encouraged to make a donation to Nordoff Robbins to support their life changing work. To find out more, please contact Mark Knight mark@rightchordmusic.co.uk
How To Watch
You can watch The Takeover live on Facebook on May 8th, 9th & 10th. By accepting this invitation to the event page you will be notified when musicians take to our virtual stage.
Discover The Artists 
Discover the artists playing The Takeover Festival in support of Nordoff Robbins via our Spotify playlist.