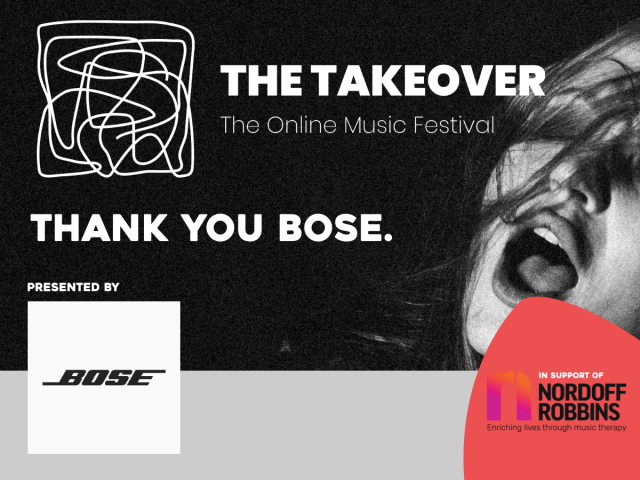 The Takeover Festival starts tomorrow at 2.30pm with Janet Devlin. Watch every performance live on the Right Chord Music Facebook Page. This festival has been made possible by the generous support of Bose.
The Takeover Festival vision
Founder Mark Knight explains, I founded Right Chord Music ten years ago because I was frustrated that so many incredible artists were being overlooked by radio, just because they didn't have the backing of a major record label.
Right Chord Music has always been focused on getting incredible music heard by more people, more often, which is why we have a blog, Podcast and now The Takeover Festival.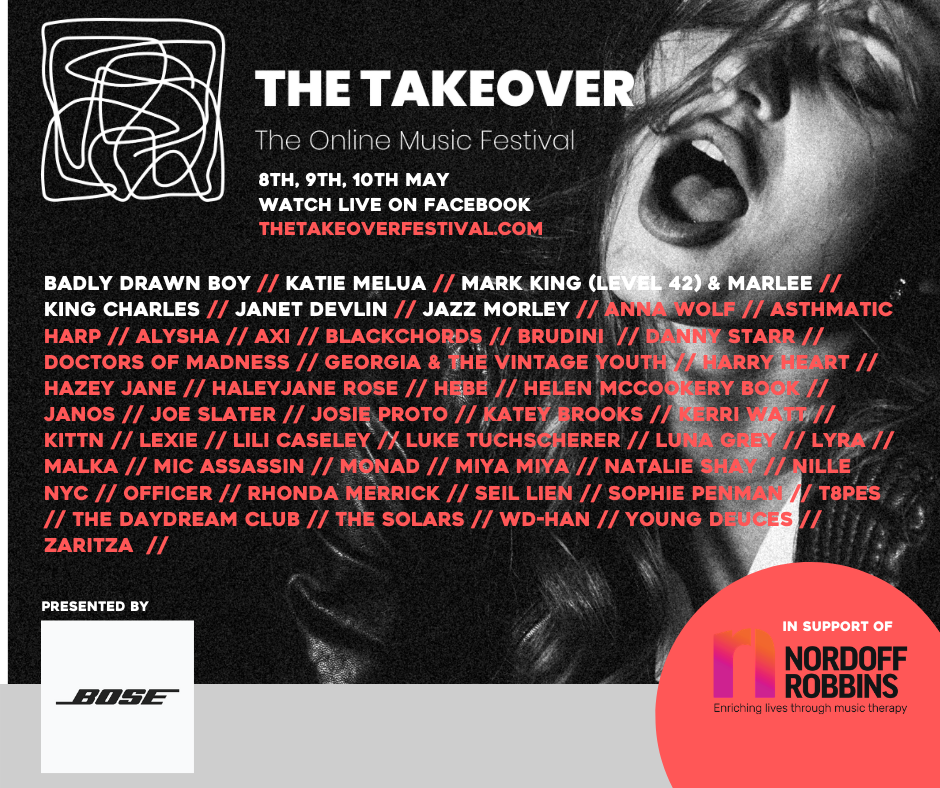 Giving Independent Artists an Alternative Stage
When Covid19 hit, we decided to try and give independent artists an alternative stage. While there have been other online festivals and events this summer, we wanted ours to focus on independent talent, over 90% of our artists are self released. By placing these artists alongside some headline talent we hope to introduce them to a new wider audience of fans. On Friday we have Luna Grey after Janet Devlin and Danny Starr directly before King Charles and Katie Melua. On Saturday we have Jazz Morley before Badly Drawn Boy and on Sunday we have
Officer
directly before Mark King
@Level 42
, now that's exciting!
We also recognised the connective power of music and wanted The Takeover to be an antidote to isolation, helping to raise money for Nordoff Robbins, a charity like so many that have been badly hit by the current crisis.
Thanks To Bose
We approached several brands to help support our festival, but it was
Bose
that understood our vision and stepped forward to support it.
The great thing about live streamed shows, is you have two possible audiences. 1) The live audience, and 2) the watch back on demand audience. Thanks to the support of Bose we have been able to promote the festival to boost the live audience, but we can also boost every single performance to drive the largest possible on demand audience.  Remember most independent artists will play live to a physical audience of less than 100 people, with the support of Bose we can guarantee a watch back audience of over 1,000.
Win Bose Noise Cancelling 700 Headphones
The support of Bose doesn't stop there. We are giving away three pairs of Bose noise cancelling 700 headphones every day just for watching the festival. To find out how to win,
visit the Nordoff Robbins website
it's free to watch The Takeover festival, but we would love you to make a donation. You can also buy our limited edition Takeover Festival T-shirt produced by our friends at
Fifth Column T-Shirts. 
Thanks to all our partners
So many wonderful people, and generous companies contributed to making The Takeover Festival a reality. Thanks to Ocean Outdoor for putting our festival poster on nationwide billboards, Adam Pickering for designing them, axs, for featuring us on their website and member mailing, Amondo for our cool social media wall, Fifth Column for the gift of our festival t-shirts, Tibor Varga for designing them, The Influence Room for creating the online buzz, The Music Producers Forum for promoting the artists and the festival, Talent Banq for their artists and enthusiasm, Liberty PR for their press support, Feed for their promotional tools, Major Labl for our festival website, Squall for the influencer and artist support and Musosoup for providing a prize pot to further promote one lucky festival performer.
Discover More