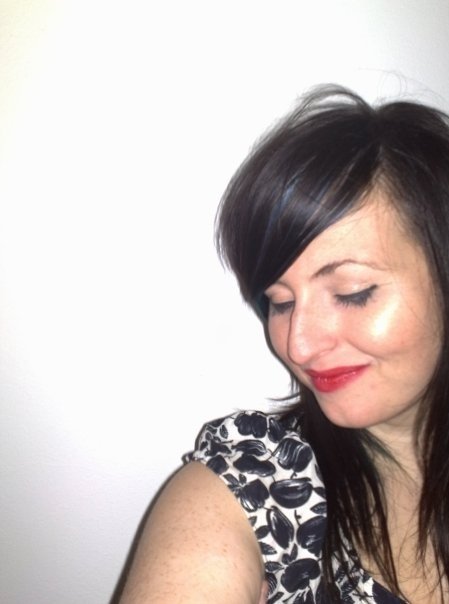 We first came across Shell Zenner on her Salford City Radio show. What struck us was her enthusiasm and obvious passion for music. We hadn't just met a DJ who played records, we had found someone who loved what she played, and wanted to tell the world about it. So when our favourite new music DJ joined our favourite new music station Amazing Radio we had to find out more.
What was the first record you bought?
Ha! Credible or non-credible?! I remember having Two In A Room – Wiggle It on 7-inch vinyl, but the first record I truly fell in love with was Beats International's Dub Be Good To Me. Still sounds as good today as it did then!
Do you remember the moment that you decided to pursue music as a career?
I don't think there was one! I've always loved music and have been going to gigs religiously since I was 15. I love music and I guess it's something that I've never been prepared to give up, no matter what I've done in life. I've always loved sharing it with friends and sharing it on a wider scale was really just a natural progression. Radio is such a personal and instant form of communication that I've always been drawn to it, from listening to John Peel when I was younger to listening to Lauren Laverne yesterday. It's amazing and I love it.
How did you get started in radio?
I was talking to a friend about how much I'd love to get into radio and she told me her friends had been on air on Salford City Radio, a local community radio station for the last year and that I should get involved with the station. I got in touch, did two months of training and was given one hour a week of pre-recorded radio, I fell instantly in love.
Who are your radio DJ heroes?
Specialist music DJ's are a massive inspiration to me, obviously John Peel but then current DJ's, like Steve Lamacq, John Kennedy, Lauren Laverne and the Amazing Radio team are people I'd happily listen to every day, they don't just talk around the music, they know and love the music they air. They spur me on to be like them and I'm proud to have been given an opportunity to do so.
I also enjoy listening to Huey Morgan and Jarvis Cocker on 6 Music, they manage to create such a different vibe just through their rather eclectic personalities which is really inspiring.
I'm also big on podcasts and Song By Toad, The Von Pip Musical Express and Jon Hillcock's 'New Noise' are fine examples of what you can achieve without the backing of a radio station.
You covered SXSW for Amazing Radio – how was that, who were the standout artists & bands?
It was tiring, but I loved every second of it! I was actually there off my own back but arranged to write for The 405 whilst I was there. Just before I left for Austin, the announcement went out about me joining Amazing Radio on my return and so we cooked up a little plot to utilise new technology to cover the festival for the station.  It worked really well and the station got daily updates which I filed in the early hours of the morning and which aired on national UK Radio before I woke up in Austin!
Stand out acts? So many! Pond, the rhythm section of Tame Impala in another guise, raucous live and completely captivating. Breton, Ghosting Season, Love Inks & Craft Spells. I wrote about every day for The 405 and posted all of the links on my blog
Are you seeing any trends in music at the moment – types of genres or styles emerging?
There is definitely a strong return in female vocal artists or female-fronted bands at the moment. Fantastic solo artists like Ren Harvieu, Lianne Le Havas, Frankie Rose, Sharon Van Etten and Emile Sande are adding to the success of Adele and PJ Harvey.  But also a new line in all-girl and female-fronted acts like Pins,  Haim, Daughter, Polica and Hospitality too, its not quite 'Girl Power' but it's pretty darn cool.
What can we expect from your new show on Amazing Radio?
New music predominantly! Amazing Radio is the home of new and emerging music and we like to champion bands that are relatively unknown or that we believe to be under the radar. I'm certainly trying to bring a taste of the northwest to the show too. Acts that are starting to cause a stir locally or bands that are passing through the city to a frenzy of excitement. I also want to share some of the insights I get chatting to the many bands I get to speak to whilst out and about in the city.
Which new bands are exciting you at the moment?
At the moment I'm hugely excited about Pins, Simian Ghost, TOY, Great Waves, The Shutes, Zoo Zero, Fantasy Rainbow, Born Strangers, World Tour, Philco Fiction, Fanzine,  The Jezabels, Sulk, Sleep Party People and Deep Sea Arcade. So many it blows my mind!
I'm sure you get sent lots of new music. What mistakes do bands make when they contact you? Are there things they could do to increase their chances of grabbing your attention?
I get sent an unbelievable amount of new music, which I'm very thankful for but it can also be a bit overwhelming at times.  Firstly, whilst social networking is a great way to get someone's attention, following me on Twitter/friend requesting me on Facebook and then instantly sending me a stream link is not the right way to go about it.  Links often get lost in the abyss that is social networking. Also, when I interview a band I have the common decency to read up about the band and listen to the record first, the same stands for contacting a dj. Find out where the DJ is currently on air, find their email address, read their blog posts, see if any of the information you are looking for is already out there before just emailing them. For instance, whilst I've been typing this I've received an email from a band with a demo asking me if I'll play it on my show at a radio station I left two months ago!
If you are going to send electronic links (there's nothing wrong with this in this day and age) or a CD make sure your metadata is spot on. if I'm uploading 100 CDs or going through 400 emails (as I did on Friday) if the band name or track name is wrong, there's a chance I will just have to delete the track as I won't know who it is. If you are going to send files electronically, don't send three different emails with tracks. Zip the files together and send via We transfer, you'll improve your chances if you make it EASY for the DJ to listen. The same goes for streams, send me a stream link that I can download i.e. Soundcloud as some people tend to listen on the move. I actually listen on an iPod as I still work full time during the day in another industry, some people prefer just to listen via stream. But ultimately a radio DJ can't air a stream but won't thank you for breaking their email with large attachments either.
You always seem to be on Twitter! How do you use it, what do you use it for? What would be your top Twitter tips for bands who want to network over Twitter?
I LOVE Twitter, I actually read Grace Dent's book 'How to leave Twitter' and failed! No, really, I find it a really useful networking tool to find out what's going on in the music world, I follow the progress of bands, DJ's, bloggers, promoters and more. I find it personal enough but not too overfamiliar, unlike Facebook.
I must admit, the bands/artists that don't use Twitter personally but have a staff member/manager/pr company to update it are completely missing the point. Used correctly, Twitter can be a huge tool to garner interest in your band. If you have a new release, for helping to raise awareness of shows, merch and other projects. But simply and constantly tweeting bland things like 'we have a new show/song/album/t shirt' tweets are all well and good, but your followers want to know what makes you tick, Twitter allows fans to get closer to a band without overstepping the mark and allows direct communication in a short and concise way.
Personally, I use Twitter to keep up to date with music news and bands, to network, to look for opportunities and jobs and to market my shows/skills. I also find Twitter a really useful addition to the radio shows, I can get unto 200 tweets from listeners during the show asking about the bands/music or discussing a particular topic. It helps make even pre-recorded radio interactive. My top twitter tip for bands? Embrace it, and just be yourself!
What's next for you? World Domination?!
Haha, I WISH! I'll be getting out and about covering festivals and more emerging new music for Amazing Radio this summer which I'm exceptionally excited about! The Amazing team are an awesome bunch of people and I'm proud to be a part of such a fantastic station and its awesome to be able to get out there and see so much new music alongside them. I also have new radio shows starting on a brand new station soon. It hasn't been announced yet, but I'm thrilled to be involved in such an exciting project with such well-respected people.
Finally, as usual, I'll be working hard to improve my radio and voiceover skills (I'm always learning) in the hope that one day soon I'll be able to quit my day job in order to move into radio and music full time. I've recently been selected as one of 30 mentees on the Soundwomen mentoring programme so I'll also be working hard with my mentor to try and help advance my radio career.  That's the dream really, I just hope that one day I'm fortunate enough to achieve it.
Listen to Shell Zenner
Amazing Radio: 1pm Friday on Amazing Radio tune in via DAB, online on www.amazingradio.co.uk or via iPhone / android app
Bolton FM: 9pm Sunday on 96.5 Bolton Fm or tune in online on www.boltonfm.com or by iPhone app
WXLV Radio: 12am ET Wednesday & 8pm ET Saturday on 90.3 WXLV Schnecksville, Pennsylvania, US or tune in online on www.wxlvradio.com
Read more from Shell Zenner
Follow Shell Zenner on Twitter