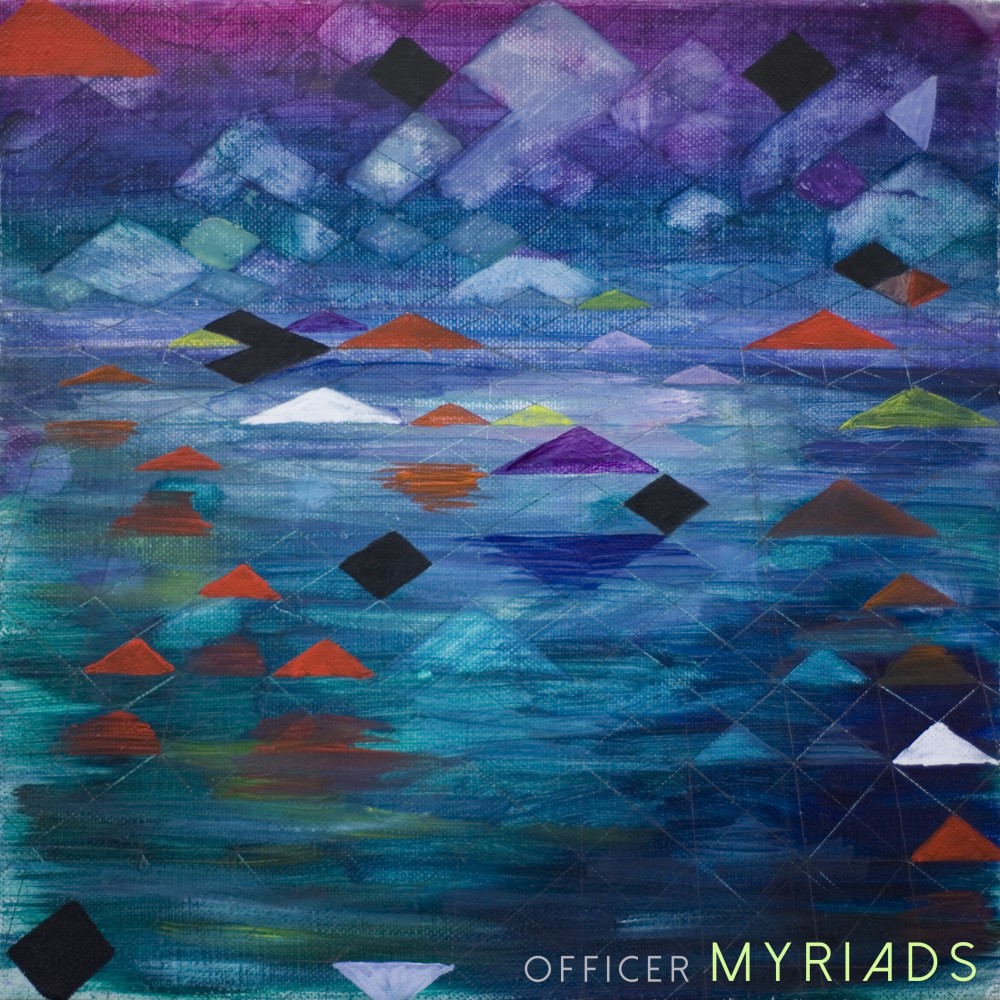 The story of how Officer's debut album Myriads came about has been told before but is worth telling again.

 

Friends of the singer launched a crowdfunding campaign on his behalf, without his knowledge.

 
Officer, aka David Logan, had no idea until he was told that he now had enough funding to record his debut album.  Logan says of the event, "It's great because I've been working on the music around the rest of my life until now, and it's pretty great to have it all suddenly and unexpectedly come to life."
It does feel like the wait has been long for this debut album.  In fairness it was only the start of the year when we heard the first taste, single The Waters.  Perhaps it is the eager anticipation that has made the wait seem longer, as here at RCM we have been very excited about this album.
In December 2014 we included Officer on our 'Ones to Watch in 2015' list, and on the strength of this album, we won't be the only ones watching him closely.  The Glasgow born, Northern Ireland raised, London resident has been playing solo shows around the UK, gaining himself a small but loyal band of followers in the process.  For an artist that has spent a lot of time writing and playing shows as a solo artist, Myriads at no point sounds like a one-man album. The whole band plays as a cohesive unit, the instrumentation diverse, and the songs refreshingly absent of the heavy reliance on the acoustic guitar often found with solo artists.
This is an album of many listens, with so many subtle variations in texture and dynamics that can almost go unnoticed at first, yet are so effective.  Album opener Laughing Rafters starts off quiet, with Logan's signature deep and reverbed vocals jumping out at you to start the song.  Track two, and the 2nd single Glass Ceiling is an early standout, however as you listen further into the album it is hard to pick a few that are clear highlights.  There are some diverse sounds amongst the 12 tracks, so favourites will greatly vary depending on individual tastes.
Act of Survival is fantastic, tragic and uplifting at the same time.  In somewhat of a theme throughout the album, whilst the lyrics can be dark and melancholic, the melodies and instrumentation feel full of hope and life.  With the story possibly coming from his day job as the Director of the Ace of Clubs homeless centre in Clapham, Logan says, "My daily work with the most vulnerable members of our society inspires me".
One Day begins sounding like a solo indie-folk tune, a heavily reverbed vocal line prominent above a simple acoustic fingerpicking guitar line, and just a hint of keyboards.  The song takes a turn at the halfway point, with electric guitar, slow lazy drums, and a fantastic blues-inspired rock 'n' roll guitar solo taking the track to its end.
My Darling Defibrillator is not only an amazing name but also the most experimental track on the album.  Using layered vocals as an instrument, something that is done throughout the album, the song features a quick percussive acoustic guitar keeping the song on track whilst it is overlayed with a repeated 'I find my head, find my head, find my heartbeat.' 
It is on this track that we see how an earlier, and angrier, U2 were an inspiration to Logan when he first began discovering music and his own voice.  Inspiration in his teens came from the lively pub folk and old spiritual hymns of Ireland, later discovering artists like The Clash, Radiohead, Ryan Adams, as well as the edgier sounds of At The Drive In. The diversity of influence has helped Officer to develop his unique sound.
With support from BBC Radio 6, Amazing Radio, regional radio, as well as an increasing number of music blogs, it seems inevitable that this album will be in everyone's ears soon.  It cannot be overstated how good this album is, and how much each listen reveals more layers.  Do yourself a favour and go buy this album, off iTunes, or perhaps a physical copy if you are lucky enough to see him live.  It will easily be one of RCM's top albums of 2015.
Piecing together a touring band from the musicians that recorded Myraids with him, Officer will be touring the album in Autumn.  His next show is in Hoxton, London on the 17th of September, with hopefully details of a full tour coming soon.
One thing you can't do, however, is search 'Officer' and expect to find anything at all, anywhere.  Instead for more details see his Website, Facebook, Twitter, Instagram and YouTube.   
Nicholas Cheek