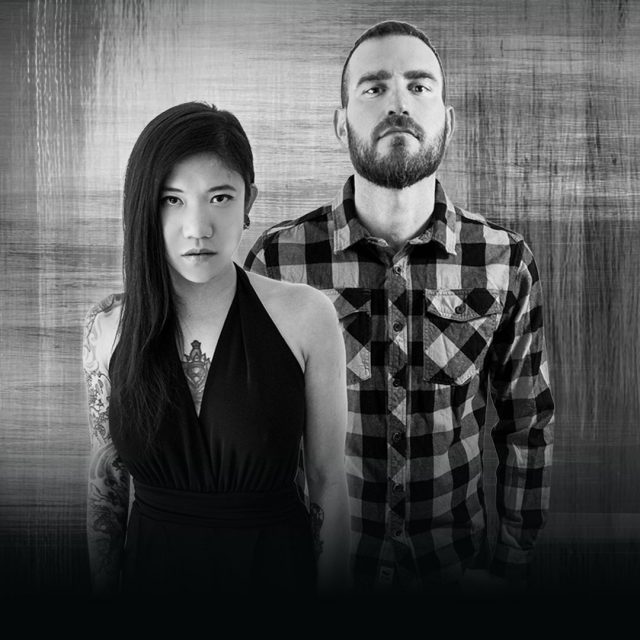 London-based duo Andrea Papi (Manimal) and Daphne Ang (Samara) came together late last year as The Chronicles of Manimal and Samara (TCOMAS) building a world of genre-defying sounds that shatter the rigidity of musical genres with an expansive, experimental soundscape spanning everything from poetry and spoken word to electro-tinged rock.
Psychopaths Monologue
Their latest track "Psychopath's Monologue," showcases the pair's incredible musicality as they paint the vivid picture of a dystopian, post-apocalyptic world with its unique marriage of poetry and metal influences.
Fleeting easily between pleasant and painful, soothing and simmering anxiety, the offering uses abrasive metal guitar laid over pounding industrial techno kicks with passages of effectively, jarring yet delicate monologues. The composition slots together seven sonnet poems written over a 10-year period, giving listeners insight into the lyrical ingenuity, literary brilliance and fully-loaded instrumentation of the duo's music.
Imagining an end-of-the-world atmosphere – which far closer to the reality of the world than anyone would like- while still weaving in cryptic yet emotive themes, "Psychopath's Monologue," fills a vacuum within music as it brings together influences from opposite ends of creative inspiration – from Patti Smith and Jim Morrison to Virginia Woolf, Sylvia Plath – to pioneer a form of expression that belongs purely to TCOMAS.
The duo are making quick work of finding their authentic niche in music, with this latest single, out on August 28, 2020, following their debut single, 'Atoms' which was released last month.
As an act that slides effortlessly between wide-reaching spectrums of music – which moves in the blink of an eye from elegantly poetic to exuberantly dramatic- it's fitting their forthcoming independent album is named Full Spectrum.
Discover more from The Chronicles of Manimal & Samara
Words Malvika Padin