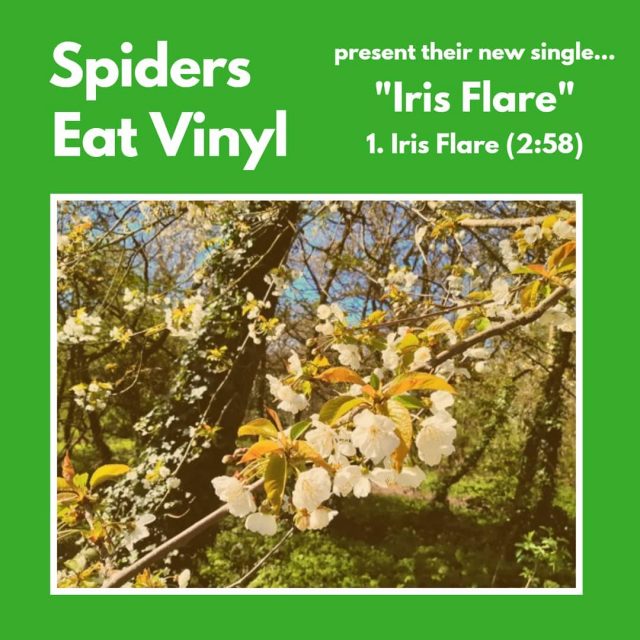 Spiders Eat Vinyl is a dreamy-electro pop act from Sheffield in the UK. They are back with an earthy soundtrack that drifts from ears to soul. With calm vocals and real lyrics of a worrying world, this is a lovely release with all the right intentions. 
Lyrically, this is a well-made song about our species regressing to primitive cruelty even while technology becomes more ubiquitous, and trying to preserve humanity in the face of this. Musically, it was inspired by lush, jangly college rock records like The Chameleons and early R.E.M., but because of the synths and the big beats, it ended up a weird hybrid. It sort of mirrors the lyrical theme, the humanity of the vocals and live instruments in tension with the synthetic pads, filters and programmed beats.
Spiders Eat Vinyl are a 3 piece indie-pop group who make stunning melodies. Their music is soothing due to the mellow beats and smooth vocals. We like the hybrid song and all of the moving parts. The mellow bass certainly is calming and the subject matter is a highly intriguing listen. This is a humble act who stays away from all the fake hype and who stands for all that is good in the world.
Featuring bright melodic guitar hooks, big synths, fat beats, and just the odd outrageously funky bass line, we love what Spiders Eat Vinyl are all about. There is nothing ego-driven about "Iris Flare". From the catchy beginning, we feel relaxed and in a good mod while listening to this song.
Spiders Eat Vinyl's "Iris Flare" is perfect for laying under the stars and imagining the world in 50 years. This is a song that sticks in your head and will be meaningful. Just like our time on earth. The Sheffield 3 piece will be an exciting act to watch live and we recommend "Iris Flare" as a great addition to your next playlist.
Discover more from Spiders Eat Vinyl
Words Llewlyn Screen