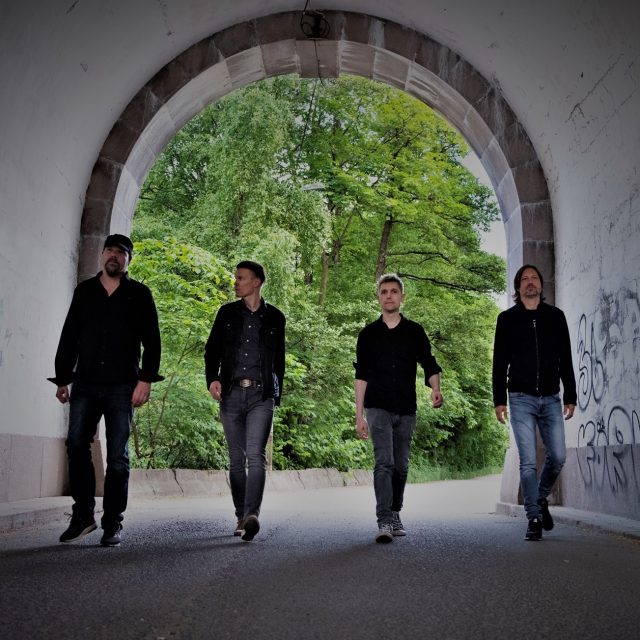 Sleep Kicks 'No Chains' brings back 80s alternative rock in great rebellious style, without losing tenderness.
Sleep Kicks – No Chains
From the land that gave us A-HA, comes once again the warm winds of 80s-inspired alternative rock. No Chains, the new single by Oslo quartet Sleep Kicks, glows with its synth-backed guitar-led melody built around singer Terje Kleven's velvety yet assertive vocals.
Stomping drums kick off this number in great style, announcing a battle of sorts. However, once the tune proper starts, aggressiveness is toned down in favour of a slightly gloomier, more haunting tone, typical of British 80s post-punk, always aware of the challenges and battles awaiting us, but keeping a classy stern attitude.
"Have no fear", repeats Terje in his deep voice and a reassuring tone, almost like a loving mentor figure, incentivising you to never shy away from the good fight. This chilled out self-contained delivery is kept throughout the song and emphasised by a heart-warming beat, uplifting enough to make you stand and get moving, but always purposefully stopping short of exploding.
Silje Huleboer's show-stealing background singing gets multi-tracked and morphs into an angelic choir, adding an ecclesiastical feeling that accentuates the moody solemn atmosphere. All while the lyrics get more and more rebellious, even hinting at necessary violence that may arise. "They don't fear what they cannot hear/Now it's time to get loud/Revolution is the conclusion", he sings in the same comforting tone. Growing hard as one must, but without ever losing tenderness, as a wise man once advised.
Sleep Kicks formed in 2019 when lead vocalist Terje Kleven and Bass-player Stephen Gardener, coming from a decade of experience in the American and European indie rock scenes, were definitively joined by old mates, drummer Frode Gundersen and guitarist Jørn Landbakk. After a string of singles and a concert tour, they are about to unveil their first full-length album The Afterdrop, due in the autumn. They are also about to headline the Øya festival in August.
"Sober yet uplifting, the song showcases Terje Kleven's stern mentor figure voice inciting you to fight the good fight!"
Discover more from Sleep Kicks
Discover more on RCM
Words Fernando de Oliveira Lúcio