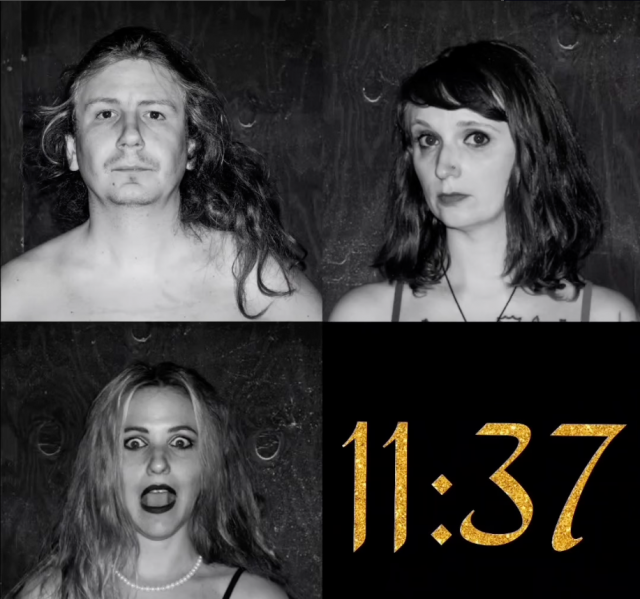 Sapling, New England's foremost bitchpop and art rock band release paean to Foo Fighters legend.
Sapling – 11.37
'11:37,' is Massachusetts band Sapling's second single release from their sophomore studio album, 'amor fati' due in May this year on Sleazy Within Reason Records. They released their debut album 'No Sequoia' in 2020, which was nominated for best punk album in the 2020 Worcester and Boston Music Awards and set out the experimental and eccentric path that they have chosen. 
The band's roots can be traced back to an earlier band – Rotating Strawberry Madonna – that bassist and singer Rainy Maple Sugar Candy and drummer Dave Cignetti were both members of. Post RSM Rainy formed a duo – Mango Princess – with guitarist and singer Amber ToiletFire Tortorelli. Lacking in direction Cignetti was invited to join in 2016 and the seed had been planted. In 2018 Jonny Spaghetti Cordaro took over from Cignetti on the sticks forming the current line-up.
The trio's latest track was written by Rainy as a personal reaction to the passing of Foo Fighters drummer Taylor Hawkins. When reflecting on the influence he had on her life she realised that it was in 1996, at the age of 11, that she first saw him play live for Alanis Morrisette. Fast-forward to his untimely death in 2022 and she had hit 37. The number became "sacred and synchronistic" for her.
Jittery guitar with pogoing drums and a Rezillos bounce has Rainy's deadpan vocal lead to a repeated chorus of "make your idols cry." The idols in question are Hawkins's peers and artists that he admired and looked up to:
I sat down and started writing this song a year ago in tears and I found it interesting, inspiring, sad, and comforting to see how many of Taylor's favourite musicians- to whom he'd never dare compare himself, always humble paid tribute to him. Make your idols cry.
Breaking the rhythm, a doom-ridden guitar comes crashing in – the howling, lamenting soul of the band eventually absorbed into the ether of the track – as Rainy and Amber's voices become more impassioned repeating the chorus to a sudden and unexpected ending. 
On their previous album, Sapling had sprung up and announced themselves by screaming into the void. Their latest track takes things down a notch, demonstrating how tight and defined they can be as they dance around it. 
Discover more from Sapling
Discover more on RCM
Words Andrew Gutteridge