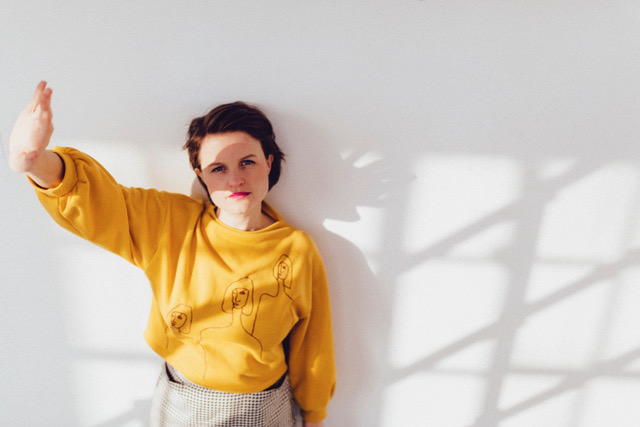 'In This Skin' is the second single to be taken from

Me For Queen's

upcoming debut LP, Loose End.

 

The first single, and title track, was released earlier this year and gained airplay from the likes of BBC6 Music, BBC Scotland, and BBC Wales, whilst also receiving glowing praise from Tom Robinson at BBC6 Music and The Guardian.
Introducing Me For Queen
Me For Queen is the creative outlet for Scottish-born Mary Erskine.  According to the singer, she grew up "feral in rural Fife, Scotland, in a big old house near the sea."  Classically trained, with a blues guitarist for a father, Erskine's sound is a mix of folk and soul, influence drawn from such varied sources as Bjork and Chopin, with comparisons made between her sound and that of Carole King and Regina Spektor.
The upcoming album was the result of a move out of London to 'clear her head', leaving the busy city to gain a new sense of perspective.  With the help of Jim Wallis, the LP was recorded at Bell Union Studios in Shoreditch, and given the variety of sounds and influence present in the first two singles, it is sure to be an exciting and diverse journey.
Erskine's unmistakable and soaring vocals are the ever-present in both 'Loose End' and 'In This Skin', but that is about where the similarities end.  The first single was awash with Kate Bush influence, with a hint of the adult contemporary.  'In This Skin', by contrast, is a slow burner, gaining momentum throughout the song, an experiment to see have far a piano-led track can be taken sonically.
Lyrically, the song is an ode to female friendship and celebrating finding comfort in one's own skin.  Erskine sings to an unmentioned friend; "There's a stillness that you've found, don't know if I've told you that I'm proud, to think how hard we work to feel at ease."  The chorus reinforces that sentiment; "Stronger, bolder, take the sting, slowly, building, a home in this skin."
The line "slowly building" is quite apt, given the way the layers are slowly added throughout the track.   Beginning sparsely with just vocals and subtle piano, the second verse reveals an expanded piano melody, the addition of vocal harmonies, quite literally 'slowly building' towards the song's jubilant crescendo, replete with layers of vocals, drums, synths and horn lines.
Discover more about Me The Queen
Having recently finished a run of dates in Europe, Me For Queen will be embarking on a UK tour throughout September and October, you can find all the tour dates here.  The new single 'In This Skin' is streaming now via Spotify, as well as the previous single 'Loose End.'  For more information, head to the band's official Website, Facebook, Twitter, or Instagram.  Physical copies of previous releases are available via Bandcamp.
Discover more on RCM
Words Nicholas Cheek