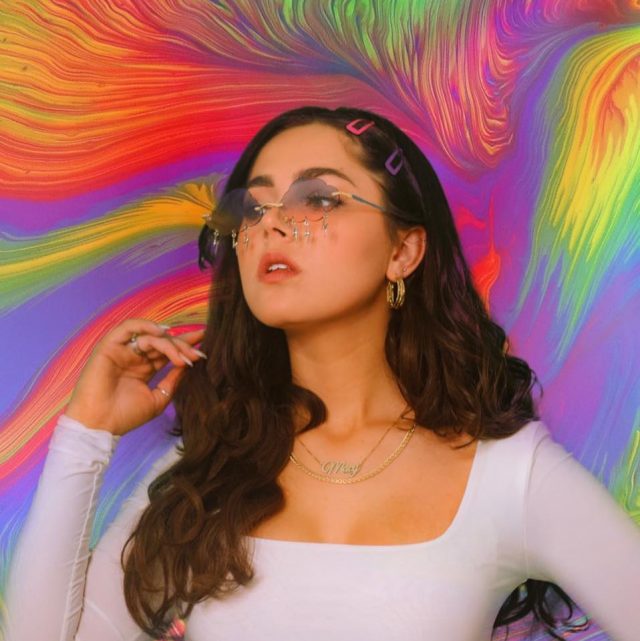 Welsh powerhouse MACY has returned with her fifth single to date 'Rainbow Eyes'. Filled with glorious feel-good sonics, underpinned by a groovy baseline and pulsing percussion. The singer-songwriter offers up a slice of anthemic pop that sounds both sweet and playful yet also empowering and dynamic.
MACY – 'Rainbow Eyes'
Possessing a gritty, commanding vocal tone, MACY shows that she really means business with her newest offering, with 'Rainbow Eyes' harbouring huge commercial potential and instantly making you want to move. Using her music as a way to lift her spirits, and in the hopes of doing the same for her listeners, MACY has created her own fun-filled brand of music that you can really get lost in, MACY explains "songwriting is my way of escaping from the real world & performing has literally saved me." 
Here to follow in the footsteps of UK pop rising talent such as Griff and GRACEY, the young singer began sharing her musical talent with the world back in 2020, and now has an ever-growing discography filled with earworm gems. Her single 'Oblivious', released in 2020 has now hit a mega 117k streams on Spotify alone – a stellar result for an independent artist. With music being a big part of MACY's life since she was young, it is no surprise that she is turning heads, MACY reveals, "I've been performing ever since I can remember. My parents have too many videos of me putting on shows whenever I had the chance to jump around the living room or garden."
MACY's music exudes joy and personality, and her latest single is guaranteed to have you reaching for that repeat button.
Discover more from MACY
Words Chloe Hadded