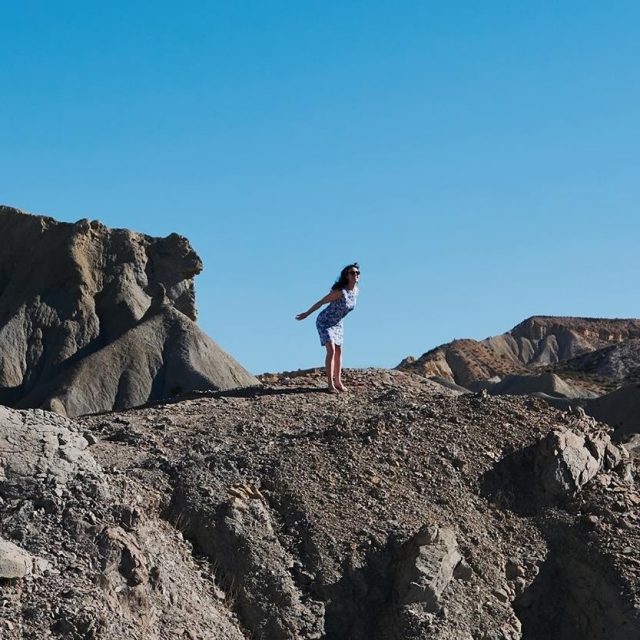 Kitty Finer first entered our consciousness back in 2015 with Girls In The Garage's video with its downbeat vocal delivery and upbeat brass hooks. Now she returns with B-Side a new collection of intimate tales created against the backdrop of lockdown life.
Kitty Finer B-Side
B-Side is the intended flip side to her 2018 EP A-Side, originally planned for release on April 1st, 2020 until the Pandemic changed our lives forever. But constraint can often be the greatest fuel for creativity, and Kitty quickly formed a plan B for B-Side. Unable to work with her band (Knut Knutson, Pharoah Russell and Donal Sweeney) Kitty stepped up to play the drums and co-produced the tracks alongside Donal Sweeney, at moments when such meetings were allowed.
"I embraced the limitations. The result is an EP that has all the emotions that one would imagine would have come through in these times." Kitty Finer.
In keeping with the themes of the songs, the approach to making "B-Side" was intimate and sensitive, and while lockdown reminded us all of the importance of family, Kitty involved them in the creative process. Dad Jem Finer (The Pogues) plays the hurdy-gurdy on 'Good Hands' a song she wrote about the early arrival of her daughter, who now 11 years contributed the final lyric to 'Favourite' Kitty takes up the story…
"I'd been writing a song about my favourite things (material possessions) that I've left and lost around the world. My mum's Boy London shirt and my grandmother's diamond ring. I often think about these pieces and wonder where they are and who is wearing them (if anyone is). My daughter heard me going over the opening lines in my bedroom during the lockdown and eventually came in and said "Maybe you should say that it doesn't matter that you lost them as you have me". So I finished the song. 'Favourite' is the lead track from "B-Side."
All songs on B-Side are written by Kitty Finer. The EP was Produced by Donal Sweeney with Kitty Finer. Recorded and mixed by Donal Sweeney at Triangle, London Mastered by Noel Summerville at Metropolis Vox and Drums Kitty Finer, BVs Donal Sweeney, Guitar and bass* – Donal Sweeney. *Except Good hands (bass Knut Knutson) Hurdy Gurdy- Jem Finer.
While previous release A-Side brims with angst, energy and defiance, B-Side provides the perfect counterpoint. It's calm, reflective and considered whilst still maintaining the observational story-telling that first caught our attention in 2015.
About Kitty Finer
Kitty Finer describes herself as a singing and dancing visual artist. She has positioned herself on the border, where music and fine art join forces. She has always been drawn to cities with thriving music scenes. Kitty studied fine art in her home town London then Bristol and Glasgow, where she joined bands and ran club nights whilst doing her MFA.
'RnB me up' was a club night she named and instigated in Glasgow to attract the girls (but not to deter the boys) which was put on by Claire Harrison at the legendary and now-defunct Vic bar. She went on to run regular events in London revolving around records and happenings.
Brought up by (co-founder of The Pogues ) father Jem Finer and artist mother Marcia Farquhar, it's no surprise that the combination of hard work and punk spirit has been the driving force behind Kitty's "Just Do It Yourself" attitude. This is why she started her own label KF Records and since collaborating with Gina Birch on her video for underground anthem* "Girls In The Garage" (taken from debut EP "Lobby Star") she gained sufficient confidence to get on with making her own videos alongside her collection of friends (models, lawyers, fashion designers, musicians, activists and rappers).
She had an early taste of life on the road when she was spotted playing drums in her family band (with father and sound artist sister Ella Finer) 'The Good, the Bad and the Ugly.' Anarchist artist Aaron Williamson invited her to play drums in his band alongside bassist, Shanne Bradley founder member of The Nipple Erectors.
When she turned 23 she took herself to the front of the stage to sing the songs she had up her sleeve and her first gig was supporting Mick Jones at his club night under the West way. She hasn't looked back since. Kitty has performed in both planned and impromptu performances across the world: from festivals in Japan to lobbies in Las Vegas.
Kitty has performed in legendary London music venues, opening for The Hinds, The Veils, and The Pogues along with her band. We hope it won't be long before she is once again gracing London's stages.
Discover more from Kitty Finer
 Words Mark Knight