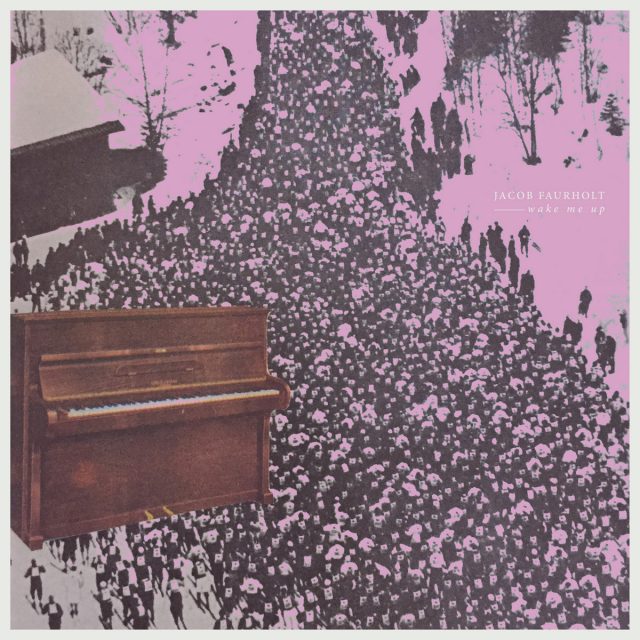 Any album that begins with the statement that "all my heroes are dead" is legally obliged to offer some good old-fashioned man-in-the-mirror self-examination and feed you some knowledge about the not-always-so-shiny world we live in. Danish indie troubadour Jacob Faurholt's Wake Me Up does precisely that.
Jacob Faurholt – Wake Me Up
This new effort by the independent veteran was recorded in his bedroom studio from winter through to spring and it shows in its understated reflections on life and its ever-growing uncertainties.
Bare-chested before listeners, Faurlholt is never afraid of revealing his vulnerability, as is demonstrated by the second cut "Don't Go". And it's as simple as that: a powerful I-need-you-here cry and, and one from someone ready to happily open up and sacrifice himself to have it happen! "I'll feed myself to the sharks", "I'll hurt myself if you want me to". He's not in control and, as is often the case with love, how could he be? "You will lead me in the end!" says the man unabashedly. Healthy?  Obsessive? Who knows what this will turn out to be? Life is short! Seize the thrill 'till you feel it's time to stop!
Largely folky with a few electronic tweaks reminiscent of Radiohead's OK Computer, the melodies are all designed to hook you up and provide a seductive landscape for the lyrics. Songs are mostly guitar-led, wrapped in ascending synthesisers that do give a feel of perseveration. Faurholt's delivery exhales a relatable vulnerability throughout and its minimal studio treatment proves effective in establishing a connection.
The winter-to-spring scenario can be felt in the themes, as most of the cuts may have a sombre feel to them, but the record is far from apocalyptic and always manages to find a beam of hope in the end, such as in the properly titled Sun keep on shining, whose chilling sound really evokes the feeling of somebody wading through muddy waters, while never losing momentum. Halfway through the album the title track sums up the spirit of the project. With its stripped down sound, the tune has him asking for "a song to wake me up", after a painful experience may have left his heart somewhat numb.
More lad rock cut Pitch Black is another standout and its vivid guitar-strumming lifts you up only for its lyrics to reveal that loving relationships may conceal a few cracks under the façade. The upbeatness crashes in an electronic short-circuit at the end, of course. But as he declares in the ninth track, backed up by impactful reverberating strings: "don't you worry about me"! This is a man decided to keep on and savour each moment as it is.
Discover more from Jacob Faurholt
For fans of Sparklehorse, Neil Young, The Polyphonic Spree, Bright Eyes and Wilco.
Words:Fernando de Oliveira Lucio